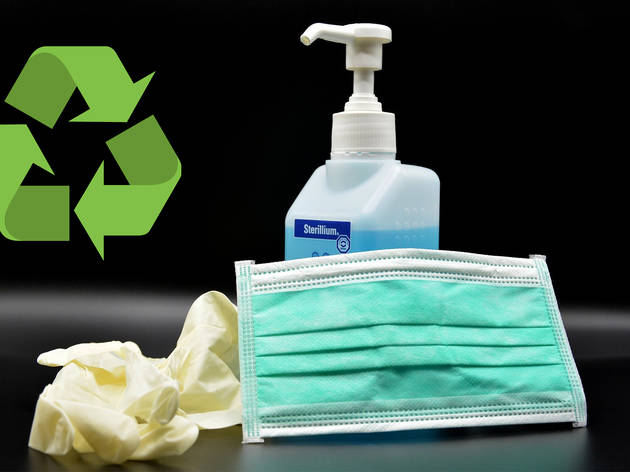 How to fight climate change during the Covid crisis
Easy tips on how to treat the Earth well, while being safe and responsible
Remember how in 2019 we finally solved the increasingly dire climate crisis? No, us neither – it's still a major issue. It's fair to say that 2020 hasn't gone according to plan, with a worldwide pandemic causing most things to shut, except the most essential services.

Here in Australia, there are promising signs that life is returning to what leaders are referring to as "covid normal". And while it is important to remember that the virus has not disappeared, neither has the threat of catastrophic climate change.
There is good news though – you can be both kind to the environment and look after yourself and your community as we ease out of shutdowns. Here are a few ways how.
Recycle as much as possible...
Household waste has unsurprisingly risen during the crisis as we've all been at home. However, it's possible to recycle pretty much all household rubbish with minimal effort these days. Check with your council, but generally speaking, your kerbside recycling bin takes glass, hard plastics, cans (including scrunched up aluminium foil) and paper. Put it directly into the bin, not in a bin bag.
Soft plastics (like bread bags, cereal liners, chocolate wrappers etc) can be recycled through RedCycle bins at selected Coles and Woolworths supermarkets – take a look to find your nearest location. The organisation has an exhaustive list of what products you can recycle through this system.
...including any disposable gloves and masks
Using masks is currently mandated across all of Victoria. If you aren't using a reusable one (here are some great ones made by local makers) make sure you're disposing of single-use masks and gloves responsibly (there have already been reports of discarded masks and gloves polluting beaches).
TerraCycle makes zero waste boxes that you can use to recycle all kinds of PPE – everything from gloves and masks to earplugs and safety glasses. You can order the boxes online, with prepaid return shipping (so you can send back your used gear) included in the price.
Walk or cycle if you are able to
Usually, that list would also include 'catch public transport' but some people may not feel comfortable hopping on board just yet. Rather than grab your car keys, consider whether you can walk or cycle to your destination. It's a good way to reduce your environmental footprint, get some incidental exercise and some vitamin D all at the same time.
Of course, public transport has remained fully operational throughout the shutdowns, so if you need to use it, you can. Just remember to maintain 1.5 metres from other people and to stay home if feeling at all unwell. We've even put together a guide on how to take Melbourne's public transport safety during the crisis.
Support local growers and producers
If you have the ability to buy your groceries from a nearby farmer's market, that's an easy way to both support your community and minimise food miles. If you're time-poor, services like YourGrocer can shop around independent stores and markets (like Queen Victoria Market and Prahran Market) for you, then drop it off at your door. You can even buy locally made, environmentally friendly soap – Single Use Ain't Sexy is a Melbourne business that sells reusable soap bottles that can be refilled using warm water and soluble soap tablets.
Shop consciously
Even if you do still find yourself at the supermarket you can make eco-friendly choices. Look for products that are grown or made in Australia, as well for options with less packaging. Or check out the World's Most Rubbish Directory – it's a free resource that highlights more sustainable options, whether you're looking for toilet paper or a new electricity provider.
One Less Bottle is another (local) initiative that aims to cut down on waste by allowing consumers to fill up any existing containers they have with the products they need. The One Less Bottle refill stations look and work a little like a vending machine, with the first one specialising in cleaning products like washing detergent. You can currently find One Less Bottle at Barkly Square in Brunswick, with two more machines and locations in the works.
Ask if you can use your reusable coffee cup again
To protect their staff and minimise the spread during the height of the virus, most cafés stopped accepting reusable cups. It's now rare to see reusable coffee cups in use, but some venues are offering a solution for those wanting to reduce waste.
Responsible Cafés have proposed a contactless solution that allows reusable cups. A number of Melbourne cafés have signed on already, and there's no harm in seeing if your local knows about the concept, too.
Recommended: discover more about how Melbourne is fighting climate change in Time Out Melbourne's sustainability issue.
Staying in?
We've collected the best ways for you to experience Melbourne while staying at home here into this hub, so you can stay sane, comfortable, fed, watered and entertained at home – while helping small business owners, hospitality workers and creative people who desperately need your business.
Best selling Time Out Offers