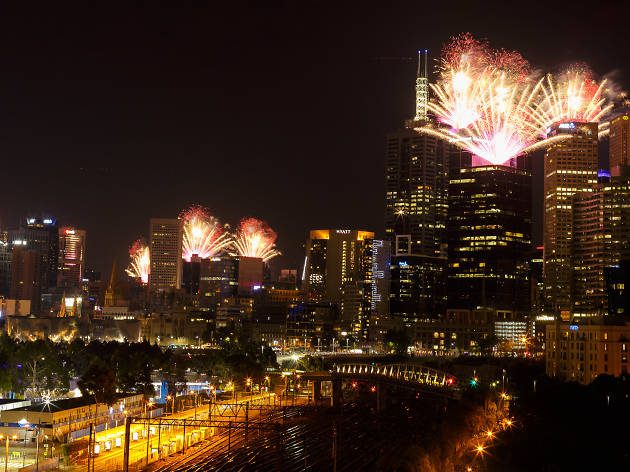 See the city skyline, see the midnight fireworks
New Year's Eve in Melbourne is special in that as long as you can see the skyline, you're bound to catch a glimpse of the New Year's Eve fireworks as the clocks strikes midnight.
Melburnians don't even have to make the trek into the city to enjoy the New Year's Eve celebrations and fireworks. Channel 7 is broadcasting the festivities live, and the official New Year's Eve soundtrack (which will be synchronised with the midnight fireworks) can be tuned into on FM 99.7. That way you can see the fireworks at home, on a rooftop, at your local park or at your favourite local spot.
If you're heading into the city, the City of Melbourne has four official live sites where you can bid adieu to 2016 and say hello to 2017. The live sites, at the Treasury Gardens, Docklands, Flagstaff Gardens and Kings Domain, feature free live entertainment, a music video retrospective from 2016 and DJ sets from 11pm to 1am.
Don't worry about the amenities, food outlets will be open at the official live sites mentioned previously, as will toilet facilities. Please be aware that the City of Melbourne's New Year's Eve is an alcohol-free event. For those travelling into the city, train and tram services will run all night to a normal Saturday timetable. Bus services will run to a normal weekend timetable. Large crowds are expected on the night, so expect delays.