Heads up! We're working hard to be accurate – but these are unusual times, so please always check before heading out.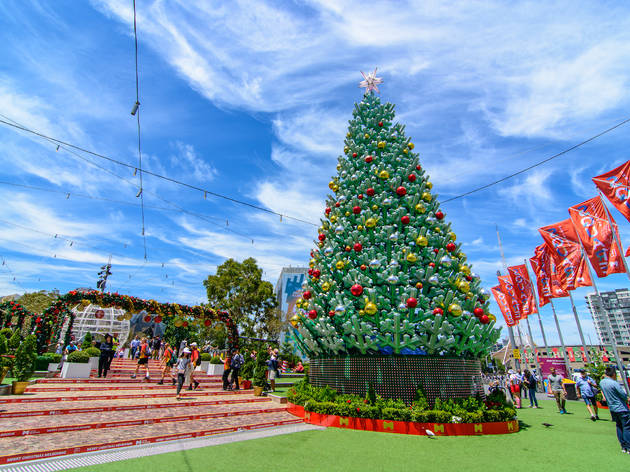 Where to find Christmas lights in Melbourne
See the city at its most sparkly once Melbourne switches on its Christmas lights for 2020
Across the city, Melbourne Christmas lights get bigger and better every year. There are plenty of locations throughout the city that will make you stop and gawk with wide-eyed wonder at the giant Christmas trees and glittering lights.
But it's not just the city streets that gets bedazzled this time of year. We've scoped out the suburbs where the residents have clearly been planning their decorations months in advance and who could give Clark Griswold a run for his money. Here are just a few of the biggest and brightest Christmas lights to gawk at this December.
We'll be updating this page with info on Melbourne's Christmas lights 2020 as soon as details are announced.
Here's where to find the perfect Christmas tree in Melbourne.
Christmas lights in Melbourne
Christmas lights around the suburbs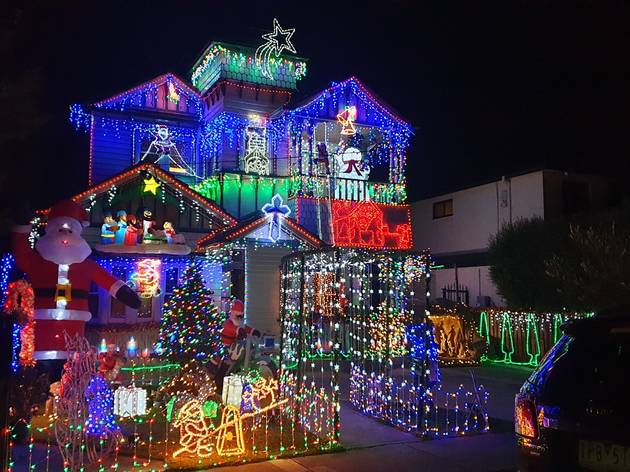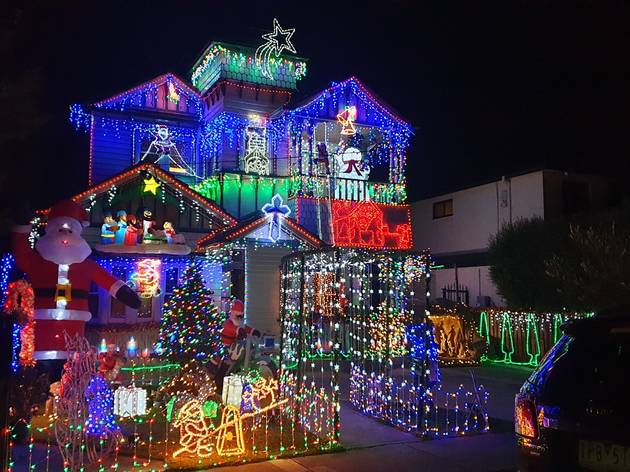 Photograph: Melbourne Christmas Lights Map/Supplied
Coburg
29 Shaftsbury Street
If the folks at 29 Shaftsbury Street seem familiar it's because they used to host their annual festive light show in Brunswick. They hoicked over all their lights and decorations when they shifted to Coburg though, so kids and adults can still enjoy a Christmas display featuring 25,000 lights, animated bears, a reindeer-led sleigh, Santa house and train. Shaftsbury Street Christmas Lights.
Coburg
5 Molesworth Street
A stone's throw away from Shaftsbury Street, a second Coburg spectacular awaits. Turn the corner into Molesworth Street and be greeted by thousands of twinkly lights completely decked out over a triple-storey house. Accompanied by large inflatables, music and moving features, you can also make a donation to the Royal Children's Hospital. Molesworth Street Christmas Lights.
Greenvale
27 Glencairn Drive
Often referred to as the 'Myer Windows Of The North', these owners go all out, year after year, to decorate the entire front of their house with lights and decorations, including spectacular hand-crafted scenes in their front windows. Heaps to gaze at and great fun for all ages. Sometimes Mr Whippy even shows up. Glencairn Drive Christmas Lights.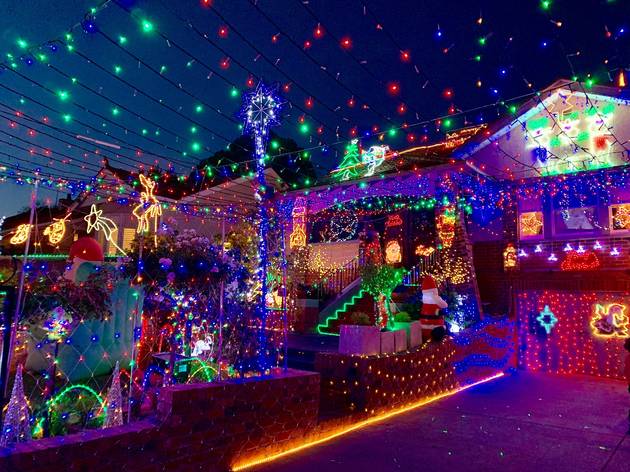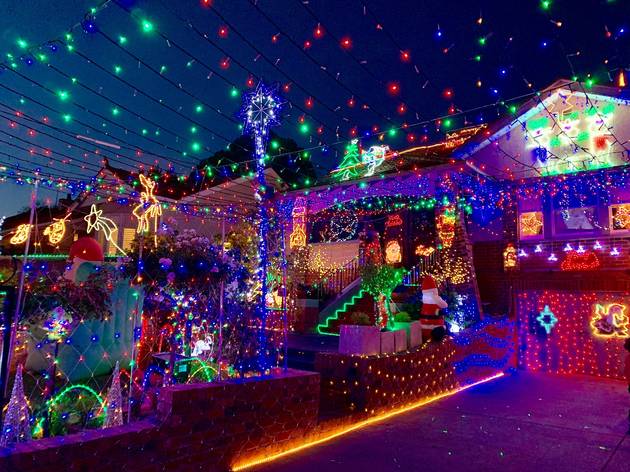 Photograph: Melbourne Christmas Lights Map/Supplied
Wantirna
9 Warwick Close

Tucked away out of sight in a court in Wantirna, sits a neat display that'll be sure to impress. A garden of dangling fairy lights surrounds a neon passageway where you'll be greeted with various characters and inflatables singing along to Christmas tunes. Warwick Close Christmas Lights.
Camberwell
997 Toorak Road
Head to Camberwell so see lots of colourful and flashing lights that will certainly put a smile on everyone's face. Included in the display is a big Santa, moving seesaw, moving reindeer pulling Santa's sleigh, Santa's workshop, nativity scene and heaps more. The display covers the whole house and front garden. Toorak Road Christmas Lights.
Montmorency
150 Reichelt Avenue
The first things you'll be greeted with at this radiating display in Montmorency are three massive LED Christmas trees, including one on top of the garage. It doesn't end there, there are Christmas lights spilling out of the roof, down the walls and into the garden. There's also a train and Ferris wheel (oh, and around 50,000 LEDs). A carnival of colour hidden away in the north-west. Reichelt Avenue Christmas Lights.
Mount Dandenong
7 Ornata Road
This has got to be Mount Dandenong's best-kept Christmas secret. Come visit Benhaylem Hollow, a magical Christmas light display tucked away in the middle of the forest. All light displays are located in the front garden and roof and can be viewed from the road spanning the length of the house. Ornata Road Christmas Lights.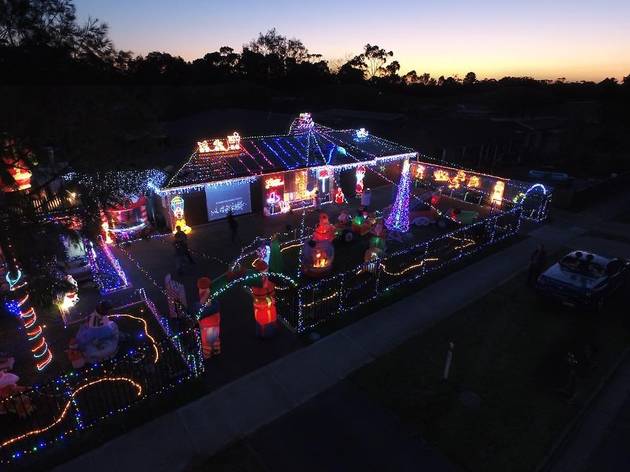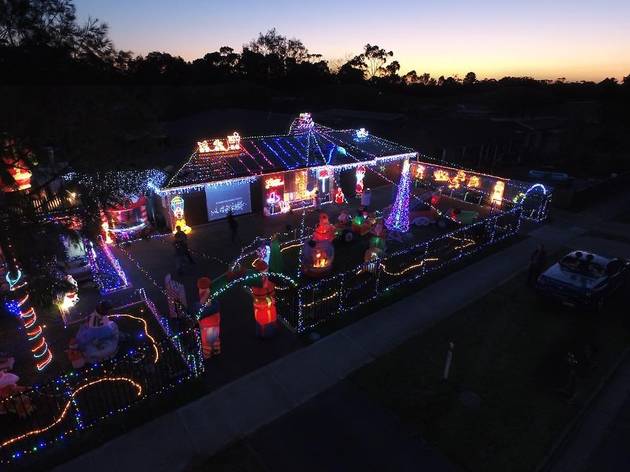 Photograph: Melbourne Christmas Lights Map/Supplied
Bittern
157 Woolleys Road
The best displays aren't confined to the city and this house in Bittern is taking that as a challenge. Located in Melbourne's outer south-east, you'll be treated to a brief but peaceful country drive before arriving at an awe-inspiring Christmas extravaganza. Behind the gates of this double block property, you'll be greeted with lights, Christmas characters, inflatables, lasers, songs, fake snow and bubbles. There's a total of nine snow machines and 20,000 LED lights so the kids are sure to love it. You can also donate to support the local CFA. Woolleys Road Christmas Lights.
Cranbourne North
9 Middlesex Court
Have you ever heard the old saying, "the best are out of sight"? Well until we discovered this picturesque Christmas light display in Cranbourne North, neither had we. You'll need to take some left and right turns, but when you end up at the end of Middlesex Court, you'll surely be delighted at the sight of thousands of sparkling lights. A display all ages will appreciate and the owners are even handing out lollies for the kids. Middlesex Court Christmas Lights.
Special thanks to the team at Melbourne Christmas Lights Map for helping us put together this suburban list. If you're keen to make a night of exploring Christmas light displays, be sure to check out the map and light search on their website.
Get a real tree
Tree-t yourself to a fresh pine tree this Christmas from one of these local businesses.