Where to find Christmas lights in Melbourne
Think your fairy lights are impressive? Wait till you see the seven metre trees and interactive displays lighting up Melbourne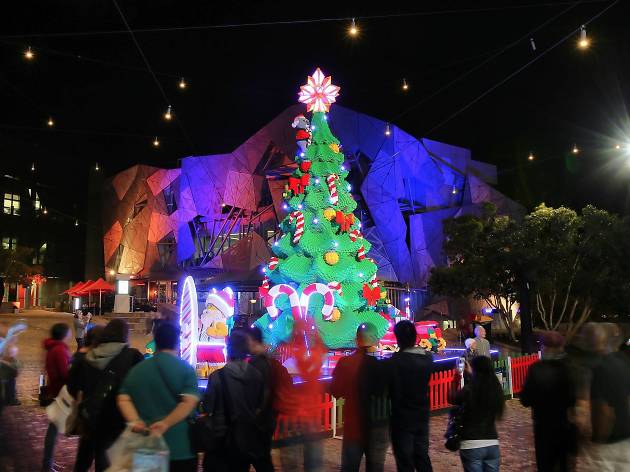 Across the city, Melbourne Christmas lights get bigger and better every year – but there are some streets and suburbs where the residents have clearly been planning their decorations months in advance. Expect giant trees, radio-rigged setups and mega Santas to invade doorsteps and rooftops across Melbourne. Here are just a few of the biggest and brightest Christmas lights in Melbourne throughout December.
To get into the yuletide spirit, peruse our ultimate gift guide or book a table at a top-notch Christmas lunch.
Santa Claus is coming to town
What started out as a friendly competition between neighbours since 2002 has snowballed into another year of Christmas light madness. While you're checking out the snow machine, trains and reindeer, you can also donate to the Royal Children's Hospital Foundation. 150 Reichelt Ave, Montmorency. December 1-28, 7.30pm-11pm.
Raising money for the National Breast Cancer Foundation, last year the good folks in Gordon Grove, Preston computerised Christmas lights to flash to carols and videos, with over 40,000 lights on show every night. They've even got their own YouTube channel, so you can watch it all from the cosy comfort of your own home (although nothing beats the real thing!). They're also flashing in time to 97.5FM. 47 Gordon Grove, Preston. Dec 1-26.
3
Photograph: Time Out
For over half a century, the Boulevard in Ivanhoe has taken Christmas lights to the next level, showering houses, trees and streets in lights and decorations. Get in early as the traffic can pile up pretty quickly, with thousands rubbernecking at the lights every year. The Boulevard, Ivanhoe.
Tune into 98.5FM and see this St Helena home dance to music. If the lights dazzle you into feeling extra generous, the Allumba household takes donations for the Make-a-Wish Foundation. Rock up on the opening night (December 2) for a full night of food, music, entertainment and dazzling Christmas lights. 24 Allumba Dr, St Helena. Dec 2 -
5
Photograph: Time Out
Since 1998, Chris from Templestowe has been decking out his house in Christmas decorations from around the globe. This year, the six-metre mega trees are back and the lights have been synchronised to flash in time to the music on 96.9 FM. So tune in and enjoy the show. 360 Porter St, Templestowe. Dec 10-25, Sun-Thu 9-11pm; Fri, Sat 9-11.30pm.
More Christmas fun in Melbourne
Things to do, Fairs and festivals
Christmas in Melbourne may not be a winter wonderland, but what we lack in snow, we make up with barbecues, seafood, long lunches and festive lights in the city.