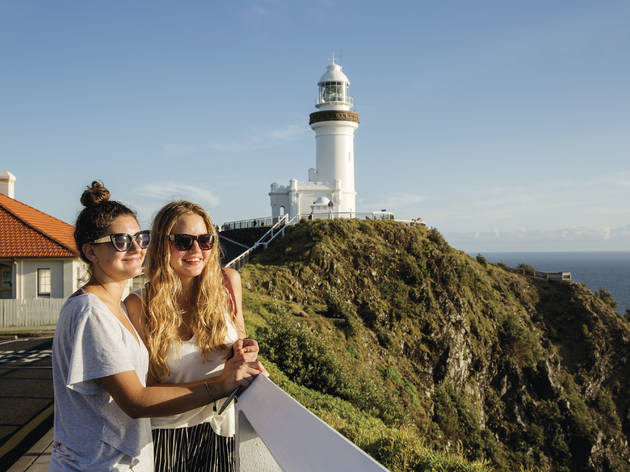 Byron Bay
Australia's easternmost point is a destination town for beaches, festivals, markets, eating and drinking
For better or worse, Byron Bay has entirely completed its transformation from hippy town to boho-luxe northern outpost of Sydney's Eastern Suburbs. While Byron Bay's town centre has succumbed to a backpackers-meet-the-one-per-cent influx, the lifetime fire twirlers and queer communes haven't been completely expunged from the Byron Bay region. You just need to visit another village to find them.
The presence of three major music festivals (Bluesfest in April; Splendour in the Grass in July; and Falls Festival over the New Year), and a year-round holiday feel have encouraged enterprising locals from all over the region to set up side-gigs as AirBnB hosts. So whether you want a full-frontal surf beach bungalow in Lennox Head (20 minutes South of Byron) or to stay in a shed in the back of a crystal-dotted fairy garden in Mullumbimby – about 20 minutes northwest – your needs will be catered to.
Casual dining standards in the region have also hit the stratosphere, spearheaded mostly by established players in the Sydney hospitality scene heading north for sea and tree changes. For their efforts alone, the region is worth a visit.
While the infrastructure has changed, the natural environment remains pristine. The view of the sparkling blue ocean and just-yellow stretches of beach from Byron Bay's old fashioned lighthouse remains entirely arresting, while adventures through sub-tropical rainforests are easily accessible.
See and do
You haven't really been to Byron until you've been into the brightly lit, incense scented
Spell Designs
boutique. The brand has a cult following globally (seen a model at a music festival, pretending it's 1969? She's probably wearing Spell), and the store doesn't disappoint. From books on being 'a wanderer' to Spell's boho dresses, and crocheted beach blankets, they've got everything you need to live out your small town bohemian or festival dreams. Service is knowledgeable and attentive, and while many of Spell's pieces require model-proportions to pull off, for those of us who aren't doe-eyed wood nymphs, their signature selection of kimonos works on any body.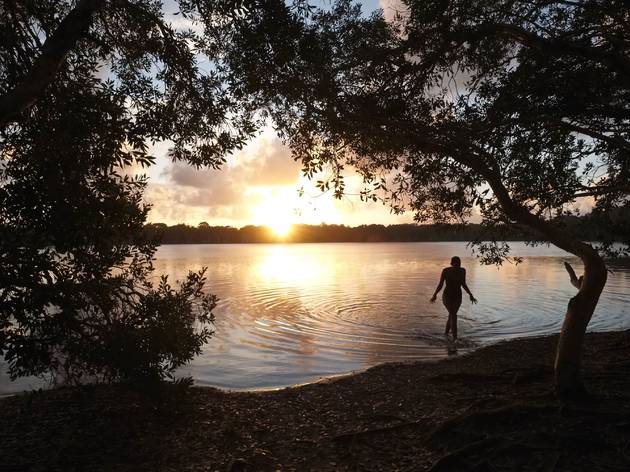 Byron Bay and the surrounding beaches have experienced more than their fair share of shark attacks over the last couple of years, so if you're afraid to go back in the water, we don't blame you. However, you've got an alternative option.
Lake Ainsworth
's water doesn't look appealing on first glance – it's so dark it's almost black, but, the cause of the colouration is immensely enjoyable. The freshwater lake has been stained by tea-tree oils and you can smell the plants that surround the lake as you swim in it. Right by the ocean at Lennox Head, you can still hear the waves crashing as you swim, stand up paddleboard, or canoe around, free from the anxieties of crashing surf and great whites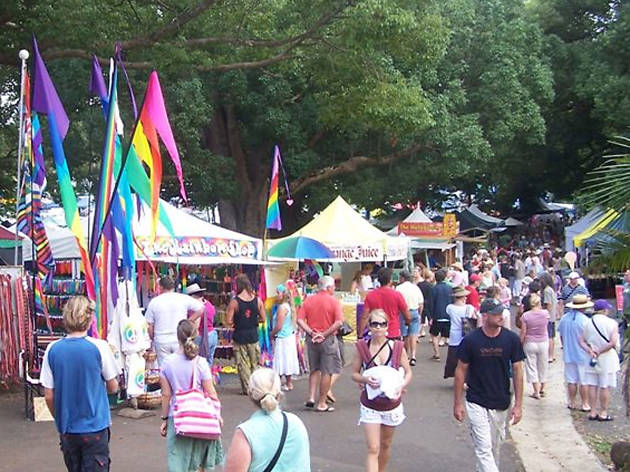 Up in Bangalow, the markets are held on the fourth Sunday of the month and feature food, craft, therapists and artisan bric-a-brac. You'll also find artists performing throughout the day, and ATMs are on-site.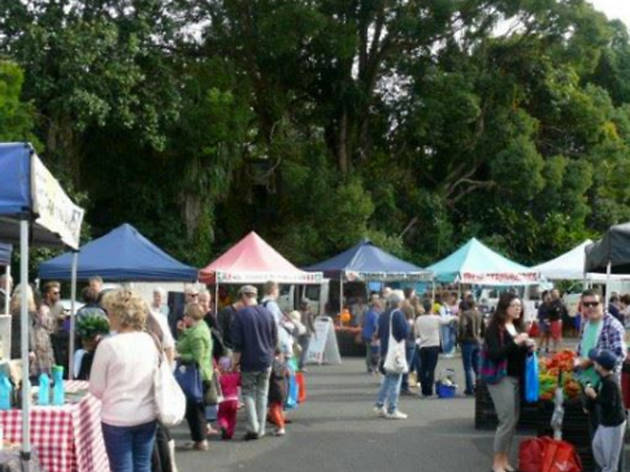 Stallholders are only allowed to sell what they produce themselves at the Byron Farmers' Market – no re-selling of products is permitted. Products that can be enjoyed year round include sugar cane juice freshly juiced on site, macadamia and pecan nuts and products, prawns and fish, prime cuts of beef and pork raised in the hills behind Byron, eggs, coffee, bread, olives, honey, miso, tempe, sprouted seeds, dips, chutneys, jams, and flowers. The market takes place every Thursday 8-11am.
Escape the crowds by hitting the surf and going kayaking with dolphins. It's one of several tours on offer from Cape Byron Kayaks, alongside whale watching from May to November. They can also rent you some snorkelling gear so you can swim with turtles.
Eat and drink
Located flush to the Pacific Highway, about a ten minute drive from Byron's town centre, Three Blue Ducks' The Farm is the most ambitious of Byron Bay's recent arrivals. The baby of Darren Robertson and Mark Labrooy, this 34-hectare property houses an outpost of Three Blue Ducks, a providore with an impressive cheese room and salumeria, a bakery (the Bread Social), a classroom (Milkwood) and a nursery where you can pick up farm-grown sunflowers or a glossy-leafed young fiddle leaf fig. If you can bear to meet your meal, there's an elaborate chicken coop right by a wooden children's playground, and nearby, pens housing farrows of pink and black piglets across an expansive lawn. The food lives up to the impressive setting. The hay-smoked salmon is firm and subtly fragranced. Roast vegetables (many of them grown on site) and house-made ferments make a spectacular case for eating one's veggies – vari-texured, balanced, and pleasingly nutty, sweet and sour in turns. The bakery, too, is excellent. It's hard to go past the Portugese custard tart, which is eggy, sweet and dusted in cinnamon, its flaky pastry only-just holding its runny centre in check.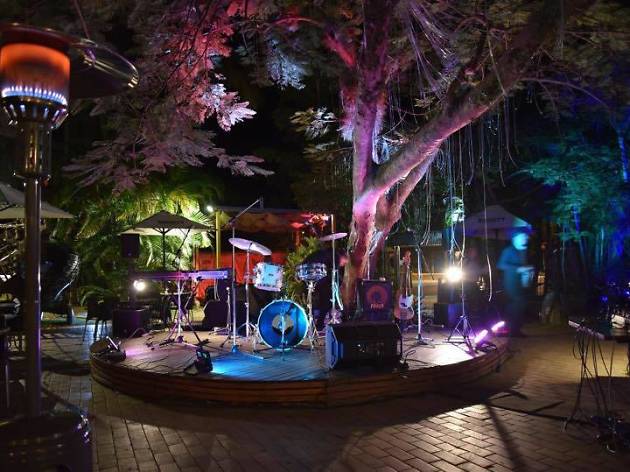 Photograph: Supplied
Mamed for the two huge Poinciana trees growing in the spaces' courtyard and through the roof of its shed-style dining area, is a Mullumbimby institution that recently changed hands. It'd be worth a visit for the setting alone – at night, strings of LED fairy lights twinkle through the trees, and by day, bearded dragons scamper across the red brick floors – but with the new owners came a new team in the kitchen. Executive chef Khalil Rogers-Perazzo, who comes to Mullum via the Grounds of Alexandria's the Potting Shed, has designed a menu that's heavy on fresh fruit and vegetables, and lives up to city-slicker expectations, with prices that, while not cheap, are a little lower than one would expect from a Sydney or Melbourne venue. The space plays host live folk music on weekend evenings, and, from September, will hold twilight farmers markets on Saturday nights.
Craving bliss balls, raw cacao caramel slices, cold pressed juices and vegan tacos? Of course you are. Why else would you be in Byron?
Naked Treaties
is your answer. The café near Byron Bay's town centre serves up vitamin-packed smoothies that meet every dietary hashtag you could possibly imagine, while somehow managing to remain delicious. Prices are comparable to similar businesses in Prahran or Bondi, but with its white-walled interior, painted with bright murals, affirmation covered blackboard, and bright, striped cushions, the whole thing feels suitably beach-side town.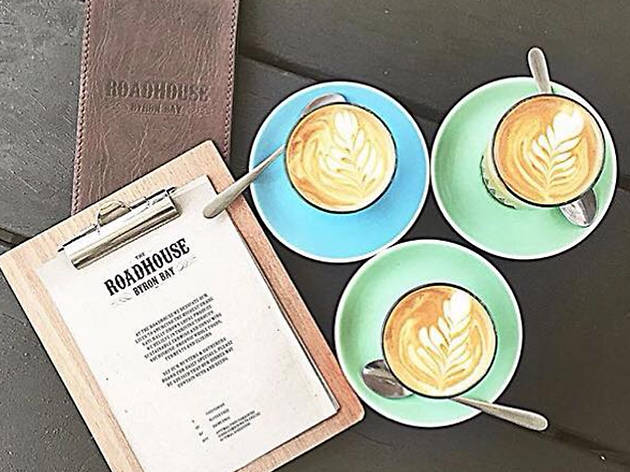 He's a man with a passion for whisky, and drinkers are the winners at Dan Woolley's the Roadhouse café-bar-restaurant. The former Sydney bar manager turned whisky ambassador and venue owner has amassed a collection of over 500 bottles available to be sipped on straight or in one of the bar's signature creations and dark-spirited classics. Breakfast, lunch and dinner menus feature local produce and a Southern American spin (think jerk chicken wings, Caribbean charred corn and salted caramel and dark chocolate mousse), while the drinks excel, particularly the barrel-aged Classic American Cocktail with Buffalo Trace and the Roasted Pineapple Julep. Woolley's original recipe Mint Julep is also a standout.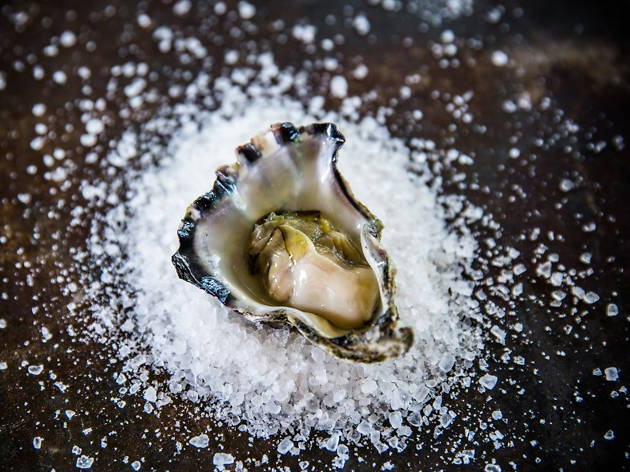 When the weather's tops and the retractable roof is open, you won't get any closer to dining on the sand than at Beach Byron Bay. Expect regional produce in the day and night menus, from Bangalow bacon and pork belly to local brew Stone & Wood-battered sustainable fish. The spanner crab tortellini is also worth a look-in. The wine list ranges from $38 to $150 a bottle, while great value is to be had on the by-the-glass list, particularly the Lethbridge Pinot Gris from Geelong.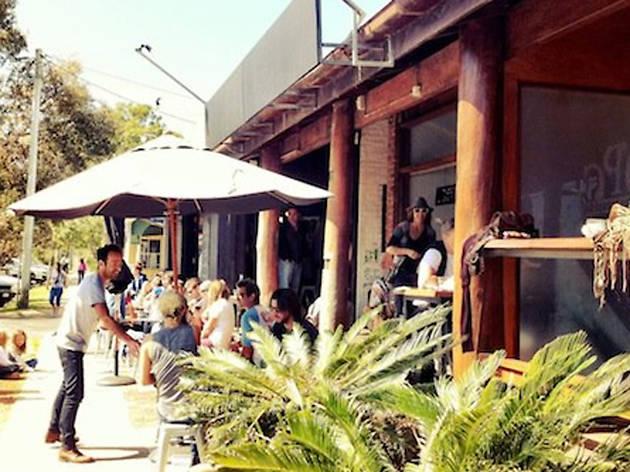 For an iced chai or soy flat white before a morning walk along the beach at Byron, stop by Bayleaf Café, where you can't go wrong with an order of poached eggs.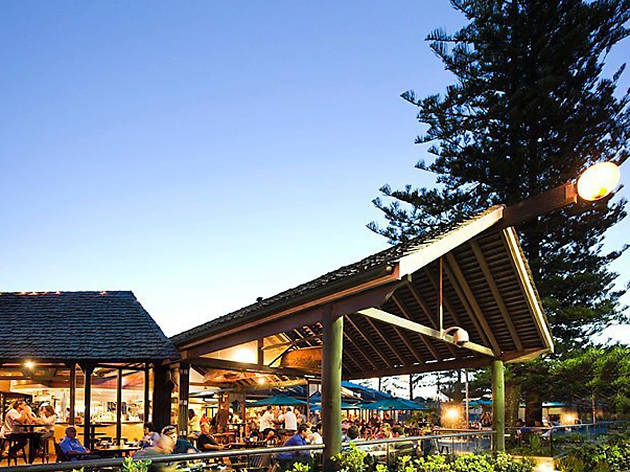 If you're looking for a beer garden with live music, the Beach Hotel is the pub in Byron Bay that you want. It overlooks the main beach: you can either grab an outdoor table with unrivalled views of the coast, or venture inside and watch whatever is trending in the sports world with their giant screens. A new menu offers something a little different to your classic pub feed, with a pork crackling hot dog and Thai green curry both available all day.
Stay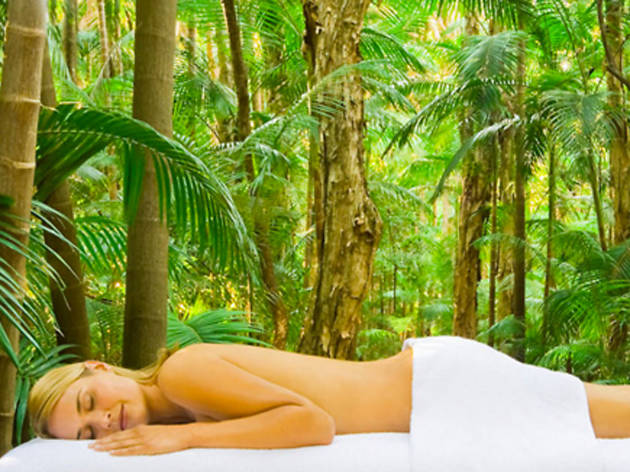 A 15-minute cycle from the heart of Byron is a hotel that exceeds expectations every time, thanks to the hands-on service and passion for hospitality from hoteliers John and Lyn Parche. At the Byron at Byron Resort and Spa, a short walk from Tallows Beach, you'll find 92 rooms spaced out across 45 acres of rainforest. There are features you'd expect from a world-class hotel: a pool, tennis court, day spa (book a Rivergum Reverie or a deluxe foot therapy) and restaurant. Our pick of the rooms is a one-bedroom Deluxe Spa Suite, which features a kitchenette, dining table, sofa, two TVs and a DVD plus Foxtel and Wi-Fi, a bath and separate shower and balcony. In the restaurant, the breakfast buffet offers a top spread of cold and warm dishes, while at night, mussels and the Berkshire pork rack are the must-order on a mod-Oz menu by Scottish-born chef Gavin Hughes.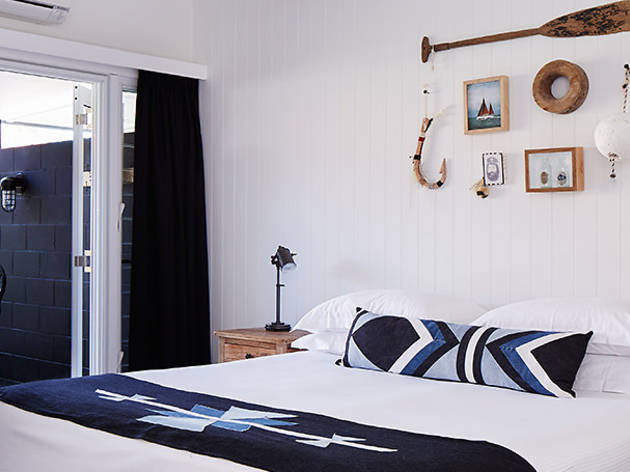 The Hamptons go tropical at Instagrammers' paradise the
Atlantic Guesthouse
. All blue and white stripes, with a lush, leafy garden, the Atlantic's offerings range from luxurious king sized rooms with private decks, to more simple surf shacks, and even an airstream caravan. In winter, prices start from $180 a night.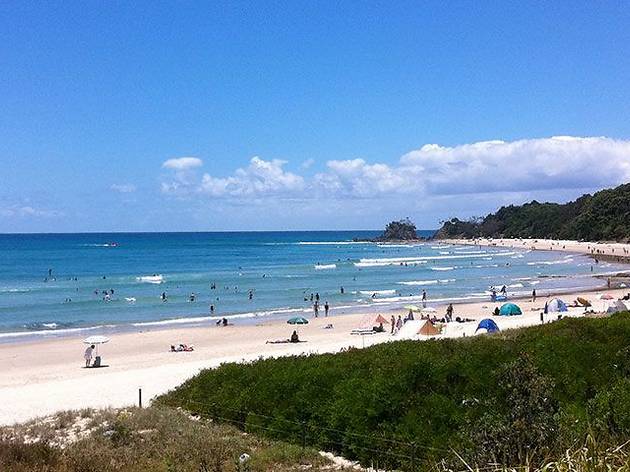 Don't be put off by the 'resort' in the name. You can probably afford to stay at
Byron Beach Resort
, a hybrid holiday park and backpackers, with six-person dorm beds starting from $22 a night. Located on the northern outskirts of town, right by Belongil Beach, the resort offers shuttle services into Byron centre, and is a quieter alternative to the more hardcore backpackers in town.
Getting there
Qantas, Virgin Australia, Jetstar and Tigerair all fly to the Gold Coast. From there, Byron Bay is just a 50 minute drive south.
To make the most of the area, you're going to need a car. The region's best features are easily accessible on wheels, but buses are limited, and their routes are designed to meet locals' needs, not tourists' follies. Sometimes they don't show up at all.