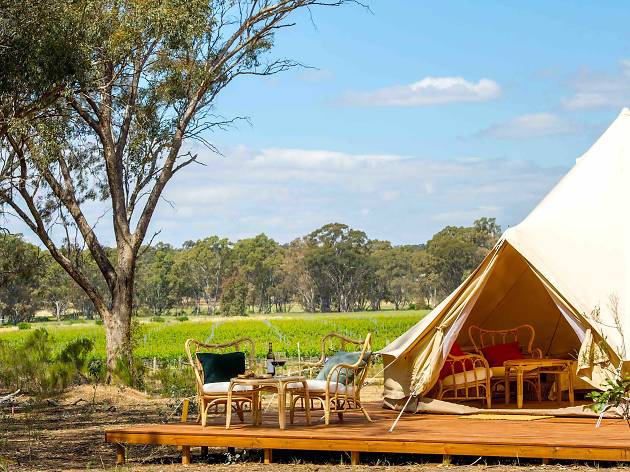 Five great glamping experiences near Melbourne
Pack the car and discover the great outdoors – while also enjoying the great indoors
Maybe we're biased, but we think Melbourne is one of the most exciting cities in Australia. Food, music, nightlife, shopping – you want for nothing in Burn City. But even as the city's biggest advocates, we concede that sometimes residents get the itch to escape the concrete jungle. Then again, we do rather adore our plump mattresses and access to hot running water. The remedy? Glamping. It takes the best, luxe amenities of the city and plonks them in a gorgeous, usually secluded natural setting.
The problem is, seclusion requires transportation. Cue the Subaru Impreza. This All-Wheel Drive small car has all the extras that'll turn an arduous five-hour road trip to a glamping site into a smooth, fun-filled adventure. You can pump tunes effortlessly from your device all the way with Apple CarPlay® and Android Auto™ connectivity, charging as you go using the car's multiple USB ports. You can satisfy Mum's safety concerns with Subaru's EyeSight® Driver Assist tech and reverse camera on selected models, and get to your luxe hideaway quicker using in-built satellite navigation. So let that country road take you home to one of these very swanky canvas cabins in a pristine spot within easy driving distance of Melbourne. We've even compiled the perfect Spotify playlist for the journey.
Photograph: Graham Denholm
Glamping spots to drive to from Melbourne
Mirador Springs is just off the M1, about 90 minutes from Melbourne. But in the short, winding distance between the highway turnoff and the retreat, you'll go from flat farmland to a mountain of densely wooded eucalypt forest punctuated by laughing kookaburras and warbling maggies. This is glamping as it should be – that is, as far removed from camping as possible. It has pretty much all the comforts of your standard hotel room including kettle, heater, bar fridge and mircrowave. No compost toilets here; Mirador's amenities take the form of a luxe outhouse complete with deep dish hot water tub, polished stone basin and a real toilet in all its flushing glory. Make sure to explore the acres of fairytale gardens while you're there.
Balgownie Estate is recognised as one of Australia's premium vineyards, with 15 permanent glamping tents set up near the vines. Each tent is fitted with a queen-size bed and linen, split-system air conditioning, a mini bar fridge and tea and coffee facilities. Step outside and there's your very own outdoor lounge setting too, perfect for relaxing on while sipping on one of the estate's vintages– the alluvial soil makes for a great tasting shiraz. Getting to Balgownie Estate is easy by car: just follow the Calder Highway northwest from Melbourne for two hours then take a right.
This single-room cabin (plus ensuite) in the Yarra Valley is an off-grid escape that comes in at just 12 square metres in size. But clever use of the space and decor makes it feel cosy rather than claustrophobic. The petite home was built by brother-and-sister team Ben and Aimee, who prudently used a white-heavy colour scheme to expand the space. You'll find Tiny Stays Yarra Valley at the top of a straw-coloured hill about ten minutes' drive from Healesville, and just 70km from the CBD. Even on chilly days we advise spending your downtime outside the cabin, soaking up postcard-perfect views of grazing 'roos and gum forest.
At this serene camping spot in the Macedon Ranges (an easy 90-minute drive from Melbourne), you'll wake up to the sounds of birds and the breeze through gum trees. You're in spa country, so when you're not enjoying the comfy tent filled with a pillow-top queen bed, fan or heater, Bluetooth® speaker and in-tent woodfire stove, treat yourself to a massage in Daylesford, or soak into the natural mineral waters of the nearby Hepburn Bathhouse. There is a communal barbecue area, and you can arrange to have a brekky box delivered to your tent.
Inspired by the tiny house movement and the wonderful world of #cabinporn on Instagram, Unyoked is an Australian start-up that has launched a bunch of tiny homes in some of the country's most remote locations. The cabin comes with all the essentials: a sink, stove, compostable toilet, shower, provisions to get your through your stay (like a mini bar but with upgraded essentials to make pancakes, campfire lasagna, s'mores and Negronis), classic books (Kerouac, Twain: all the hitting-the-road classics) and one comfy-ass bed. There are three locations in Victoria, all within 90 minutes drive from Melbourne. And with the All-Wheel Drive Subaru Impreza as your carriage of choice, your journey will be every bit as enjoyable as your stay.