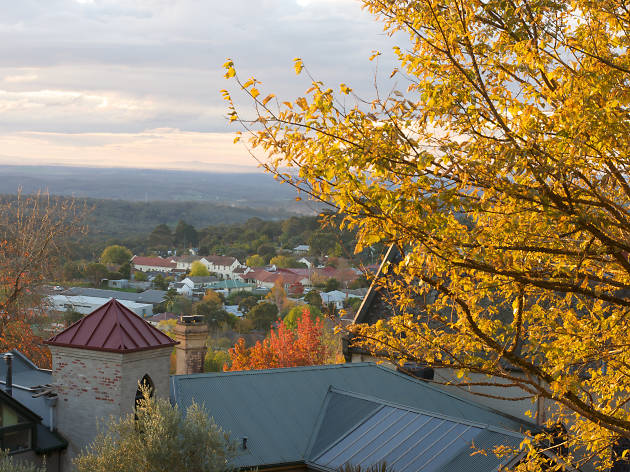 How to have the perfect escape in Daylesford and surrounds
Explore the beautiful natural springs, spas, art and history of the Daylesford region
There are so many reasons to visit Daylesford that it's surprising that most of us aren't there every weekend. There are the spas, of course; but then there are also contemplative art galleries, heritage train rides and a museum that tells the stories of the Dja Dja Wurrung people who are the traditional owners of the land.
According to advice from the Department of Health, Victorians are currently only allowed to travel for day trips only. From June 1, overnight stays will be allowed across regional Victoria, cultural venues will be permitted to reopen and restaurants and cafés can offer dine-in service. Some restrictions apply and physical distancing measures remain in place. Check with individual venues for specific opening details.
Where to stay
Imagine watching the mist rise from Lake Daylesford as you enjoy a morning tea on your balcony. The Lake House does tranquility exceptionally, being a sprawling property with private courtyards and many gardens to explore. Its co-owner, Allan Wolf-Tasker, is a renowned artist who has a studio on site that's open by appointment, and there are paintings and sculptures throughout the grounds. Those who want to relax will find solace in the Salus Spa, surrounded by waterfall-fed streams, while the more active will enjoy a hit on the courts (and then a drink in the pavilion). For really polished privacy you can stay in The Retreat – a discrete country house within the grounds. The two-hatted restaurant, steered by culinary director Alla Wolf Tasker and executive chef David Green, creates feasts from the bounty of local producers, and can brag a wine list of more than 1000 varieties. You can even enroll in the purpose-built cooking school, which regularly features guest chefs, such as Andrew McConnell.
Things to do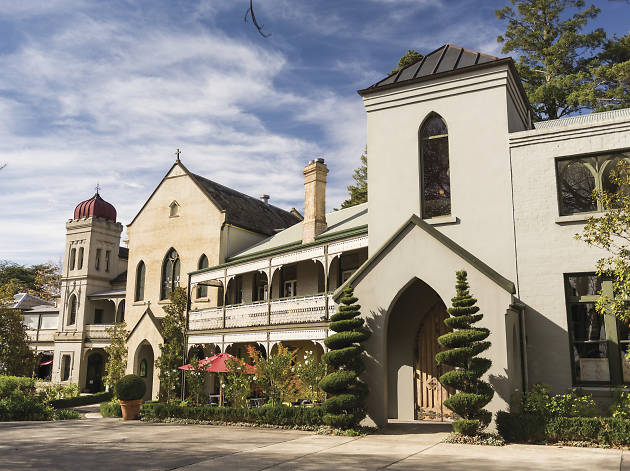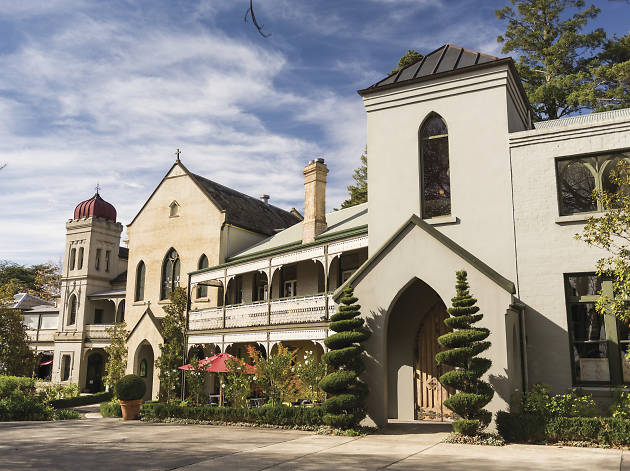 Photograph: Visit Victoria
The Convent
It takes so long to explore the convent that you'll even be handed directions that advise you where to go and in what order. Built in the 1860s during the gold rush, it's now home to multiple touring exhibitions and old artefacts, from the bell tower right down to the basement. Actually, a local artist, Tina Banitska, had bought the property in 1988 after the last nuns moved out in the '70s. A stroll around the carefully cultivated grounds is a must (particularly if you like begonias), as is a morning stint in the Bad Habits café, which serves everything from high tea (which must be booked) to mulled wine.
Sunday Market and Heritage Train Rides
Every Sunday a sprawling market that's part flea, part produce, part clothing, sets up alongside Daylesford Railway Station. Drop in for the briefest of browses and you're liable to walk away with a house plant, locally produced honey and… whatever that antique bit of iron is. The 1882 heritage-listed railway station is the highest-operating in Victoria, and the hour-long journey of its historic railmotor ($13-$15 return) takes in volcanic hills, dense forests, and no doubt the odd wombat. The only thing it won't do is take you back to Melbourne.
Hepburn Springs
A mere five minutes' drive from Daylesford is gracious Hepburn Springs – a spa town that's risen up around the natural mineral springs. Indeed, you can either take a stroll through the bush and fill up your water bottle straight from the source, or you can splash out on one of the many hotels and day spas that will soon get you afloat (well, as soon as you've had a massage). There's plenty of sustenance here, too, such as Surly Goat – a popular restaurant just off Main Road. It books out at weekends so you might need to grab a seat at the bar. The menu changes weekly, but think barramundi fillets, Black Angus rump steak and chargrilled lamb cutlets. After dinner, trek all the way down to the sulphur spring, guided by the Narnia-like green streetlamps.
Mill Markets
There really is something for everyone at these massive markets that stretch from room to room. Fans of Australiana are particularly well catered for, thanks to the vintage tea towels, postcards and kitsch tablewear, but there are also plenty of clothes to rummage for (whether you're looking to be Steve McQueen or Amy Winehouse), lots of coins for collector buffs, and everything from ancient motorbike parts to vintage pinnies.
Daylesford Museum
Staffed by the volunteers of the Daylesford & District Historical Society, this museum is a goldmine of local history. Much of it was donated by the descendants of early settlers, so you can imagine there's a wealth of early gold-mining relics. There are also artefacts and papers from the Loddon Aboriginal Protectorate station at nearby Franklinford, which was land loaned back to the Dja Dja Wurrung people in 1841 – before they were forcibly resettled again in 1864. For those embarking on research projects, the museum opens its archival resources to the public, even providing insight from its own team of researchers, provided an appointment is booked.
Discover more of the RCC
What do the four shires surrounding the buzzing Victorian centres of Bendigo, Daylesford, Castlemaine and Maryborough have in common? In 2018, they're teaming up to form the Regional Centre for Culture. Over 12 big months, the RCC will host music festivals, shows, exhibitions and community events. For a comprehensive look at where to go, stay and eat, check out our guide to the RCC.