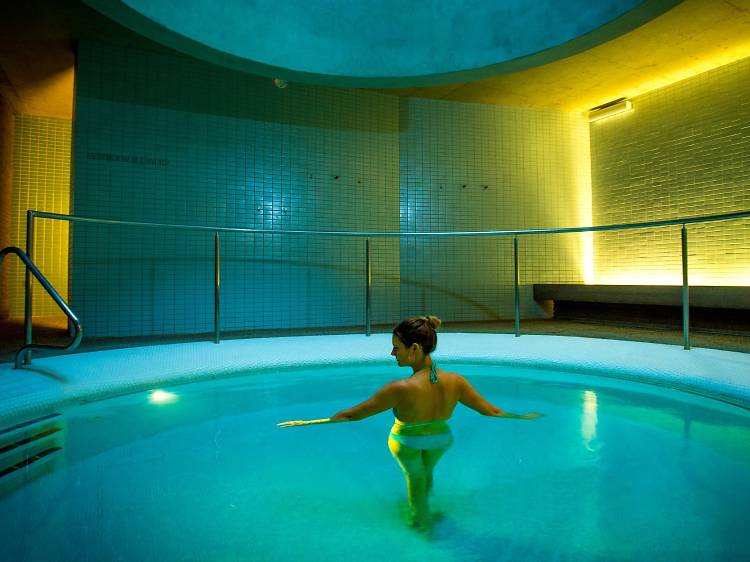 Photograph: Supplied
You're here to relax, so begin your getaway by visiting arguably the most famous spa in the region, Hepburn Bathhouse and Spa. There are two different areas for soaking, the general bathhouse and the Sanctuary. The main bathhouse has two different heated, chlorinated pools (the water comes from the mineral springs, but it is chlorinated for hygiene reasons). The Sanctuary is a larger space and includes a magnesium salt bath (under a gorgeous skylight; you'll feel weightless as your muscle aches melt away); a spa couch bath (you can lie on one of several underwater beds and let the bubbles work their magic); a rainfall shower in three different temperatures; two saunas, one of which includes an aromatherapy element; and an outdoor spa on the deck, which overlooks the beautiful Hepburn Mineral Springs Reserve. There is also a cold plunge pool on the deck, so you can zip between the hot and cold water for maximum skin-tingling effect.
The best time to take in art is when you've got the mental space – so head to the Convent Gallery and spend time with work from all manner of historical periods and styles. The dramatic 19th-century Victorian mansion was built as a private residence and was extended into a convent and boarding school. The downstairs museum provides fascinating detail about the history of the space, while upstairs you'll find an extensive contemporary art gallery, with an ever-rotating roster of exhibitions and artists. And that's not all. The Convent Gallery also includes retail spaces, a bar, 2.5 hectares of gardens and even a chapel, where weddings still take place.
For a simple slice of tranquillity, pick up some picnic goods at the gourmet food shops on the main street and head to the pristine Lake Daylesford. You can take a walk around the lake or make a meal of your picnic on a bench. Keep an eye out for birdlife.
Want something sweet? The team at the Chocolate Mill hand-make more than 12,000 chocolates every single week using fair-trade Belgian couverture chocolate. You can get everything from chocolate barks to truffles to chilli hot chocolate mix. Visit the Hot Chocolate Café for a slice of cake, a coffee or an ice-cream sundae. The hot chocolates here are divine – but our tip is to go hard or go home and order a chocolate shot, which is a small cup filled with gooey, melted chocolate, no extra ingredients needed. There are also toasties and light refreshments available on weekends.
If you want to get to know some of the history of Daylesford, Alice's Journeys runs walking tours three times a week and by appointment. Knowledgeable tour guides (none of whom are named Alice) will take you around Daylesford's historic streets as well as into buildings like the former courthouse and former jail. Tours take between an hour and an hour and a half, and along the way you'll learn fascinating stories about the area's history and culture. Wear comfy shoes and bring weather-appropriate clothes, as tours run all year round. Private tours are also available.
Love live gigs? The Palais Hepburn Springs has live entertainment just about every night. Live music acts and comedians perform here, and sometimes you can catch DJs and art shows.