Heads up! We're working hard to be accurate – but these are unusual times, so please always check before heading out.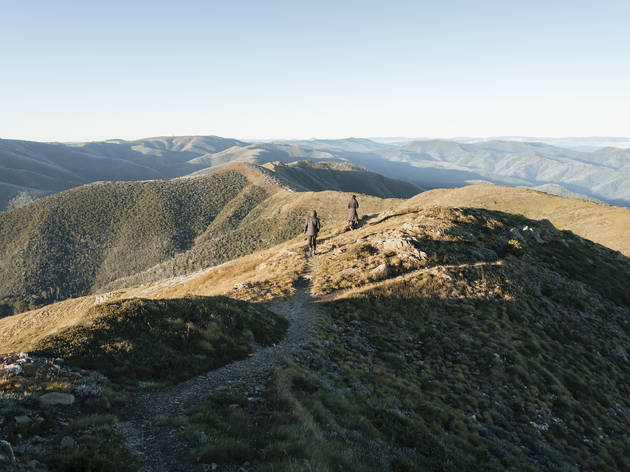 The best day hikes from Melbourne
Eager for a bushwalk? These are some of the best hiking and walking trails to try near Melbourne
Ready to get out of the big city? Try tackle one of these day hikes near Melbourne. Regional Victoria is brimming with picturesque walks great for getting your heart pumping including local wonders and seaside spectacles. Remember: always be prepared when hiking and bring plenty of water, snacks and wear sturdy shoes.
If you'd rather stay closer to come, here are five great Melbourne walks, a stone's throw from the city.
RECOMMENDED: Go for a drive to the best waterfalls around Victoria.
Melbourne day hikes less than two hours away
Bushrangers Bay Trail
This coastal clifftop walk boasts picturesque vistas over Bass Strait. To begin, set off from the Cape Schanck car park through sandy outcrops, adjacent farmland and banksia forest. Keep an eye out for whales, chatty birds and maybe the occasional kangaroo as it makes its way across the grassy clearings. Top it off with a dip in the cool waves at the trail's namesake beach.
Drive time from CBD: 1h 30m
Duration (one way): 45m (2.7km)
Level of difficulty: Easy to medium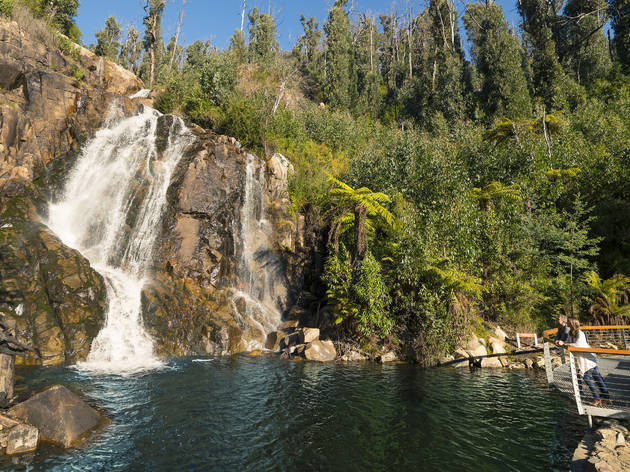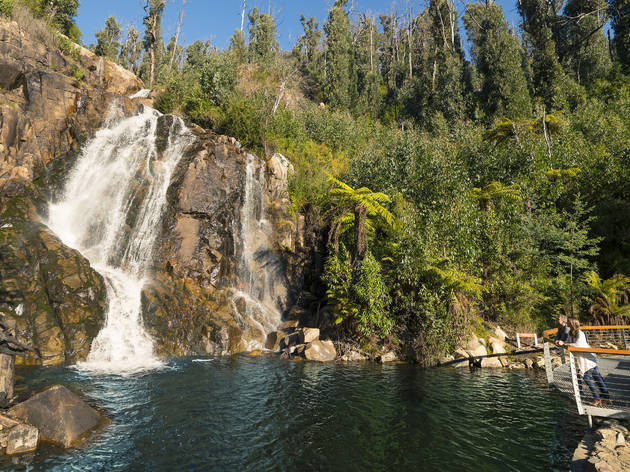 Photograph: Robert Blackburn
Keppel Lookout walk
You can start this walk at the Steavenson Falls car park, meaning you get to kick off your hike with a look at one of the state's tallest (and most impressive) waterfalls. Following the signposts towards the Keppel Lookout, you'll begin your ascent on a rough dirt track passing the De La Rue lookout. There are lots of hills and if there's been rain, the track can be quite slippery so be prepared: bring plenty of water, snacks and wear sturdy shoes. The Keppel Lookout marks the halfway point on the hike, with views that stretch over towards the Cathedral Ranges on a clear day. Then begin your descent down back towards Falls Road. If you've got a little more energy in you, you can tack on a walk through the fern gully.
Drive time from the CBD: 2h
Duration (return): 3h30m (11km)
Level of difficulty: Medium to hard
Flinders Peak Walk
Bring your dog! The You Yangs National Park is a dog-friendly park located between Melbourne and Geelong. The best walk to try (for you and your pupper) is the 3.2-kilometre Flinders Peak Walk, which takes you to the highest point of the You Yangs. It'll certainly have you puffing, with about 450 steps and an elevation rise of about 200 metres, but you'll feel like a proper champ once you reach the top. The walk starts and finishes at the Turntable Drive car park.
Drive time from CBD: 1h
Duration (return): 1h (3.2km)
Level of difficulty: Medium to hard
Eastern Sherbrooke Forest Walk
Done with the 1,000 Steps? This Sherbrooke Forest walk offers up much of the same ferny greenery but without the hordes of fitness fanatics. Start at Grants Picnic Ground, past the bird feeding enclosure, and follow the first section of the track labelled the 'Lyrebird Walk'. Keep on the sometimes-steep path, heading right at any turn, to see lush vegetation and the occasional kookaburra.

Drive time from CBD: 1h
Duration (return): 2.5h (6.6km)
Level of difficulty: Medium
Circuit Walk
This walk features a hiking trifecta: gorgeous views, rock scrambling and, depending on what time of year you visit, a post-hike swimming hole. Start at the Meikles Point picnic area and carpark and follow the path as it snakes around the river and uphill via a rocky crest. Head towards the Eastern Lookout at the gorge rim for a panorama of the park's best natural wonders.
Drive time from CBD: 1h
Duration (circuit): 4h (10km)
Level of difficulty: Medium to hard
Neds Gully Track
There are a bunch of great walks to do around the Cathedral Ranges, but Neds Gully Track is a good place to start. It's a steady uphill hike that takes you up to Neds Gully and Neds Saddle. From there the track veers off to Cathedral Peak, the park's highest point at 840 metres elevation. Some bushwalking experience is recommended for this one.
Drive time from CBD: 1h 40m
Duration (one way): 1h (2.2km)
Level of difficulty: Medium to hard
Lerderderg Gorge Circuit Walk
This is bush. Real Victorian bush. As well as some great flora and fauna, Lerderderg is characterised by a 300-metre deep gorge that has cut through the park's sandstone and slate. This circuit walk begins in the Mackenzies Flat picnic area and mostly follows the natural course of the river. Expect plenty of rock hopping, some relics from the gold mining days and even some river crossing depending on the weather.
Drive time from CBD: 50m
Duration (circuit): 4-5h (13.5km circuit)
Level of difficulty: Medium
Fingal Beach Walk
Those who like a lot of bang for their walking buck will rate this hike, which offers pretty breathtaking clifftop views and a secluded beach to play on. Start at Fingal Picnic Area, 2km north of Cape Schanck, and meander through the scrub forest. Take advantage of lookout spots – not only will they give you a chance to catch your breath, but they provide jaw-dropping views over the end of the Mornington Peninsula. The path will take you down a lot (and we mean a lot) of steps to Fingal Beach, which you are likely to have entirely to yourself. You can either return the same way (which, yes, means climbing all of those steps) or, if it's low tide, walking down the beach another two kilometres or so to Gunnamatta Beach, where a loop path will take you back to the start. Advantage of this approach: You avoid the stairs. Disadvantage: It's twice as long.
Drive time from CBD: 1h 30min
Duration (return): 1.5-2h (5km) if you go only as far as Fingal Beach; 3hr (10km) if you take the loop to Gunnamatta
Level of difficulty: Easy to medium
Organ Pipes circuit
How weird is nature? The beautiful Organ Pipes National Park can be found just off the Calder Freeway, about 20 kilometres north of Melbourne. The 121-hectare park is named after its star attraction: 2.5 million-year-old basalt columns that look strikingly like organ pipes. Take the short circuit walk around the park while you're there. Starting at the visitor centre, you can follow the trail that passes along the main features of the park, including Keilor Plains, the Tessellated Pavement and the Organ Pipes themselves.
Drive time from CBD: 30m
Duration (circuit): 30m (1.5km)
Level of difficulty: Easy to medium
Hanging Rock Summit Walk
This region north of Melbourne is stacked with natural beauty – the best of which can be seen from the top of Hanging Rock. Banish the thought of picnics and white dresses and instead focus on the beautiful rock formations that you'll spy as you make your way up to the top of Hanging Rock's summit. The path can be steep at points so it will get the heart pumping, but seeing these 6 million-year-old rocks up close is well worth it.
Drive time from CBD: 1h
Duration (circuit): 40 mins (1.8km)
Level of difficulty: Medium
Point Nepean Walk
This part of Boonwurrung country has some of the earliest European settlement in Victoria. You can explore it all (and spy some killer bay views) via this 14.5-kilometre return walk. Starting at the Point Nepean entry gate, the walk takes you on both coastal and bush tracks that run past the old Quarantine Station and some World War II military buildings. The walk is pretty flat and quite variable, so you can stop and turn around at any point along the way.
Drive time from CBD: 1h40m
Duration (return): 3h (14.5km)
Level of difficulty: Easy to medium
Deadman's Loop
Don't be put off by the name – this walk is a pleasant way to explore the Brisbane Ranges, a park that's home to one of the state's richest wildflower habitats. Start at the Stieglitz Courthouse and walk along Stawell Street to the creek to begin. Here you'll find an interesting mix of rocky gullies and unusual geology that's managed to preserve flora that's long since disappeared from other parts of Victoria.
Drive time from CBD: 1h 15m
Duration (circuit): 1h 45m (5.4km)
Level of difficulty: Medium to hard
Melbourne day hikes a little further afield
More walks closer to home
You may have strolled the city streets and paraded around the parks, but how about something with a little more guts? These Melbourne walks are a great way to stretch the legs and get to know an unfamiliar side of town.