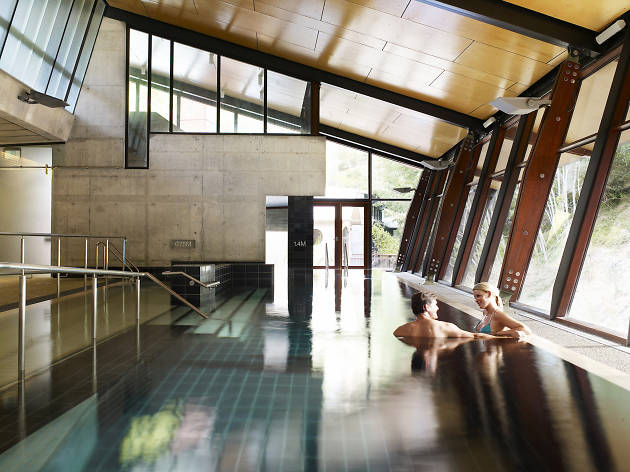 Weekend getaways: Daylesford
Relax and soak away your stresses with a weekend in Victoria's spa capital
There's a reason that Daylesford is known as a haven of relaxation. Eighty per cent of the country's mineral springs are in this region, which makes it perfect for spa treatments and for growing high-quality produce, which you can enjoy at one of Daylesford's top restaurants.
The region is extremely popular with weekenders from Melbourne, and once you visit you'll soon realise why many of them decide to make the tree change.
Feeling adventurous? Here are our favourite day hikes from Melbourne.
Relax in Daylesford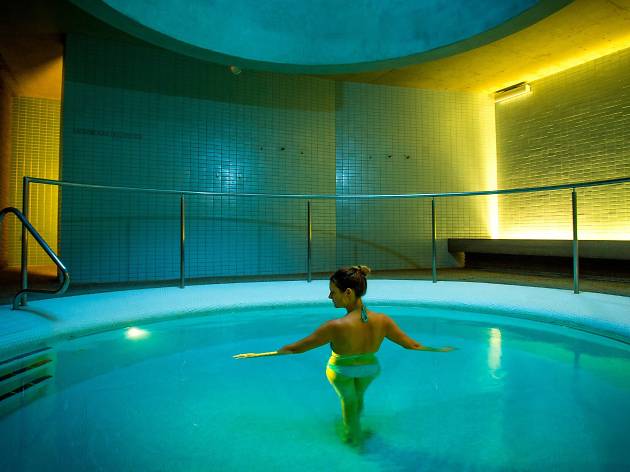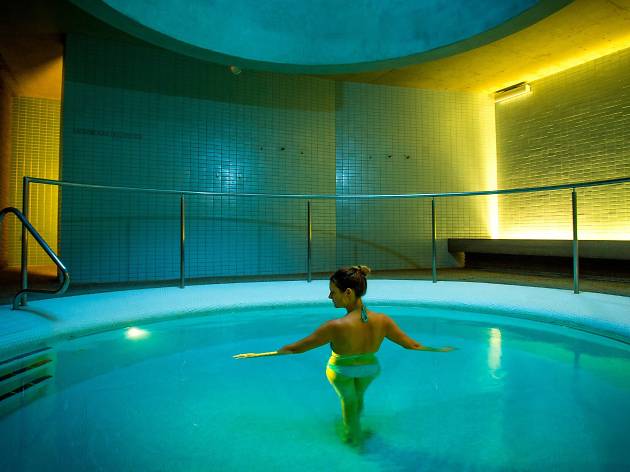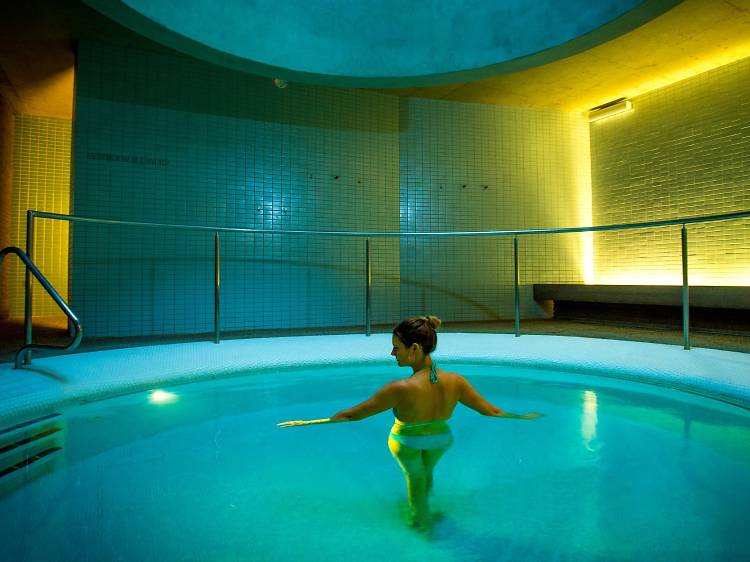 Photograph: Supplied
You're here to relax, so begin your getaway by visiting arguably the most famous spa in the region, Hepburn Bathhouse and Spa. There are two different areas for soaking, the general bathhouse and the Sanctuary. The main bathhouse has two different heated, chlorinated pools (the water comes from the mineral springs, but it is chlorinated for hygiene reasons). The Sanctuary is a larger space and includes a magnesium salt bath (under a gorgeous skylight; you'll feel weightless as your muscle aches melt away); a spa couch bath (you can lie on one of several underwater beds and let the bubbles work their magic); a rainfall shower in three different temperatures; two saunas, one of which includes an aromatherapy element; and an outdoor spa on the deck, which overlooks the beautiful Hepburn Mineral Springs Reserve. There is also a cold plunge pool on the deck, so you can zip between the hot and cold water for maximum skin-tingling effect.
The best time to take in art is when you've got the mental space – so head to the Convent Gallery and spend time with work from all manner of historical periods and styles. The dramatic 19th-century Victorian mansion was built as a private residence and was extended into a convent and boarding school. The downstairs museum provides fascinating detail about the history of the space, while upstairs you'll find an extensive contemporary art gallery, with an ever-rotating roster of exhibitions and artists. And that's not all. The Convent Gallery also includes retail spaces, a bar, 2.5 hectares of gardens and even a chapel, where weddings still take place.
For a simple slice of tranquillity, pick up some picnic goods at the gourmet food shops on the main street and head to the pristine Lake Daylesford. You can take a walk around the lake or make a meal of your picnic on a bench. Keep an eye out for birdlife.
Want something sweet? The team at the Chocolate Mill hand-make more than 12,000 chocolates every single week using fair-trade Belgian couverture chocolate. You can get everything from chocolate barks to truffles to chilli hot chocolate mix. Visit the Hot Chocolate Café for a slice of cake, a coffee or an ice-cream sundae. The hot chocolates here are divine – but our tip is to go hard or go home and order a chocolate shot, which is a small cup filled with gooey, melted chocolate, no extra ingredients needed. There are also toasties and light refreshments available on weekends.
If you want to get to know some of the history of Daylesford, Alice's Journeys runs walking tours three times a week and by appointment. Knowledgeable tour guides (none of whom are named Alice) will take you around Daylesford's historic streets as well as into buildings like the former courthouse and former jail. Tours take between an hour and an hour and a half, and along the way you'll learn fascinating stories about the area's history and culture. Wear comfy shoes and bring weather-appropriate clothes, as tours run all year round. Private tours are also available.
Love live gigs? The Palais Hepburn Springs has live entertainment just about every night. Live music acts and comedians perform here, and sometimes you can catch DJs and art shows.
Photograph: Mark Chew/Visit Victoria
If you have the cash to splash and you want the best of the best, there is one restaurant you must visit: Lake House, perched on the titular body of water. The multi-course menu changes all the time, depending on what is in season and what nearby Dairy Flat Farm, owned by the Wolf-Taskers and part of the Lake House mini-empire, is growing at the time. Everything is fresh and treated with the utmost respect, with a vegetable-forward menu that heroes local produce but is the opposite of ascetic.
For a breakfast of champions, Cliffy's Emporium is very popular with locals, and for good reason. The small café does all the breakfast favourites, often with a vegan twist. Cliffy Hauser's original 1950s general store is now a providore, offering local produce, smallgoods, the region's justly famous mineral water, preserves and specialty groceries.
Opened just before lockdown hit in 2020, Beppe Kitchen and Bar had to find its feet quickly, slinging takeaway housemade wood-fired pizzas to hungry Daylesford residents through a window out the back. Those pizzas are now available in the light-filled multi-zone restaurant, along with housemade pasta and a smattering of other Italian dishes. Local artist Kim Barter has painted portraits of Swiss-Italian migrants to the region, and these adorn the walls throughout the venue. Gluten-free pizza bases are available for those who need them. The venue is packed out most nights, and it's easy to see why.
For a truly stress-busting brunch, follow the smell of lavender to La Trattoria at Lavandula; the café located on a lavender farm where seasonal produce is king. Make sure you tuck into the grazing platter; a feast of cheeses, olives, onion bread and meat.
On a Sunday afternoon, you'll find young families, couples and friends sinking into cushy fireside chairs at the Daylesford Royal Hotel. The building, built in 1856, has recently been restored to its former glory, and offers a formidable range of locally made wine and beer as well as classic pub meals done very well.
Thirsty? Make sure you stop into Daylesford Cider, which makes traditional and not-so-traditional cider onsite from the onsite heritage apples. Owners Mackie and Clare are serious about cider, and they make numerous drops in both sparkling and still varieties. Many are traditional English ciders made using traditional methods, but there are also a few that are just for fun. Paddles are the most popular way to taste all the ciders on offer at the venue, which is also dog-friendly.
We can't (and won't) stop raving about Radio Springs Hotel. Don't resist the pull of sipping whisky in the bric-a-brac-filled dining room, and if you're here on a Thursday, the kitchen takes a break from serving impressive pub fare and invites a Thai chef to create a feast.
On your way to or from Daylesford, make sure you stop at the very nondescript-looking Great Western Hotel in Ballan. What looks from the outside like a soulless corporate motel is on the inside a groovy 1970s pad straight out of your Mad Men dreams. Every room is different (wood panelling with gold accents, Astroturf floor with jungle-print chairs), and there is a lot of very cool, retro art on the walls. But it's what is on the menu that will really excite: get ready for updated versions of '70s classics like vol-au-vents, prawn cocktail and cob loaf. The prawn cocktail is a particular marvel, an oversized Martini glass filled to the brim with tiny school prawns, with large versions overhanging the glass. Make sure you save room for dessert – no chia-yoghurt nonsense here, but utterly craveable desserts like crepes Suzette and banana split. The cocktail list is of the era, too, with throwbacks like a Fluffy Duck and a Grasshopper on the menu, alongside more modern classics. How many people order the Grasshopper, I asked our server. "Not enough," was the response. "It's the best one!"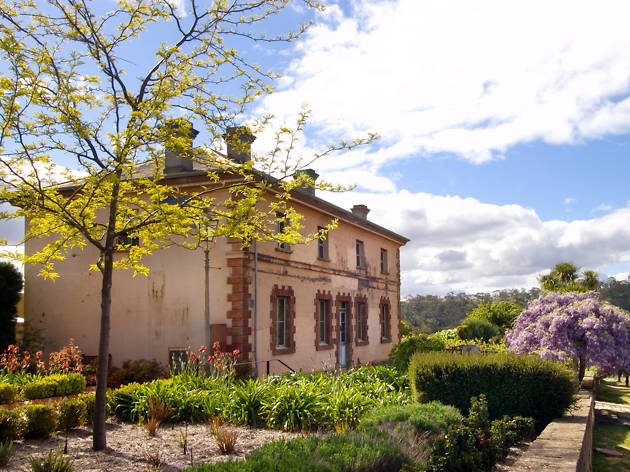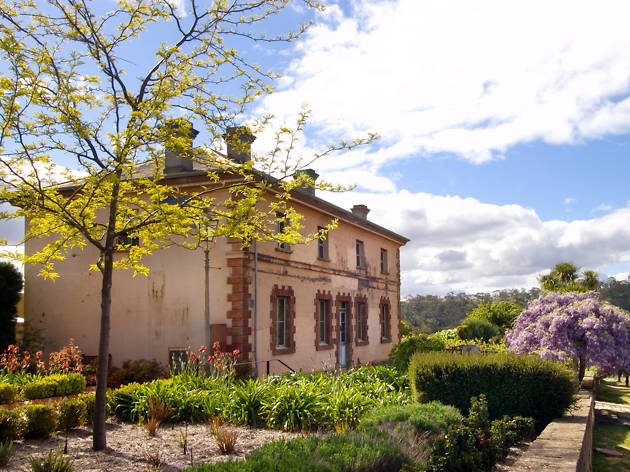 If you can, stay at the Lake House and wake up in a luxurious, rustic bedroom looking out onto Daylesford Lake. Some rooms are accessed through a private garden path and others include garden spas and outdoor firepits. There is a spa on site, and Larissa Wolf-Tasker (daughter of matriarch Alla) says guests often treat the property as a resort, never leaving its quietly luxurious surrounds.
Luxury can also be found at Peppers Mineral Springs Retreat; a grand '30s guesthouse transformed into a mineral spa and hotel. You could also stay here and not leave for days: there are open-air mineral pools, fine dining at the Argus Dining Room and huge, elegant rooms.
You can also stay at the Hepburn Bathhouse and Spa itself. The Hepburn Springs Escape villas are elegant and modern, with remote-controlled fireplaces (yes really!), flat-screen TVs and ultimate comfort. The dominating feature of each villa is the colossal spa bath in the middle of the room, with mineral salts available for extra-special bathing. The villas look out over the bathhouse and surrounding bushland, making them feel like a world away from the cares of real life.
Bellinzona Hotel is as classic as Hepburn Springs Escape villas are modern. The 1903 hotel underwent a massive refurbishment in 2020-21, and rooms here are both spacious and timelessly elegant. The hotel includes a spa, sauna and indoor swimming pool in the basement, and the lounge is a study in leather and wrought-iron. Dark wood and leather furniture are lightened by charcoal soft furnishings, which complement the charcoal art on the walls of every room.
If you'd rather stay in Daylesford itself, the Farmer's Arms hotel offers comfortable accommodation in its Art Suites and Heritage Cottage. Why art suites? Contemporary artwork adorns the walls of each suite, and the art is changed regularly. If you fall in love with any of the pieces, you're in luck, because they are all for sale. There are numerous luxe touches, like a free mini-bar and L'Occitane toiletries, that make it clear a lot of thought has gone into making these rooms inviting and cosy.
Hit the road
Don't just read about Melbourne getaways... get out and try one! These day trips from Melbourne are paved with cool things to see and do, and driving means you won't miss a thing along the way. Just choose your direction and hit the road.