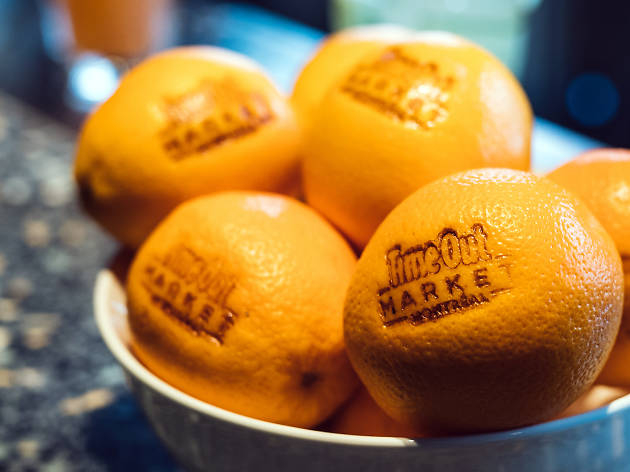 Consider your weekend booked solid: There's brunch at Time Out Market Montréal now
Posted: Friday January 17 2020, 11:38a.m.
These aren't going to be your average eggs Benny, two-egg plates or stacks of pancakes: Weekends at Time Out Market Montréal are getting amped up with a whole new brunch service every weekend—Saturdays and Sundays from 11am to 3pm—where each eatery is serving up their own spin on it. Just when you thought collecting some of the best names in the restaurant scene under one roof to deliver outstanding breakfasts, lunches and dinners seven days a week was enough, think again. Read on for menu details.
It's only been two months since Time Out Market Montréal threw open its doors to the public, and with it, hundreds of options from 16 eateries and demo kitchen. While we've all been digging their menus left and right—from seriously succulent Portuguese chicken to classic Neapolitan pies and creative twists on Quebecois cuisine—we're not going to say no to more than a dozen new dishes to enjoy during (boozy) afternoon breakfasts.
On the sweet side:
The pastry masters Suyin Wong and Jeffrey Finkelstein at Hof SuCrée are planning a panettone French toast with orange butter sauce.
Haitian chef Paul Toussaint's Caribbean kitchen has a 'Pancake soleil' bursting with bright flavors from a passion fruit crème Anglaise, rum, an exotic fruit salad, chantilly cream and Haitian chocolate.
The French fine dining luminaries at Le Club Chasse et Pêche have plans for an oatmeal ''risotto'' with maple syrup and caramelized banana (pictured).
Olive et Gourmando will be sure to blow your sweet tooth away with French toast served with a pistachio-almond crumble, blueberries, whipped Labneh and maple syrup.
Dalla Rose is serving up a pancake and maple syrup ice cream sandwich that'll blow your socks off.
Burger T! is offering a healthy smoothie bowl with granola and fruit.
On the savory side:
As for booze? Order up some special cocktails the Time Out Bar is creating for the occasion: A Kimchi Caesar, a Tiki Bellini (bubbly served with dark rhum, Falernum and pineapple), and an IPA Michelada (jalapeño, black pepper, lime, Clamato, and yes, IPA).
It doesn't get much better than this.
Share the story