February events calendar for kids
Our February events calendar for kids is full of fun happenings such as movie releases, Chinese New Year events and more
Winter can be rough, but our February events calendar for kids will help you get through one of the coldest months with ease. (Prepare for plenty of visits to the best indoor playgrounds for kids and pick-me-ups at our go-to hot chocolate spots.)
RECOMMENDED: NYC events calendar
Although temperatures are low and days are short, there's a lot to look forward to before spring arrives: Be More Chill's Great White Way debut promises to be one of the best Broadway shows for kids and cool exhibits such as "Tolkien: Maker of Middle Earth" will make indoor activities all the more enticing. Plus, there's plenty of cool events, workshops, Chinese New Year celebrations and movie premieres that you can't miss!
Once you're done perusing our February events calendar for kids, be sure to book a fun weekend adventure!
Featured events
Kids
Books Are Magic, Carroll Gardens
Each Saturday and Sunday, this enchanting independant kids bookstore in Cobble Hill hosts a story time. Authors read from their dazzling picture books, that can be incredibly funny, heart-warming, educational or all of the above. Be sure to check out all of the store's unique special events for children and young adult readers, too. Check out the lineup here. All ages.
2
Photograph: Courtesy Warner Bros. Pictures
The Lego Movie 2: The Second Part
An other-worldly catastrophe ensues when LEGO DUPLO invaders threaten Bricksburg, and it's up to a few of our favorite characters to show 'em who's boss. Opens Feb 8. Rated PG.
3
Photograph: Courtesy DreamWorks Animation/Universal Stuidos
How To Train Your Dragon: The Hidden World
When a calm, peaceful existence for the dragons is jeopardized, rider and dragon must join forces to put an end to the mayhem. Opens Feb 22. Rated PG.
Things to do, Classes and workshops
KoKo NYC Inventor's Lab, Park Slope
For kids who never tire of building cool stuff, Koko NYC Inventor's Lab after-school class lets kids learn about basic simple machines (inclined plane, wedge, lever, wheel and axle, screw and pulley), practice problem-solving techniques and even put their skills to work with their very own inventions. Ages 7–9.
Museums, Special interest
Think your kid has what it takes to crack the code? Thanks to SPYSCAPE's newly opened Spy School, you'll have a budding FBI agent on your hands. Students in middle school through college are invited to the afternoon program that allows them to make and break WWII codes in themed Encryption mission, detect lies in Deception booths and much more. "We're thrilled by the success of SPYSCAPE in New York City, and delighted to be able to offer this experience for free to students," Ian Oldaker, COO of SPYSCAPE New York said in a statement. "We have had a lot of requests for this kind of program and we're excited about creating new educational offerings as we continue to grow." Spy School is free with a valid student ID, but attendees t must be accompanied by a paid ticket holder. We'll catch you there...or will we? Middle school–college.
From Jan 21–Feb 10, family attractions across the five boroughs—including museums, tours, and performances—will participate in Must-See Week, which entitles New Yorkers to 2-for-1 tickets. Book yours ASAP!
We certainly hope you have your party hats—er, we mean mouse ears—ready. "Mickey: The True Original Exhibition" celebrates our favorite mouse during his 90th birthday—but the party won't last forever. The exhibition closes on Feb 10.
Things to do, Quirky events
New York City is going to be treated to a dose of color thanks to "DreamWorks Trolls the Experience." When little visitors enter the 90-minute walkthrough exhibit, they'll fall in love with a bunch of exciting features. Poppy's Party Room will include augmented reality and 3D technology in the midst of musical fun. Before getting wrapped up in the hustle and bustle of Troll Village and playing in the life-size Caterbus, youngsters will want to hit the bright, imaginative Hair-We-Go Salon and Barbershop—which is sure to be an Instagram hit for moms and dads.
9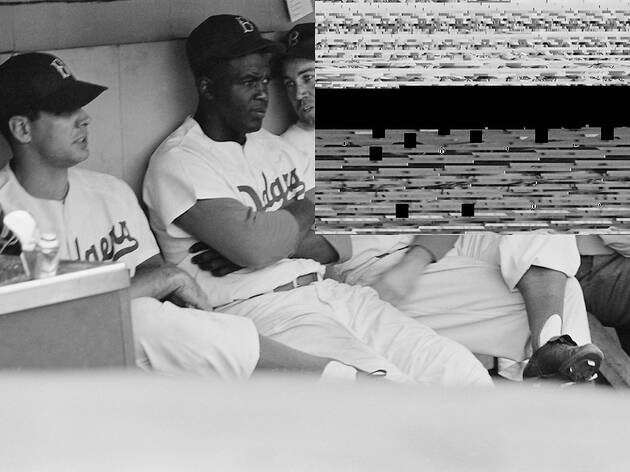 Photograph: Courtesy Museum of the City of New York/The LOOK Collection/Gift of Cowles Magazines Inc./Kenneth Edie
Museums, Sport
Museum of the City of New York, East Harlem
Batter up! NYC will mark the centennial of Jackie Robinson's birth with a grand-slam exhibit. The collection of never-before-seen images, Look magazine spreads and personal memorabilia such as home movies will provide a glimpse into the life of the Brooklyn Dodgers MVP, all while exploring the media's portrayal of the iconic figure. All ages.
The American Museum of Natural History's exhibit explores the microbes, viruses, fungi and other organisms that live inside our bodies. According to the exhibit, our gastrointestinal tract is home to about 100 trillion bacteria and they can be affected by where we live, what we eat and what we touch among other factors. Learn about all about microbial genes and the important work they do to keep us alive. All ages.
Museums, Special interest
Intrepid Sea, Air & Space Museum, Hell's Kitchen
If you have trouble packing your suitcase before a trip, wait until you find out what astronauts have to bring when they head to outer space! During this year's annual Space & Science Festival, the Intrepid Sea, Air & Space Museum will host an exhibit, "Personal Space," dedicated to all of the personal items that astronauts bring along for the trip. Astronauts who will be featured in this exhibit include Mike Massimino, Dr. Ellen Baker and more. All ages.
Theater, Broadway
Lyceum Theatre, Midtown West
It isn't always smooth sailing in high school, but what if you had the power to change those cringe-worthy moments? Jeremy takes the chance in Be More Chill...with some less-than-satisfying results. Ned Vizzini's YA bestseller (which had a previous Off-Broadway run) will graduate to the Great White Way and dazzle audiences with upbeat music, neon-colored sets and feel-good moments. Get ready for a coming-of-age tale with an epic sci-fi flair. Ages 12 and up.
Theater
New World Stages, Hell's Kitchen
Husband and wife duo Fan and Ana Yang have traveled world-wide to dazzle their audiences with their self-titled masterpiece, "bubble artistry." As lights flicker and music plays, prepare to catch some of the wonkiest looking bubbles you've ever encountered. Kids and parents alike will love how these soapy spectacles create a can't-miss experience. Ages 5 and up.
Theater, Musicals
Orpheum Theater, East Village
Stomp takes percussion to a whole new level. A small cast of characters makes use of atypical objects—wooden polls, push brooms—to create a unique musical experience. A catchy rhythm, impressive dance moves and laugh-out-loud moments prove why this Off-Broadway show is such a crowd pleaser, even if there isn't any dialogue. Your kiddos might be inspired to take household items and start a jam session of their own! Ages 4 and up.