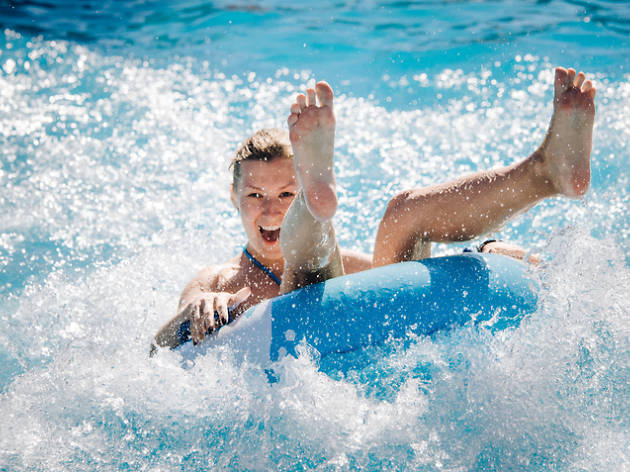 Woo! New York's largest water park is set to undergo a massive expansion
Posted: Tuesday August 13 2019, 2:55pm
We'll confess: We're soaking up the end of summer 2019, but we're already dreaming about next year's vacation!
Call us crazy, but when one of the best water parks in NY—and the largest—announces a massive expansion, we can't help but wonder about the tubing, sliding and splashing adventures that await.
Empire State Development just revealed that Enchanted Forest Water Safari in Old Forge, New York, will receive a $500,000 upgrade from Upstate Revitalization Initiative Funds that is set to begin this September and wrap up in June 2020. We won't judge if you immediately start planning a few family weekend getaways—this project will be epic.
According to the press release, thrill-seekers will have three new features to look forward to: a 300-foot four-lane mat slide with loops (which will replace the venue's current mat attraction), Serengeti Surf Hill, a 200-foot speed slide with a drop launch pad that will replace Killermanjaro and a 295-foot speed slide with loops and a drop launchpad. We hope your towels are hefty, because you'll certainly need 'em.

Thanks to the attraction's 50+ rides (and 32 water features), it's a warm-weather destination worth the trip from NYC. In the meantime, you can take advantage of the many thrills at New York's largest indoor water park, Kartrite, which just opened this spring. Be sure to have a gander at our other favorite family vacations, too!
Sign up to receive great Time Out New York Kids deals in your inbox each day.
Share the story