Fun things to do with dinosaur-loving kids in NYC
We rounded up 5 awesome activities surrounding dinosaurs for kids to enjoy in NYC, from museum exhibits to hands-on dino digs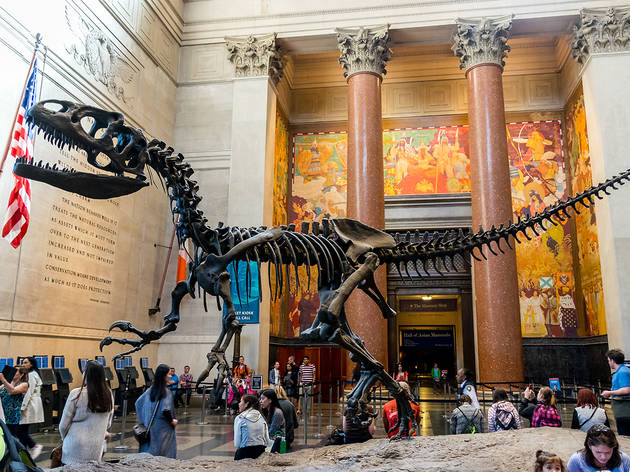 It's no mystery that kids go nuts when it comes to all things dinosaurs—and can you blame them? These mega creatures came in so many shapes and sizes, were absolutely ginormous, and, frankly, it's still hard to believe that they once roamed this earth. If your kids are as enthralled by these prehistoric being as we are, then these dinosaur-themed activities are a must. With cool exhibits at NYC museums, dino amusement parks, movie screenings and interactive experiences, there are loads of ways to step back in time without straying too far. We bet the grown-ups are going to love joining in on these, too!
Dinosaur-themed activities for kids
The American Museum of Natural History is the first stop any dinosaur fan must make in NYC. Families can take the elevator up to the fourth floor for a self-guided tour through one of the largest dinosaur fossil collections in the world. Marvel at a 65-million-year-old Triceratops in the Hall of Ornithischian Dinosaurs and then say hello to the powerful Tyrannosaurus rex (and its four-foot-long jaw!) and see a Barosaurus rearing up to protect its child from an Allosaurus in the Hall of Saurischian Dinosaurs. In 2016, the museum unveiled a 122-foot-long cast made of a Titanosaur skeleton in a new permanent exhibition in the Miriam and Ira D. Wallach Orientation Center. This beast is so large, it couldn't be contained in just one room! If fans of the museum's iconic big blue whale are in your midst, they might not be keen to find out this guy is about 30 feet longer than the aquatic mammal. Be sure to win by the Discovery Room where five to 12 year olds can examine real fossils, unearth an Oviraptor nest and assemble the skeleton of a 14-foot-long Prestosuchus.
Book now
Read more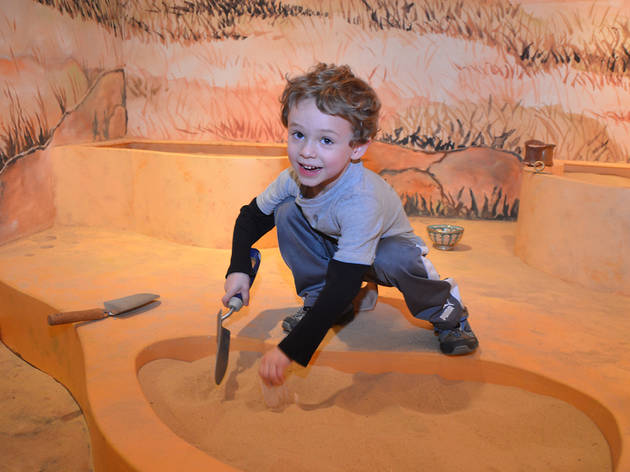 Play archaeologist for a day
If your kid is into the science that goes behind finding and identifying dinosaur fossils, then check out the "Archaeology Zone: Discovering Treasures from Playgrounds to Palaces" at the Jewish Museum (free with museum admission, exhibit closed Saturdays). At this hands-on exhibit, tots can piece vessels together, weigh and examine replicas of artifacts and don costumes inspired by the time period that the artifacts are from. Along the way, they learn about the tools and procedures archaeologists use.
Kids can pretend to be prehistoric explorers at this outdoor expedition, where they'll tramp through the verdant New Jersey Meadowlands alongside animatronic dinosaurs including Stegosaurus and Triceratops. The theme park features 32 life-sized dinosaurs in total, built with sensors and facial-recognition technology that makes them move as visitors draw near. Daring kids will get a thrill from hearing a 15-foot-tall T.rex roar in response to their excited shouts, but there are also activities geared towards the younger set; little ones can play Raptor Feud, a dino-centric quiz show covering geology and archeology facts. Check out the Paleontologists' Laboratory to get the feel of a dig site and learn about a paleontologist's tools ($10) then watch the prehistoric creatures come to life on the big screen in Sea Rex, Journey to a Prehistoric World 3D ($5). Open 10am-6pm on weekends May 27–June 25 and Memorial Day, May 29; 10am-6pm Tue through Sun June 30–Sept 6 and Labor Day, Sept 4; and 10am-6pm Sat and Sun Sept 23-Nov 12, Thur and Fri Nov 9 and 10. $15–$20, kids under 2 free.
Read more
Venue says: "Trivia starts at 8pm on Tuesdays! Grab a bite to eat & some beers and get your quiz on. Check our site for our live music line-up & catering"
Tell your youngster not to worry—they don't serve Brontosaurus ribs here—but kids will love keeping the theme going through mealtime as they chow down on options like sliders and crispy chicken fingers at this family-friendly BBQ joint. Ages 12 and under get a main dish plus two sides for just $6.50, and Mom and Dad have plenty of tasty items like the pork ribs ($12.50–$28.50) and marinated skirt steak ($20.95). Coloring books and temporary tattoos keep the crew busy while you wait for your grub. Locations in Gowanus and Harlem.
Book now
Read more
Watch a dino-themed family film
There are plenty of kid-friendly flicks to thrill dino-lovers, including The Land Before Time, Ice Age: Dawn of the Dinosaurs, We're Back: A Dinosaur Story and The Good Dinosaur. Keep an eye out for My Pet Dinosaur, an Australian flick about a boy named Jake who befriends a dinosaur and causes chaos as he tries to keep it a secret. And as if keeping such a rapidly growing pet under wraps wasn't difficult enough, Jake and a new girl named Abbie have to protect their four-legged companion from a mysterious something trying to catch it.