The best places to take pictures with Santa in NYC
Smile! Here are our favorite places to take pictures with Santa in NYC this holiday season.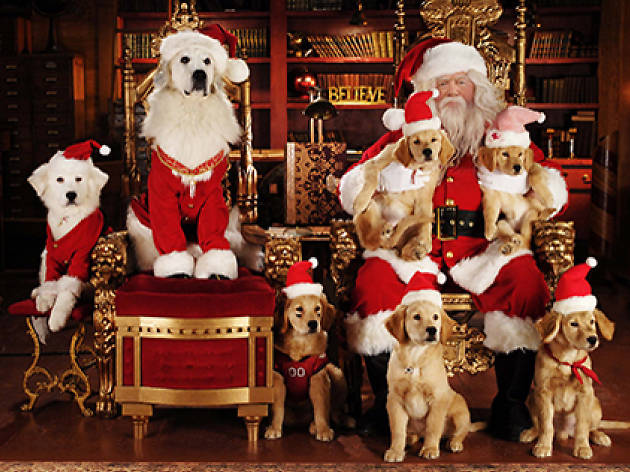 Where to take a picture with Santa in NYC
Santa's workshop might be in the North Pole, but he's headquartered here in New York. To be more precise, Santa HQ is on the third floor of the Queens Crossing shopping center, and it's an immersive experience that's a technological funhouse, a 21st-century update on the classic Santa display and a cool way to kickstart Christmas for kids. The real reason to go? Your little elves get to sit for pictures with Santa. If it's better to give than receive, then give your little one the memory of a lifetime with a deskside at Santa HQ. Photo packages from $34.99. All ages.
An out-of-this-world holiday celebration is within reach: Just hop on the subway to Bloomingdale's. The iconic department store is transforming Lexington Ave into an intergalactic, festive display complete with all-things astronauts and space ships. Aside from a stunning window display, shoppers can also expect plenty of fun seasonal activations throughout the store: 3, 2, 1 Gift Off, an immersive VR experience where kiddos race against the clock to collect gifts, an intergalactic snow globe that's perfect for a holiday photo and GE C'ing is Believing, a debut smart light installation that blasts off into the stars. Plus, Santa Land! Let the little dress up for a meeting with the man in the red suit. St. Nick's hours are as follows: Mon-Sat from 10am-1pm and 2-5pm, Sun from 11am-1pm and 2-5pm. Learn more about the holly, jolly happenings online. All ages.