Your guide to Macy's Santaland 2017
Everything your family needs to know about Macy's Santaland 2016 before you get in line with the little ones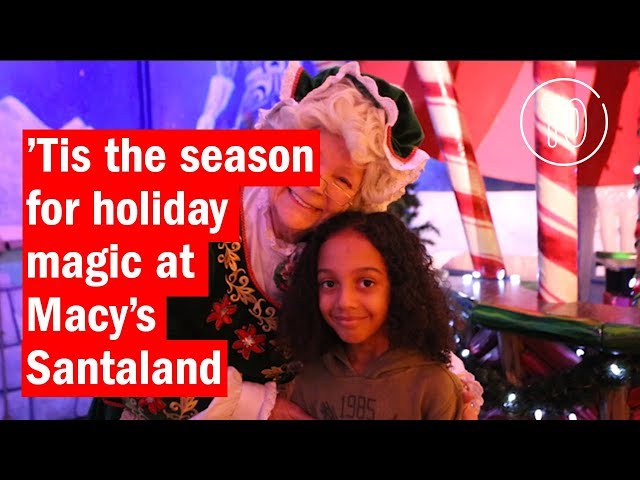 Welcome, Macy's Santaland 2017! Oh, how we've missed you! Of all NYC's amazing opportunities to meet Saint Nick, not a one can claim to be more iconic than Macy's Santaland at Macy's Herald Square. This year, we're happy to announce that wait times to see the big guy in red might be a little bit better. Visits with Santa are by reservation only, and reservations can be made here starting on November 20, 2017 (or call at 212-494-4495). Macy's Santaland remains free and open to the public.
As one of our favorite Christmas events for kids, we can definitely say the experience is worth a visit at least once (if not every year). You'll find epic displays and beautiful scenery, and Bryant Park Winter Village is also close by in case you'd like to do some last-minute shopping. Seeking even more holiday cheer? Plan a family movie night with our favorite Christmas movies for kids.
What is Macy's Santaland?
Macy's Santaland is a 13,000-square-foot holiday display and indoor landscape that makes your kids feel like they've entered the North Pole. You'll find caroling snowmen, reindeer, twinkling lights, trees and more (some absolutely awesome photo ops, even while waiting in line)! The winter wonderland-esque path to Santa is worth it: Kiddos can sit on his lap, share their ultimate Christmas wishes and either get a photo package from a professional photographer, or pause to let guardians snap a few pictures with their phones (no one will stop you if this is your preference).
When is Macy's Santaland 2017?
Macy's Santaland opens Friday, November 24, 2017 and is open through Christmas Eve, Sunday, December 24, 2017. Families can access Macy's Santaland during regular store hours: Mon–Fri 10am–10pm; Sat 9am–10pm; Sun 10am–9pm.
Where is Macy's Santaland?
Macy's Santaland takes place on the eighth floor of Macy's Herald Square at 151 W 34th St.
How do I get tickets to Macy's Santaland?
Admission to Macy's Santaland is free, and keepsake photos are available for purchase. To make your reservation, visit the Macy's Santaland website
here
.
More on Macy's Santaland 2017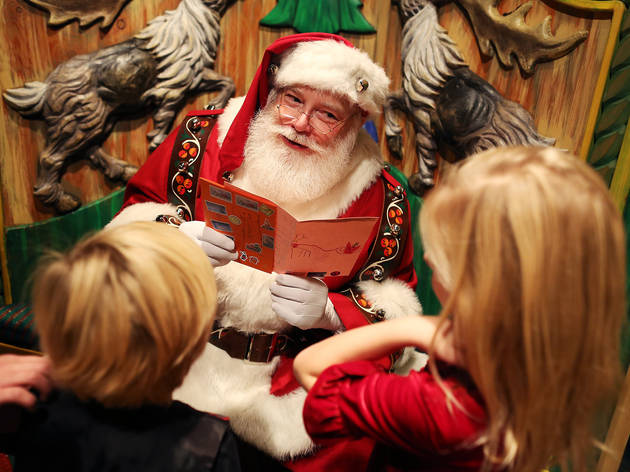 Macy's Santaland
Head up to the eighth floor of the Herald Square behemoth for 13,000 square feet of holiday cheer! You'll experience the Domino Sugar Bake Shoppe to see cute gingerbread men, the Aflac Ducks putting on their ice skates for the ice rink, igloos, ice sculptures, a rainbow bridge and Lionel Trains Industrial City, where you'll see six complete sets of trains surrounding a six-foot-tall Christmas Tree. You'll even get a glimpse of Santa's Sleigh, Santa's reindeer and the toy shop packed with trinkets and gadgets. Finally, you'll be escorted by elves up to the man in red. All ages.