No matter what, Kris Kringle gets the job done—even if that means making some adjustments. Macy's Santaland is proof!

Families are typically accustomed to visiting the Herald Square attraction starting in late November. But since that wasn't a possibility this year, the man in the red suit decided to bring the fun directly to kiddos.
Find a warm blanket, snag some hot chocolate for good measure and get ready for an unforgettable virtual winter wonderland: Complete with games, festive decor, train shows and yes, even pictures with Santa, this year's Macy's Santaland is a personal online event that families can experience for free!
Even better? Those who can't make it to NYC are able to take advantage of the tradition from home. (No doubt it'll inspire a holiday getaway in the future.) Peruse the Time Out New York Kids gift guide and prepare those wishlists! Santa's ready for ya!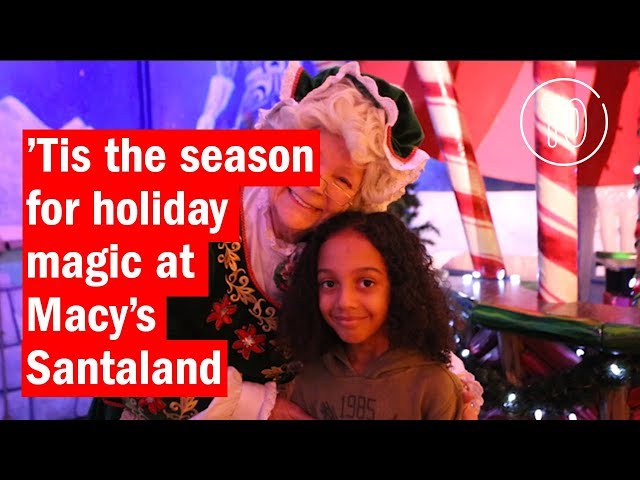 When is Macy's Santaland 2020?
Visit the Macy's website from Nov 27–Dec 24 to access Macy's Santaland At Home. The 2020 event will be entirely virtual. Up to three children can enjoy the customized experience at the same time.
What is Macy's Santaland?
Macy's Santaland is a 13,000-square-foot Christmas village holiday display and indoor landscape that families can walk through! You'll encounter everything from a Rainbow Bridge to a giant Lionel train-scape, Santa's bustling workshop to a shiny red sleigh being prepped for the big night. Twinkling lights, snow-topped trees and other fun exhibits lead the way to Santa in this enchanting experience.
This year, little ones will be able to access this all virtually and play fun games along the way before digital one-on-one time with St. Nick.
Where is Macy's Santaland?
Macy's Santaland takes place on the eighth floor of Macy's Herald Square at 151 W 34th St. However, the in-store tradition is taking place online in 2020.
How do I get tickets to Macy's Santaland?

What do I need to know about accessing Macy's Santaland at home?
Go to macys.com/santaland and allow moms, dads or adult guardians to enable all permissions. Then, you'll join the elves, who are your guide on the journey. Up to three children can enjoy the customized experience at the same time.
Play interactive games and take a gander at Santa's village and workshop while you're on your North Pole-bound train. Make sure to stay until the end of the event, where a digital interactive video with Santa will allow kids to read off their wish lists and pose for a selfie.