The best spring break activities for kids in NYC
These epic spring break activities will guarantee a fun week at home. Don't forget to enjoy the gorgeous weather, too!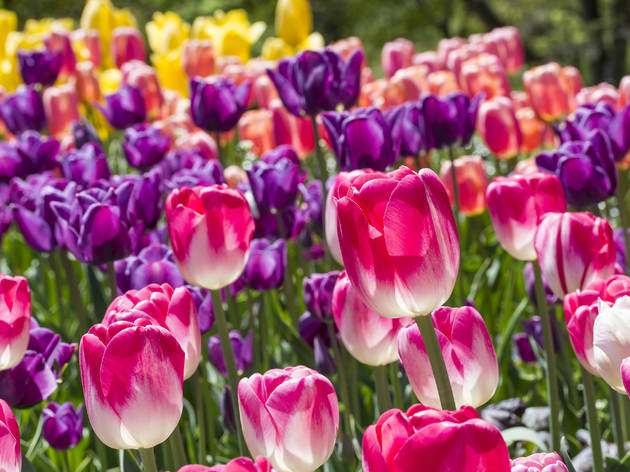 Good news! Spring break activities will make your kids' week home from school extra sweet!
From April 19–26, visit to your favorite kids' museums or family attractions for week-long offerings in tech, sports, art and other cool areas. What youngster wouldn't want to race around Chelsea Piers or wander through the Guggenheim's latest exhibits? Sounds like a great way to spend a holiday, if you ask us!
RECOMMENDED: Full guide to spring break for kids
Since this April vacation is the last big hoorah before summer, your kids will want to make the most out of these spring break activities. Register for camps and classes now, and have a gander at our roundup of NYC's best things to do in spring with kids for some inspiration.
Spring break activities for kids
Things to do
Brooklyn Game Lab, Park Slope
If your kids can't resist playing games 24/7, we found the perfect place for them to spend their spring break. Brooklyn Game Lab (which also runs programs at a new, second location in Tribeca) offers a week of playing board games, creating new game rules and even game design, plus kids even get merit badges for their contributions. Learn more here. Ages 6–14.
School might not be in session, but that's no reason to be inactive. Chelsea Piers welcomes kids of all ages for half-day or full-day camps specializing in a particular area: Multi sports, including soccer and volleyball (ages 5–12), nina and parkour for the energetic jumping beans (ages 6–13), gymnastics for the Simone Biles fans (ages 5–12) and more. Explore all of the options here. This year's April full-day break camps include gymnastics and nina and parkour. Ages 3 and up.
3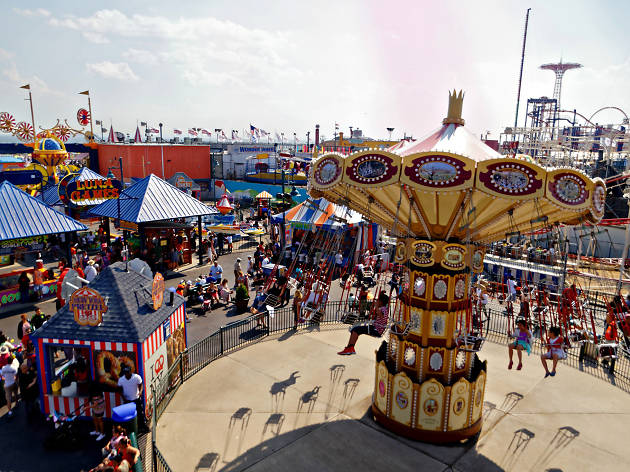 Photograph: Luna Park
Luna Park will kickstart the spring season with an April 6 opening. However, the home of the Cyclone and AstroTower won't be open during the week until May 24...that is, except for spring break! While school's out, thrils are in at Luna, where you can enjoy rides, games and treats daily from 11am–7pm from April 22–25. We'll see you there!
As the city begins to come alive after a long winter—one cherry blossom tree at a time—we're ready to enjoy warm weather and sunshine as much as humanly possible! Celebrate the spring season with one of your favorite outdoor activities for kids: roller skating. Brooklyn Bridge Park will host FREE skating on Friday, April 19 from 3:30–7pm, Monday, April 22 from 3:30–6pm, Friday April 26 from 3:30–6pm and Sunday, April 28 from 10am–noon (not including equipment rentals). Although admission is free (typically it's $9), skate rentals will cost $7. If you have younger kids in tow who aren't terribly comfortable on wheels, you might want to consider renting a skate mate for $6 for a little support.
Museums, Art and design
Children's Museum of the Arts, West Village
Spend your spring getting artsy at CMA's Spring Art Colony! At this weekly drop-off program, parents can choose from themes like Claymation, Paint Your World, Illustrating Stories and Photography for their budding artists. The April theme will have kids exploring their natural surroundings with "Re-Building with Nature." Ages 6–12.
Things to do, Classes and workshops
No school, no problem. Steve & Kate's new pop-up program, BREAK, is designed to keep kiddos entertained at various points throughout the year when class is not in session. Pint-sized attendees will find a variety of summer camp offerings featured in BREAK, as well as exclusive activities. The fee for each child includes snacks, lunch and hours spent at the venue. For a list of NYC Steve & Kate's BREAK locations, click here. Ages 5–12.
Things to do, Classes and workshops
KoKo NYC Inventor's Lab, Park Slope
For kids who never tire of building cool stuff, Koko NYC Inventor's Lab lets kids learn about basic simple machines (inclined plane, wedge, lever, wheel and axle, screw and pulley), practice problem-solving techniques and even put their skills to work with their very own inventions. Ages 7–9.
Museums
New York Botanical Garden | Bronx, NY, The Bronx
We're longing for spring—warm temperatures, blue skies and, of course, flowers. Fortunately, the New York Botanical Garden is here to deliver with its annual Orchid Show. Visitors can expect a taste of Singapore right here in NYC thanks to the 2019 theme. "Singapore" celebrates the Asian "City in a Garden," and we're certainly adding it to our list of things to do. Be sure to take a look at the festival's programming, which includes an insiders tour for budding botanists, orchid care demonstrations and q&a session. Mom and Dad, if you're calling the babysitter for a night off, you might want to consider enjoying an Orchid Evening ($38) complete with cocktails, music and naturally, the beautiful display. Learn more about "The Orchid Show: Singapore" here. All ages.
Museums, Natural history
American Museum of Natural History, Upper West Side
Prepare to dig deep like a true paleontologist thanks to "T. Rex: The Ultimate Predator." The Museum of Natural History's new exhibit will give visitors a peek into how the massive creatures came to be. Patrons will get a good look at the new findings about the tyrannosaurs genus, with a special focus on our main man, the T. rex. Unlike what people may think—and what movies led us to believe—T. rex is simply one part of the species' 100-million-year evolution. Who knew that tyrannosaurs species actually include small, agile creatures? For real! All ages.
Museums, Science and technology
New York Hall of Science | Queens, NY, Queens
Play with infared cameras, fly a virtual jetpack, make robots move via gesture interface and so much more at "Bionic Me." The new exhibit at the New York Hall of Science gives visitors a glimpse into medical and industrial advances that have enhanced things for us humans. Learn more here. All ages.
Museums, Childhood
Brooklyn Children's Museum, Crown Heights
Get those lab coats ready! Little ones can take on the role of scientists in the latest traveling exhibit at Brooklyn Children's Museum. "Science + You" is an interactive opportunity for visitors to explore health and nutrition. In the 1,200 square-foot-space, kids will be able to explore their findings at the Magnification Area, learn about the five food groups in the Test Kitchen and more. All ages.
Theater
New Victory Theater, Midtown West
There's nothing like scoring tickets to a show in NYC. As the 2018-2019 lineup quickly approaches, the New Victory Theater—which gives families an opportunity to enjoy international performances—has provided a glimpse into what fans can expect when the curtains rise (dance, puppetry, circus acts, to name a few). Here's the new lineup: Machine de Cirque Opens Sept 28 Tinga Tinga Tales Oct 13–20 Beauty and the Beast Oct 26–Nov 11 Velocity Opens Nov 16 Circus Abyssinia: Ethiopian Dreams Opens Nov 30 Emily Brown and the Thing Jan 26–Feb 3 A Simple Space Feb 9-24 Ajijaak on Turtle Island Opens March 1, 2019 Fiesta Con Sonia De Los Santos March 15 & 16 The Nature of Forgetting March 23–31 SNAP Opens April 13, 2019 Silent Voices: Lovestate Opens May 2, 2019 Jules Verne's Around the World in 80 Days Opens May 10, 2019
Theater, Broadway
Lyceum Theatre, Midtown West
It isn't always smooth sailing in high school, but what if you had the power to change those cringe-worthy moments? Jeremy takes the chance in Be More Chill...with some less-than-satisfying results. Ned Vizzini's YA bestseller (which had a previous Off-Broadway run) will graduate to the Great White Way and dazzle audiences with upbeat music, neon-colored sets and feel-good moments. Get ready for a coming-of-age tale with an epic sci-fi flair. Ages 12 and up.