Things to do with NYC teens
New York City's no teenage wasteland. There are tons of activities parents can do with their no-longer-children.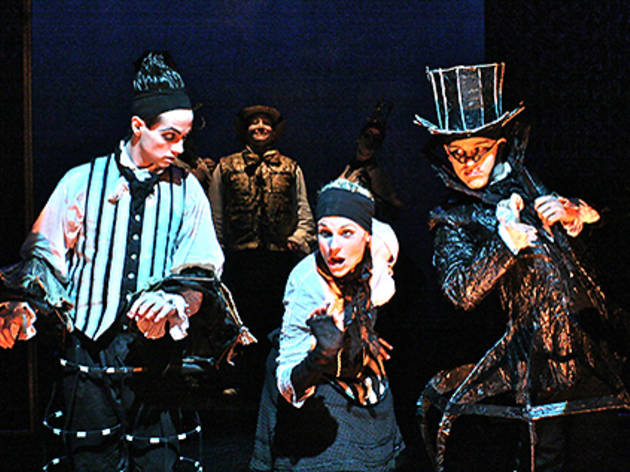 1/14
Scene from play, "Nevermore" at New Victory Theatre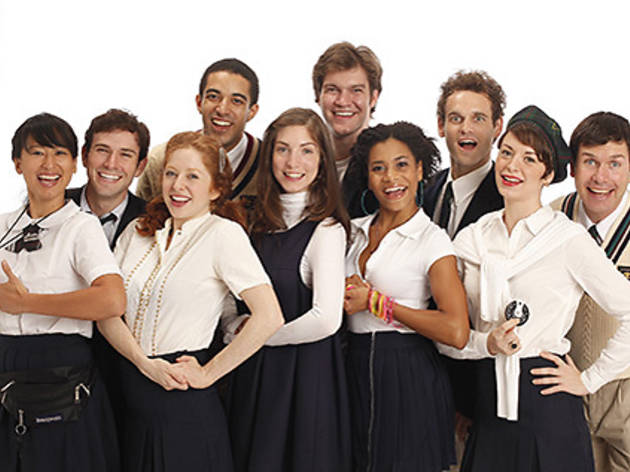 2/14
"Perfect Harmony" at the Acorn Theatre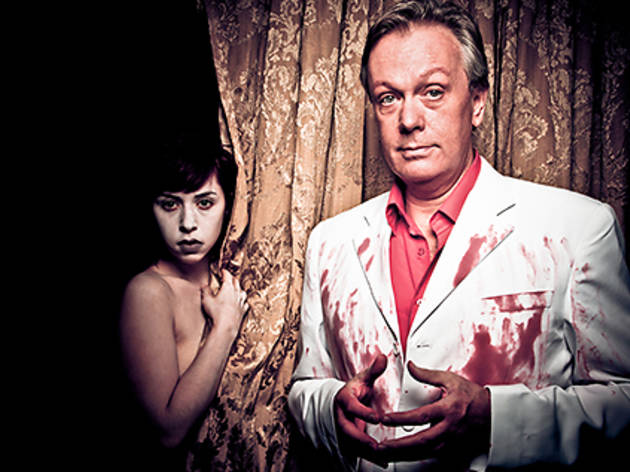 3/14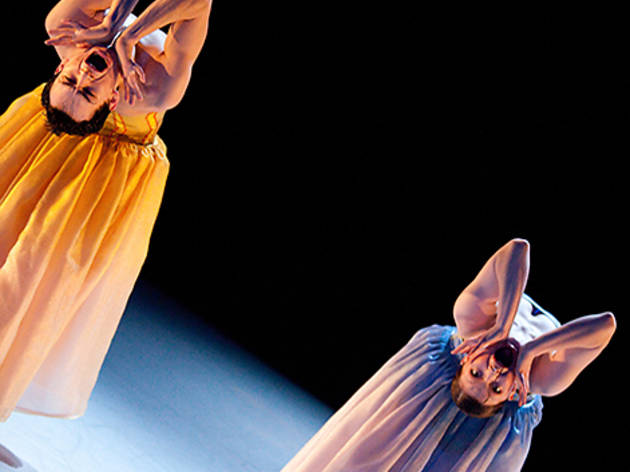 4/14
The A.W.A.R.D. Show! 2010 at the Joyce Soho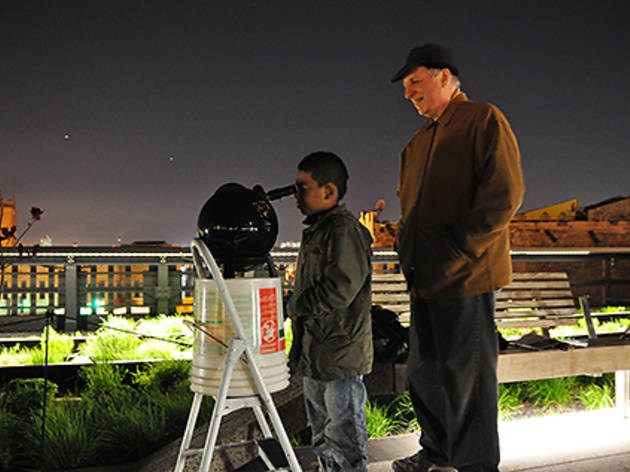 5/14
Amateur Astronomers Association's observation night at the High Line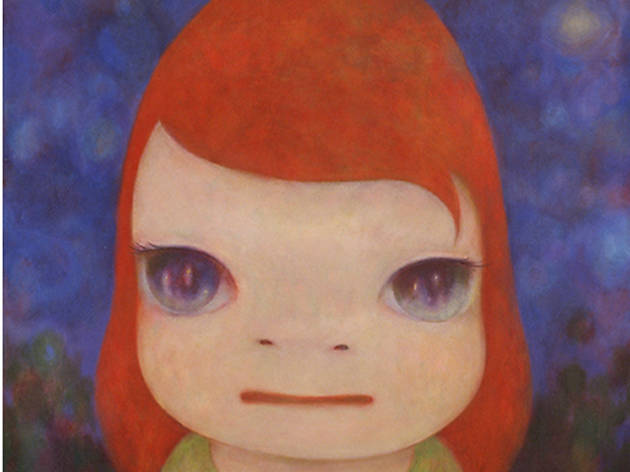 6/14
Yoshimoto Nara: Nobody's Fool exhibition at Asia Society. This piece is entitled: I"solation- Remember Me"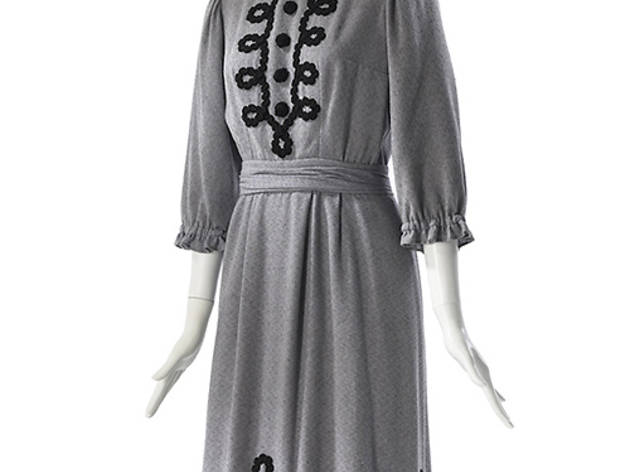 7/14
Bonnie Cashin's design for a Lincoln Center tour guide, ca. 1960 at New York Public Library's exhibition: "On Stage in Fashion"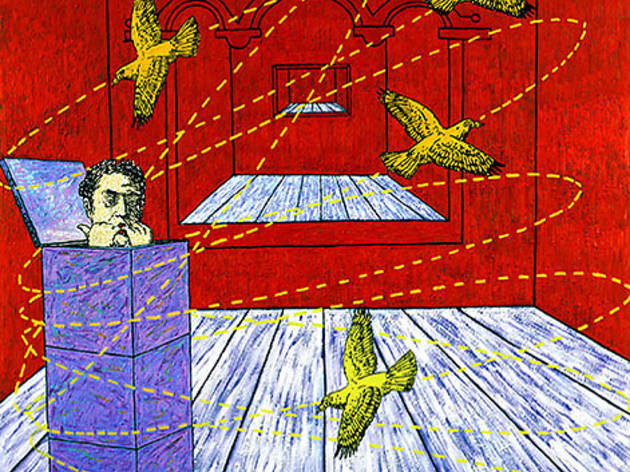 8/14
Art Piece on display at the Houdini Exhibit at Jewish Museum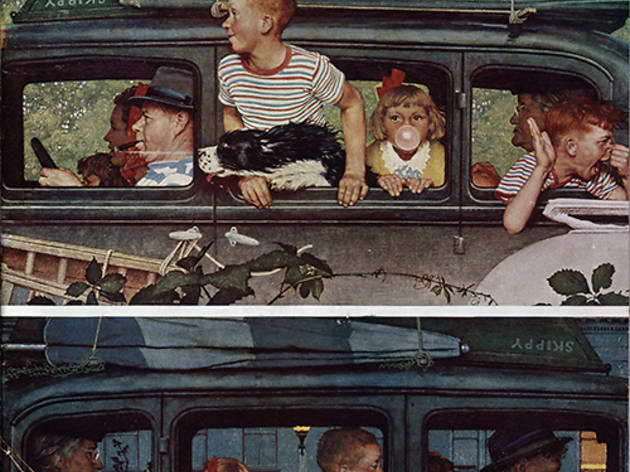 9/14
"Going and Coming", 1947 by Norman Rockwell at the Brooklyn Museum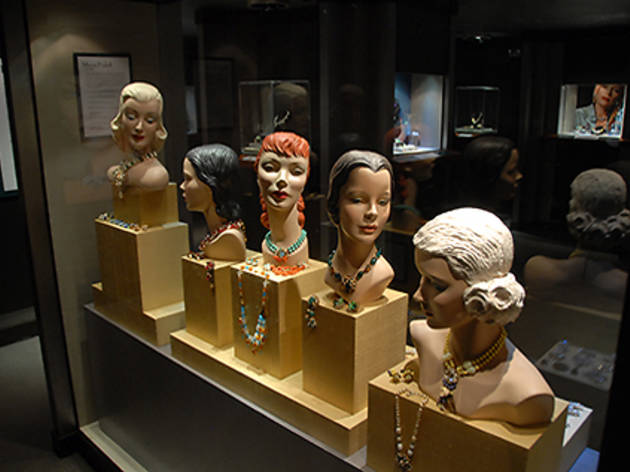 10/14
Jewelry in American 1910-2010"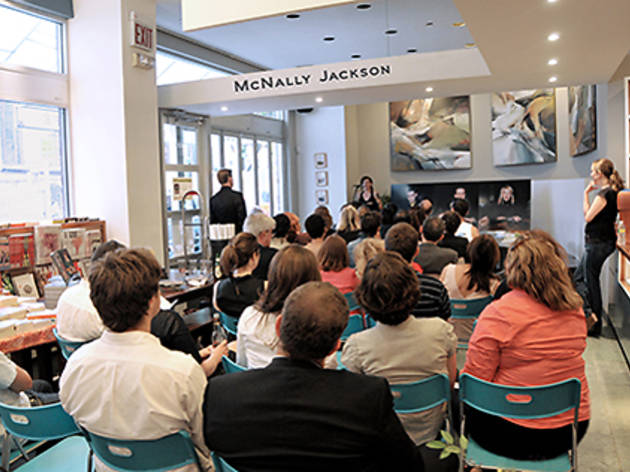 11/14
Emerging Talent Showcase at Mcnally Jackson Books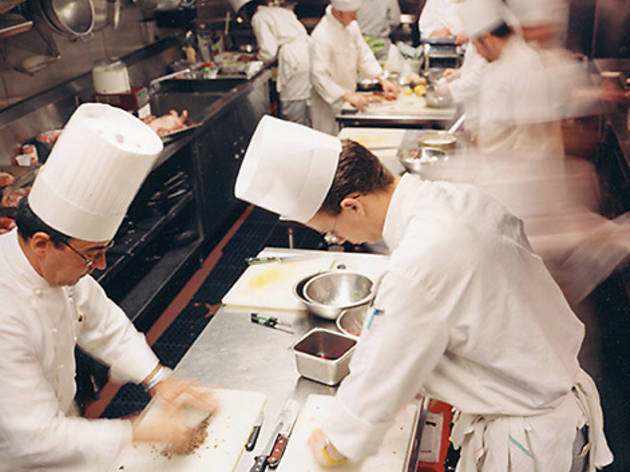 12/14
International Culinary Institute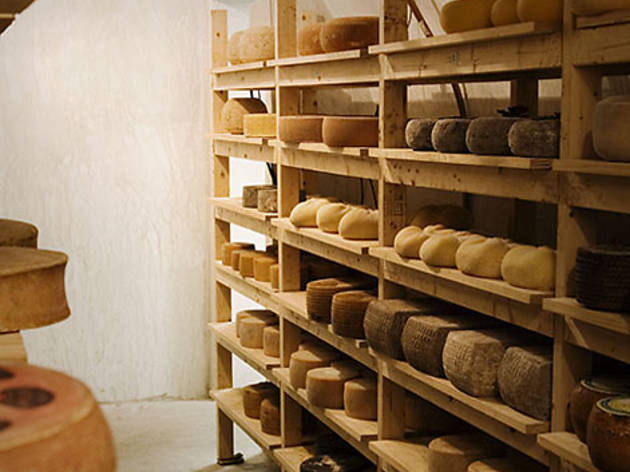 13/14
Inside a cave at Murray's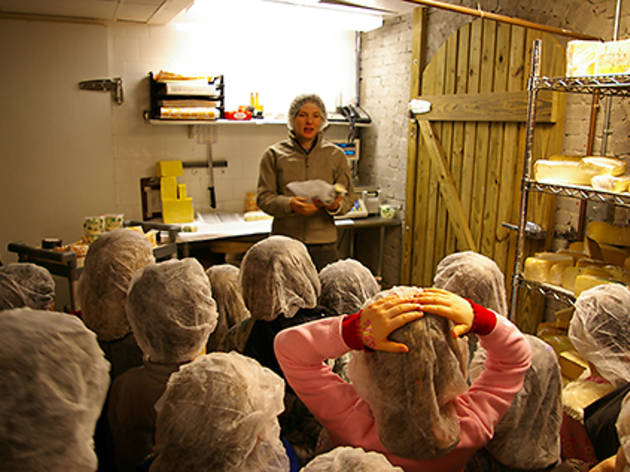 14/14
A Murray's staff member leads a group of kids on a cave tour
Life in the boroughs can be frustrating for adolescents in the awkward stage between 13 and 15 years old. They've been campaigning to fly solo since the onset of their tween years, and now their demands have grown constant and deafening. Sure, there are times when young teens long to share a stack of pancakes at the diner with you, but more often they want to be with their friends.
As a parent, you want to help your teen gain independence, but you don't want to give up bonding time in the process. The dilemma is compounded by another difficult truth about this life stage: It's seemingly devoid of appropriate activities and entertainment. Most young teens wince at the idea of attending events with lots of kids under 12 in attendance. They also don't want to tag along to the "boring" stuff on your wish list—like stuffy readings and classical concerts.
We talked to parents and teens all over the city to come up with this list of things you and your teen will actually enjoy—yes, both of you. In no time, you'll be gabbing about the good times you've had together—hopefully over a syrupy plate of flapjacks.
Shows
The A.W.A.R.D. Show! 2010
The five-year-old A.W.A.R.D. (Audiences with Artists Responding to Dance) Show!, an American Idol--style dance showdown sponsored by the Joyce Theater Foundation, has spread to six U.S. cities this year. Following three nights of preliminaries at Joyce Soho, a panel of judges and a dance-crazy audience will award $10,000 to the regional choreographer with the most kickin' moves on November 20. Wed Nov 17--Sat Nov 20 at 7pm. Joyce Soho, 155 Mercer St between Houston and Prince Sts (212-242-0800, joyce.org). $18.
Nevermore
The Catalyst Theatre production is a dark, wry musical homage to late, great creepster Edgar Allan Poe, scribe of "The Raven" and "The Fall of the House of Usher." On Friday, November 5 after the 7pm performance, your budding goth and you can pour your telltale hearts out at a postshow talk-back session. Fri Oct 29-Sun Nov 7. New Victory Theater, 209 W 42nd St between Seventh and Eighth Aves (646-223-3010, newvictory.org). $14--$38.
Perfect Harmony
Glee addicts will find perfect pitch in this musical comedy about the most acclaimed singing club in the history of high school—the all-male Acafellas, who won the national championships 17 times—and their female counterparts, the Ladies in Red. The show looks at the issues of truth, love and the competitive world of teenage choreographic arts, and asks everyone in the theater to consider what the word harmony really means. Oct 21--Nov 13: Tue 7pm; Wed--Fri 8pm; Sat 2, 8pm; Sun 3pm. The Acorn Theatre at Theatre Row, 410 W 42nd St between Ninth and Tenth Aves (212-239-6200, perfectharmonyrocks.com). $49.50--$59.50
Play Dead
Thrills and chills are guaranteed at this dimly lit production filled with spooky experiences. The show is cowritten by Teller (sans his usual creative partner, Penn) and Todd Robbins, who acts as the "guide" in this Ouija board of a theater experience. Previews through Nov 9; show opens on Nov 10. Tue--Fri 8pm; Sat 7, 10pm; Sun 3, 7pm. Players Theatre, 115 MacDougal St between Minetta Ln and W 3rd St (800-982-2787, playdeadnyc.com). Tickets $20--$75.
Spider-Man Turn Off the Dark
This big budget Julie Taymor marvel features music by U2's Bono and the Edge. Previews begin on Sun Nov 14; the show opens on Dec 21. Foxwoods Theatre, 213 W 42nd St between Seventh and Eighth Aves (800-745-3000, spidermanonbroadway.marvel.com). $67.50--$140.
FREEStargazing
Families get a front-row seat at a different kind of show—courtesy of the galaxy—at the Amateur Astronomers Association's observation nights. Members set up telescopes at a number of locales, including Manhattan's Inwood Hill Park on Saturdays, Staten Island's Great Kills Park on Saturdays (except in January) and Brooklyn's Floyd Bennett Field every Friday through December. Keep in mind: Star watchers may not meet if it rains or is cloudy. For further details, go to aaa.org.
Exhibits
"Yoshitomo Nara: Nobody's Fool"
Neo Pop figure Nara is an influence on young contemporary artists worldwide. No wonder: Alienation, rebellion and music are his key themes. This cute-in-an-insolent-way exhibition spans 20 years of diverse work inspired by rock and punk icons (long live the Ramones!) and populated by inquisitive dogs, and unamused girls jamming on guitars. Trust us—your teen will relate. Through Jan 2, 2011. Asia Society Museum, 725 Park Ave at 70th St (212-288-6400, asiasociety.org). $10, children under 16 free.
FREE"On Stage in Fashion: Design for Theater, Opera, and Dance"
Red carpet--bound teens will want to take their stylists (and their underwriters, a.k.a. you) along to this exhibition, all about the fashion industry's relationship with the performing arts. The show features to-die-for frocks from Christian Lacroix, Isaac Mizrahi, Norman Norell and other style gurus who understood the value of dramatic clothing. Through Jan 22, 2011. New York Public Library for the Performing Arts, Dorothy and Lewis B. Cullman Center, 40 Lincoln Center Plaza (917-275-6975, nypl.org).
"Guitar Heroes: Legendary Craftsmen from Italy to New York"
If you're living with a young Joan Jett or Jimi Hendrix, here's one walk-through not to miss. The Met exhibition will feature a lineup of exquisite guitars made by three New York master luthiers: John D'Angelico, James D'Aquisto and John Monteleone, all of whom knew what a picker really needed. Feb 9--July 4, 2011. Metropolitan Museum of Art, 1000 Fifth Ave at 82nd St (212-535-7710, metmuseum.org). $20, students $10.
Houdini: Art and Magic
A death-defying stunt will impress even a know-it-all adolescent. This exhibition about legendary escape artist Houdini (1874--1926) features apparatuses he used for tricks; posters, photos and films from Houdini's era; and contemporary works of art inspired by the man who made "be a magician" a valid When I Grow Up goal. Yeah, the kids no longer giggle when you pull a quarter from their ear—but they'll be awed by these feats. Through Mar 27, 2011. Jewish Museum, 1109 Fifth Ave at 92nd St (212-423-3200, thejewishmuseum.org). $12, students $7.50.
Norman Rockwell: Behind the Camera
We're guessing some looker named Sam Rockwell plays more of a role in your kid's world than Norman ever will. Still, you'll want to lure her to this inside look at the everyman artist's work and process. Your teen may be impressed to learn how an iPhone-less Rockwell used photography to document scenes and details that would appear in his paintings. Nov 19--Apr 10, 2011. Brooklyn Museum, 200 Eastern Pkwy at Washington Ave, Prospect Heights, Brooklyn (718-638-5000, brooklynmuseum.org). $10, students $6.
FREE"The Vintage Woman: A Century of Costume Jewelry in America 1910--2010"
Diamonds may be a girl's best friend, but a rhinestone can be a pretty good pal too. Your budget-fashion teen will find loads of inspiration at this roundup of faux-jewels by legendary designers like Elsa Schiaparelli, Coco Chanel and Joseff of Hollywood, whose creations once dolled up stars like Greta Garbo and Vivien Leigh. Children under 16 must be accompanied by an adult, so there's good reason for you to go along. Through Jan 22, 2011. Forbes Galleries, 62 Fifth Ave at 12th St (212-206-5548, forbesgalleries.com).
Literary events
FREEEmerging Talent Showcase
This winter, Soho's seminal indie bookstore launches its new Graphic Short Story Contest for teens ages 13 to 15. Youngsters may submit original graphic short stories via e-mail to submissions@mcnallyjackson.com through January 14, 2011. Proud parents are invited to accompany their kiddos to the shop on Saturday, January 29, when illustrations from the winning entries are projected on the big screen, while stories are read by the authors. Victors will be notified of the results one week before the reading. Sat Jan 29, 2011, noon--1pm. McNally Jackson Books, 52 Prince St between Lafayette and Mulberry Sts (212-274-1160, mcnallyjackson.com).
KingCon Brooklyn II
Comics and animation geeks of all ages will convene at the Brooklyn Lyceum to compare notes on all sorts of imaginary characters. This year's show will fill two floors with Kings County's most talented animators, illustrators and cartoonists, and will offer true comics geeks drawing workshops and a series of panel discussions. Sat Nov 6-Sun Nov 7 11am--7pm. Brooklyn Lyceum, 227 Fourth Ave between President and Union Sts, Park Slope, Brooklyn (718-857-4816, kingconbrooklyn.com). One day $7, full weekend $10.
FREETeen Author Reading Night
At this almost monthly slam, YA writers with buzz share their latest books. The November event features readings by Nick and Norah's Infinite Playlist superstars Rachel Cohn and David Levithan (the pair will read from Dash & Lily's Book of Dares), Enchanted Ivy author Sarah Beth Durst and Behemoth scribe Scott Westerfield. Wed Nov 3 at 6pm. New York Public Library, Jefferson Market Branch, 425 Sixth Ave between Christopher and W 10th Sts (212-243-4334, nypl.org).
Cooking classes
Handmade Pasta for Future Chefs
Parents and teens learn to turn dough into noodles, and whip up sauces. Sun Feb 27 10am--2pm. International Culinary Center, 462 Broadway at Grand St (212-219-8890, internationalculinarycenter.com). $390 for two.
Murray's Cheese Courses
The store's class roster includes Mystery of the Caves, which features a tour of Murray's subterranean storage and tastes paired with wine (kids sip sodas). See website for class schedule. Murray's Cheese Shop, 254 Bleecker St between Leroy St and Seventh Ave South (212-243-3289, murrayscheese.com). Classes $50--$100 per person.
Teen interviews
We took local teens aside and asked them about the ups and downs of life. Then we asked their parents the same questions.
Alisa and Amara, 15, Fort Greene, Brooklyn
What do you like to do as a family?
Alisa I like walking around the city with Amara. It's an opportunity to actually have a conversation with her about what's going on with friends and what she's thinking about. And we watch some television shows together; Gossip Girl and Glee are fun.
Amara We like to eat Mexican food. Most recently we went to Caliente Cab (61 Seventh Ave South at Commerce St, 212-243-8517, calientecab.com) near NYU. And we play Uno and Scrabble together. My mom is the more serious Scrabble player. She follows all the rules, but my dad and I like to make up words [Laughs].
Is there any time that parents and teens just don't mix?
Alisa She likes going to the mall with me, but if we're seen by other people, she'll get embarrassed. In large part, it is related to what seems cool, and that usually doesn't involve grown-ups.
Amara If I see people in a store when I'm with one of my parents, I'll get really embarrassed and my parents will get offended. I feel bad, but it's a little bit embarrassing to have your parents around!
What's the best thing about this age?
Alisa What's great is that we know there are more years left. As a parent, you're still needed in some ways.
Amara It's pretty much like the other stages of life. I wasn't one of those kids who had certain phases where I drastically changed. I haven't really changed since the fourth grade! I'm still the same weird, awkward Amara.
Silvana and Isaiah, 13, Park Slope, Brooklyn
What's the most difficult part of this life stage?
Silvana I'm waiting for his hormones to change. Not knowing what's going to happen—who will he be? Will he be the same kid or not? I don't know.
Isaiah Responsibility. It's good—I walk to school and take the bus, and I take the subway to Manhattan sometimes. But it's also not as good, because I'm not as free. I get good grades, but there's a lot of pressure on me to get into a good high school. I have to be a little more self-reliant.
What's the most annoying teenage trait?
Silvana When you ask a question, you're never quite sure if you're getting a straight answer. It's often an ambiguous response. You're not sure if you have to ask again. Usually you do.
What do your parents bug you about most?
Isaiah My parents are always telling me to clean my room. I got into a big fight with them about how my room is my room, and I'll keep it how I want it [Laughs]. That didn't work out. I cleaned my room.
Is there anywhere you don't like to go together?
Silvana He doesn't like going food shopping. When I want to go to the farmers' market, he'll stay home and play Wii.
Isaiah Oh, yes. The farmers' market. Every weekend my mom goes and every weekend she asks me to come with. When I was younger, I loved to go to the farmers' market, but now I just want some peace and quiet on the weekends. I don't have school, so I want to chill out.
Howard and Miranda, 14, Cobble Hill, Brooklyn
How are the teenage years going so far?
Howard Part of me is relieved, because when she was younger there was so much effort in protecting her and doing right by her—I couldn't wait until she was old enough that I could let my foot off the pedal. But lately I have found myself feeling nostalgic, which I never thought I would.
Miranda My dad said he's slowly trying to let go, and it is slow. My parents aren't holding me back at all, but I can tell that they are nostalgic for when I was a little girl. Moving on is a little bit difficult for everybody.
What do you like to do together as a family?
Howard We like to go to museums. And we will often go for a nice walk through our neighborhood and to the Brooklyn Bridge.
Miranda I like the Met. There are so many galleries there—we go to a different one every time. And I like the Natural History Museum. I really like the Hall of Biodiversity and the Hall of Marine Biology. You know, the one with the giant whale.
Are there times when you both need time apart?
Howard She's an only child, so it's hard for her to avoid us, and it's hard for us to avoid her. We have our clashes, but in general, it's not like when I was a kid and I couldn't stand my parents. We share a lot in common. She likes Futurama, because I got her into it, and she and her mom bake together. I don't get the sense that she doesn't want to hang out with us.
Miranda Well, they're busy and they have things to do, so they're not always begging me to go out. It's not that much of an issue. I really don't like to go out and walk, though. I find it very boring and pointless to just walk around the city with my parents.—Blair Tidwell