Park Slope, Brooklyn, neighborhood guide
Brooklyn's Park Slope neighborhood is host to all sorts of dreamy bars, restaurants, cafes and stores by Prospect Park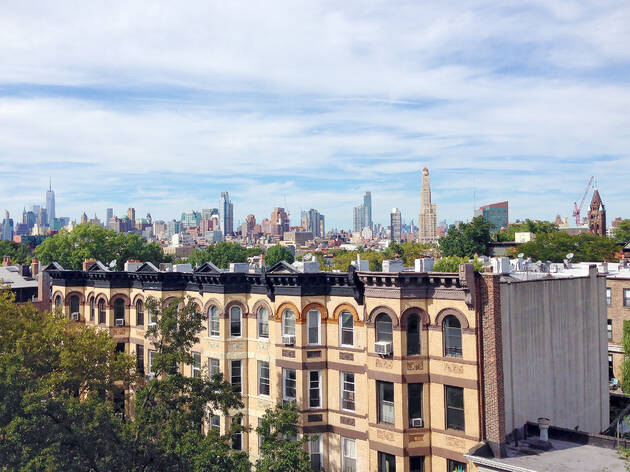 What's the deal with the Park Slope?
Bustling with hip, young families, Park Slope, Brooklyn, is known for its "mommy mafia," but it's so much more than a family-friendly neighborhood. It's long been a bastion of the intelligentsia with fine Romanesque Revival and Queen Anne residences that grace the landmarked historic district on the western edge of Prospect Park and has old ties to the site of the largest battle of the Revolutionary War. While the neighborhood is off-limits to many who cannot afford to live there, it's packed with popular restaurants and interesting shops for everyone, and its laid-back nightlife scene caters to all sorts of crowds.

If you only do one thing
Shop for fresh farm produce and food at the farmer's market every Sunday from 10am to 5pm outside of the Old Stone House.
Go off the beaten track
Check out Old Stone House at Washington Park—a reconstruction of the 1699 Vechte-Cortelyou House, an original Dutch farmstead that became a Revolutionary War landmark. The home's land was where the first major engagement of the Continental Army took place after the Declaration of Independence during the Battle of Long Island. Later, it served as the club house for a winter skating team and the Brooklyn Superbas (later known as the Brooklyn Dodgers). Parts of the original house still exist within the structure and today it is used as a memorial to the Battle of Long Island and a venue for concerts, readings, lectures and school trips.
On a sunny day
Grab a cone from L'Albero Dei Gelati and head to Prospect Park. Swing by the Bandshell to see if anything is on.
On a rainy day

Stop at Java Joe for a delicious cup of tea or coffee and head to Life Boutique Thrift to sift through its designer items, antique furniture, art, books, hats and more. Need to pick up a new book? Head to the Community Bookstore.
Get cultured
Head to a performance or catch a dance or theater class at the Brooklyn Arts Exchange.
Chill out

Go to Union Hall for a night of fun or if you're in the mood to fill your belly, grab brunch at Benchmark or drinks at Ginger's bar.
Nearest subway stations
Fourth Avenue, Seventh Avenue, Union Street and Grand Army Plaza/Flatbush Avenue.
What else is nearby?

Gowanus, Carroll Gardens, Greenwood and Boerum Hill.

RECOMMENDED: Full coverage of things to do in Brooklyn