The best comedy clubs in NYC
If you're trying to find the city's best comedy shows, just take a look inside the best comedy clubs NYC has to offer.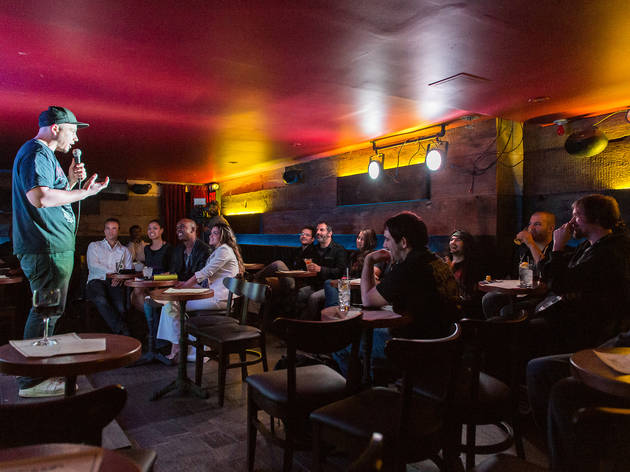 Best comedy clubs in NYC
Even comics who are regulars at the city's other stand-up rooms have to work extra hard to get stage time at this venerable institution. Carolines is the best place to see marquee names, including sitcom-ready stars, familiar faces from the '80s comedy boom, Friars Club–style spritzers and cable-special ravers. You'll never see anything less than professional. Show times vary.
Book now
Read more
Claustrophobes, beware: It gets crowded down here, especially on weekends, thanks to the immense popularity of this Village standby. Big names from Louis CK to Aziz Ansari will just drop by for a set and on any given night, you can expect to see other local greats whose acts are more X-rated than at other clubs (and who will distract you from your bachelorette-partying neighbors).
Read more
This burgeoning, multi-level comedy palace in Long Island City is the deserving gem of the Queens comedy scene. Owner Rebecca Trent programs shows seven nights a week, and at times you can catch up to five free shows on a busy weekend night. Among it's features: cheap, serviceable Mexican food, a ramshackle theater hosting larger events, a smaller space downstairs for intimate stand-up or storytelling shows and a bar with adjoining patio on which to ply friends for their opinions after the show.
Read more
Chris Mazzilli's vision for his club involves elegant surroundings, professional behavior and mutual respect. That's why the talents he fosters, such as Jim Gaffigan, Tom Papa and Ted Alexandro, keep coming back here long after they've found national fame. Though these big names aren't appealing to families, kids will find a laugh or two in special twice-monthly shows featuring adolescents ages 11 to 18.
Read more
Al Martin, the longtime owner of both the New York Comedy Club and Broadway Comedy Club, follows the same basic tenets of those ventures in his new room—an intimate basement space below an Indian restaurant. Though a few pillars in the 60-seat venue interfere with sight lines, the pub grub, extensive cocktail selection and long list of stars who just might do a spot while passing through town are drawing crowds every night. Regulars include staples Christian Finnegan, Marina Franklin and Tom Shillue.
Read more
The community of house teams and solo performers at Armando Diaz's upstart black box has grown strong, cementing the Magnet—the signature style of which is slower and therefore frequently more rewarding than other improv styles—as one of the best places to watch improv in the city.
Read more
After many years in Chelsea, this improv and sketch theater moved crosstown to a dramatic East Side location, with a warm proscenium stage, a black box in the basement and an inviting bar. Cheap shows and free jams keep the crowds young and lively; a full evening of free improv shows every Wednesday anchors the weekday schedule.
Read more
Sons of Essex's Seth Levine turns out comfort-food spins—like cheeseburger pot stickers and duck-topped pizzas—at this comedy club–restaurant hybrid. After dinner, head downstairs to the club, where you can sip cocktails designed by Minetta Tavern vets, while acts like Judah Friedlander and Artie Lange supply the belly laughs. Test your stand-up knowledge and try to name all the comedians on the wallpaper in the bathrooms.
Book now
Read more
The improv troupes and sketch groups anchored at UCBT are some of the best in the city. Stars of Saturday Night Live, VH1 and writers for late-night talk shows gather on Sunday nights to wow crowds in the long-running ASSSSCAT 3000. Other noteworthy teams include Death by Roo Roo (Saturdays) and the Stepfathers (Fridays).
Read more