Best food in Flushing, Queens
Tian Shan Shish-KebobFollow the aromatic clouds of smoke to this corner street cart, where a dollar buys a juicy, charcoal-sizzled lamb skewer flecked with...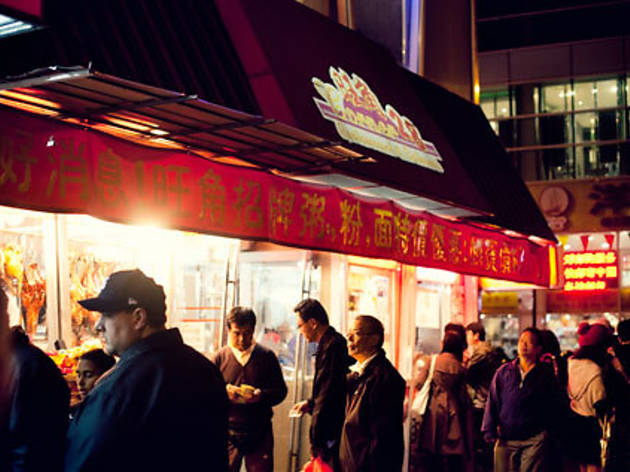 1/9
Corner 28; Photographs: Lizz Kuehl
2/9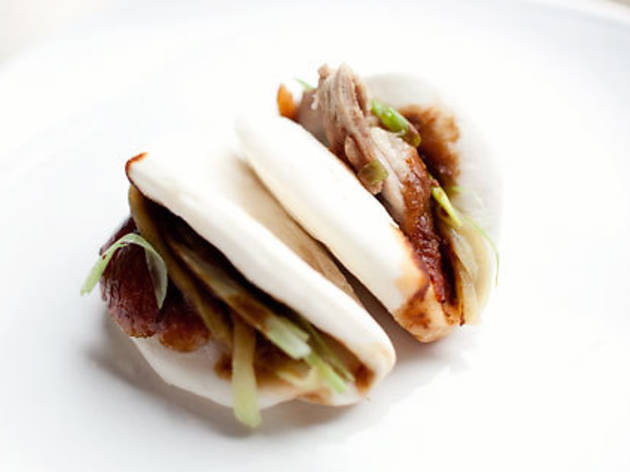 3/9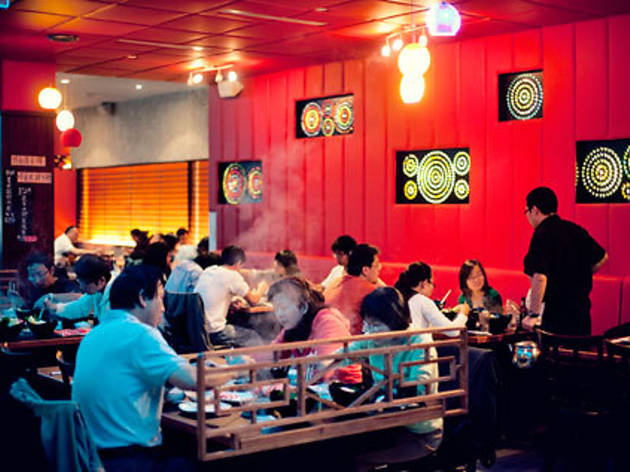 4/9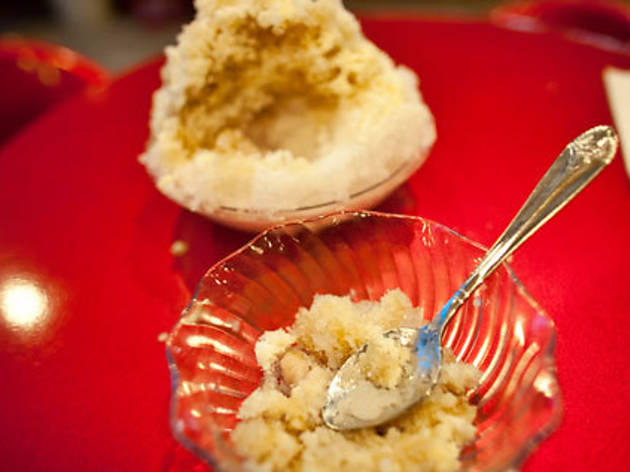 5/9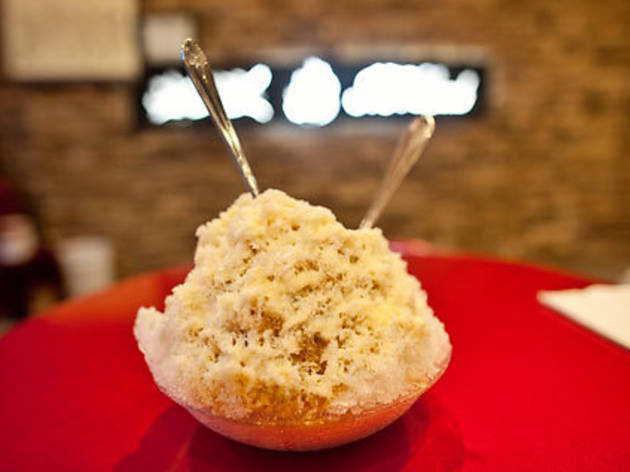 6/9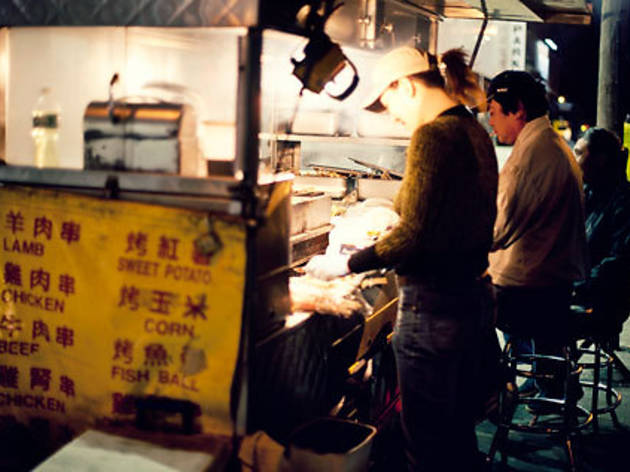 7/9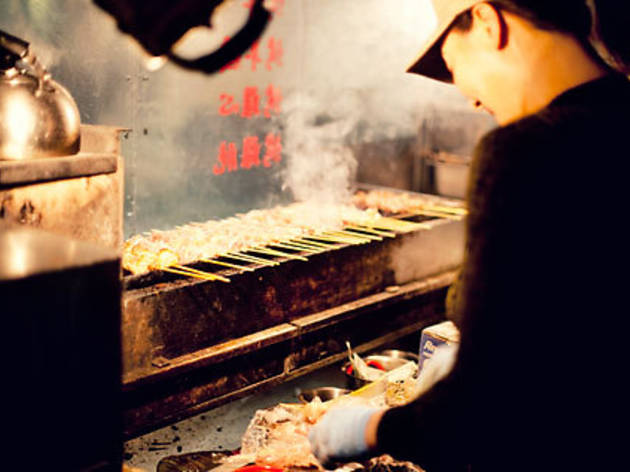 8/9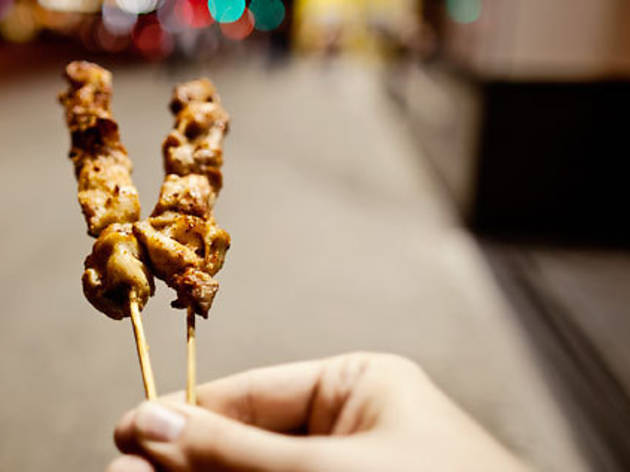 9/9
Tian Shan Shish-Kebob
Follow the aromatic clouds of smoke to this corner street cart, where a dollar buys a juicy, charcoal-sizzled lamb skewer flecked with red pepper—a favorite in the Xinjiang region. Corner of Main St and Maple Ave (no phone)
Corner 28
Out of a to-go window comes orders of shellacked Peking duck hacked into moist, skin-on morsels, then shoved into plump buns and finished with scallions and hoisin—unparalleled luxury for a buck. 40-28 Main St at 40th Rd (718-886-6628)
White Bear
This cramped sit-down nook specializes in myriad dumplings and perfect pork-and-chive Szechuan wontons ($4.50), boiled plump and showered with pickled cabbage and a red slick of sesame oil and crushed peppers. 135-02 Roosevelt Ave, entrance on Prince St between Roosevelt Ave and 40th Rd (718-961-2322)
Temple Canteen
Forget East 6th Street: Flushing has some of NYC's finest South Indian food, especially the paper-thin dosas at Hindu Temple Society's basement commissary: The cracker-thin, crunchy Hyderabadi dosa (served weekends only, $5.50) is amped with green-chili chutney, while the buttery paneer ($5.50) is packed with spongy cottage cheese. 45-57 Bowne St between Holly and 45th Aves (718-460-8493)
Nan Xiang Xiao Long Bao
A dinging timer signals your six pork-and-crab soup dumplings ($6.50) are ready. They're served in bamboo steamers, thin wrappers sagging with rich, slurpable broth. Quite possibly New York's best Shanghai-style soup dumplings. 38-12 Prince St at 38th Ave (718-321-3838)
Xi'an Famous Foods
Make your way through this cramped underground food court for chef-owner Liang Pi's Shaanxi delicacies: pressed spicy cumin-lamb sandwiches ($2.50) and the chef's knockout namesake noodles ($3.75), served cold with chili oil, bean sprouts and cilantro. Golden Mall, 41-28 Main St between Sanford Ave and 41st Rd, basement #36 (no phone, xianfoods.com)
Ice Fire Land
While this futuristic Taiwanese-Japanese parlor traffics in serviceable shabu-shabu, its trump card is dessert: a mountain of shaved ice ($3.95) sweetened with four toppings, such as condensed milk and taro spheres. 135-11 40th Rd between Main and Prince Sts (718-886-8600)
Mingle Beer House
Crooning singers set the mood at this mod Taiwanese brew hall (indoor waterfall!), which serves Sapporo ($6) and Chimay ($11) alongside snacks like spicy cucumber ($3.50) and wasabi-spiked celery ($4.95). 37-04 Prince St at 37th Ave (718-939-3808)
Jade Asian
The sunny Cantonese hall dispenses superfresh dim sum and, come dinner, massive portions of roasted duck ($11.95 a half) and shell-on, salt-baked prawns spiked with chili sauce ($18.95). 136-28 39th Ave at 138th St (718-762-8821)
M&T Restaurant
Specializing in Qingdao (a.k.a. Tsingtao) cuisine, this bright storefront's beer-friendly bites include crisp, shrimp-flavored spareribs ($9.99) and Feihong fish sticks: salty fried morsels strewn with crunchy peppers and peanuts ($12.99). 44-09 Kissena Blvd between Cherry and Elder Aves (718-539-3398)
Sponsored listing
Rossopomodoro
At this dreamy West Village spot, chef and owner Simone Falco worked with famed flourmill Antico Molino Caputo to create a proprietary gluten-free flour blend. Made with buckwheat flour and corn, rice and gluten-free wheat starches, the dough is virtually indistinguishable in taste from a traditional variety. The pillowy crust can be topped with creamy mozzarella di bufala, salty guanciale or rich basil pesto.
Venue says: "The real Neapolitan experience. If you are not into eating out order our DIY MONTANARA MAKING KIT"