The best poke bowls in NYC
See what the fuss over the best poke bowls in NYC is by diving right into the Hawaiian-inspired trend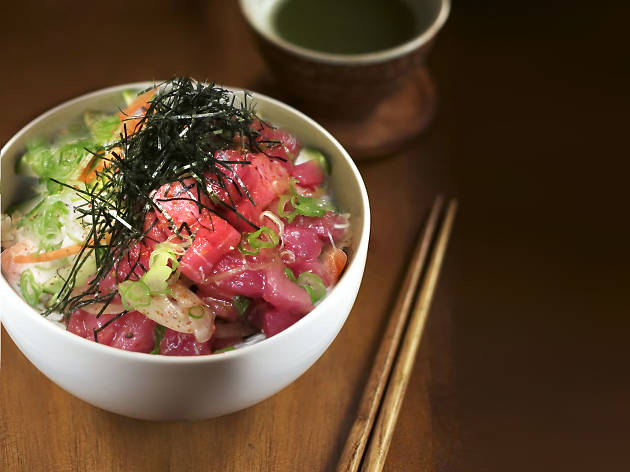 New York is no stranger to imported foods, from Detroit square pizza to Mission-style burritos, but Hawaiian poke (raw-tuna salad) was a deliciously out-of-left-field addition to the scene. A fresh change from your regular sushi order, the best poke bowls NYC has to offer comes courtesy top-rate seafood restaurants, modern Hawaiian restaurants and forward-thinking food halls.
RECOMMENDED: Full guide to the best sushi in NYC
Best poke bowls in NYC
2
Two food-world buzzwords—poké and bowls—collide at this fast-casual Chinatown concept from Neta alum Michael Jong Lim. Hawaiian poké (raw-fish salad) is zapped with Japanese, Chinese and Korean influences at the six-stool restaurant: The six sea-to-table bowls on offer include a goma-shoyu tuna with garlic chips, a chojang-fired fluke and a sushi-grade Scottish salmon variety with Szechuan-spiced mayonnaise and daikon, and the stock Japanese-rice base can be swapped out for Asian greens.
Read more
3
Using only high-quality, sustainably sourced fish, Pokéworks puts a Hawaiian spin on this sushi trend, tossing the cubes of raw fish with chopped green onion, shredded sweet onion and a touch of Hawaiian salt before serving it up as bowls, burritos or salads with uniquely Japanese flavors like hijiki seaweed and shiso leaves.

Photograph: Courtesy Yelp/Amy C.
Read more
4
Although it seems the poke wave is cresting, there's nothing fishy or flash-in-the-pan about bowls of seafood, rice and light vegetables done right. This Murray Hill iteration combines the Hawaiian dish with some distinctly West Coast sensibilities, serving fresh, super-filling dishes of ahi tuna drizzled with shoyu and sesame oil over white rice, as well as an avocado-heavy, chili-dusted salmon tostada boasting a warm, freshly made tortilla that tastes oh-so–Left Coast.
Read more
7
Draft lattes, balsamic cocktails and Santa Barbara sea urchin—you can get all of it under one roof at this 25,000-square-foot restaurant-and-market concept taking over the former Barnes & Noble flagship space. The sprawling complex is broken down into various grab-and-go stalls stocked with Hawaiian poké, Peruvian rotisserie chicken and New York street food.
Book now
Read more
8
This counter-style operation offers eight signature bowls, including a classic ahi tuna variety with roasted seaweed and sweet onions, as well as more versions made with citrus salmon, spicy ponzu tuna and even a vegetarian-friendly shiitake-tofu combination.

Photograph: Courtesy Yelp/The PokéSpot
Read more
9
This white-washed, pastel-trimmed Nolita remake of old Montauk fish shacks spotlights underutilized species (monkfish, tilefish) from east-end outfits Dock to Dish and Sea to Table. On the menu, you can find fish tacos, crispy squid and poke bowls fitted with crunchy peanuts, cubed avocado and ponzu sauce.
Read more
10
Even your bodega might be serving poke these days, but for an authentic taste of the Hawaiian favorite, head to Midtown East. Unlike many other poke joints, which skip marinating the fish in favor of a quick toss in seasonings before serving, Sweetcatch offers up to a dozen different marinades. Try the classic Hawaiian shoyu, made with onions, seaweed and sesame seed.
Read more
Looking for more fresh fish?
At a fantastic fish market in NYC, pick up a fine fillet, choice crustacean or tasty tuna for dinner
Read more