The 10 best Polish restaurants in NYC
At the Polish restaurants in NYC, find the belly-warming comfort foods, like pierogies and potato pancakes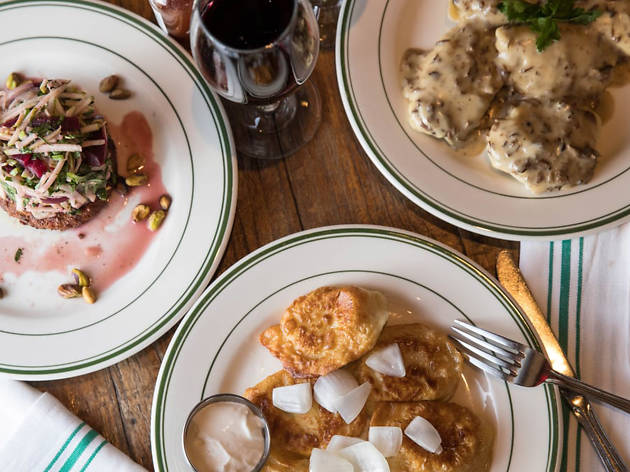 There are plenty of ways to beat the blues, and eating at a Polish restaurant in NYC is one of the best. Whether your prescription requires a pampered day at one of the best spas in NYC or comparing hot toddies at the best bars with fireplaces in NYC, no warming method is truly complete without a hearty, stick-to-your-ribs plate of Polish comfort food. From soft and pillowy potato-and-cheese-stuffed pierogies to velvety white borscht adorned with savory bites of grilled kielbasa, New York's plethora of Polish eateries offer just what the doctor ordered.
RECOMMENDED: Full guide to the best restaurants in NYC
Best Polish restaurants in NYC
Looking for a restaurant in Williamsburg?
Check out the best Williamsburg restaurants in NYC for everything from top-rate burgers to great Japanese pub grub
Read more
Sponsored listing
Burger Burger
Craving a big, juicy burger but don't feel like going to a greasy drive-thru? Hit up Burger-Burger. Go for the standard cheeseburger ($11), or try one of the deluxe options like the Berta with cheddar, ham and a fried egg ($13.25) or the New Yorker with caramelized onions, mushrooms, swiss cheese and sour cream ($14.50). The health-conscious can opt for a veggie ($12.50), turkey ($12.50) or bison burger ($16) on a whole wheat bun. Of course, they offer fries galore—regular ($5), sweet potato ($6), curly ($7), cheese ($5), chili cheese ($7)—and all kinds of other snacks like mozzarella sticks and jalapeno poppers (both $6). Not into burgers? They also offer New York–style hot dogs ($4.50) and chili cheese dogs ($7). Like any good fast food joint, Burger-Burger also sells milkshakes in vanilla, chocolate, strawberry (each $5) or Reese's peanut butter cup ($5.50) to round out the meal.
Venue says: "So good we named it twice! NY style hot dogs, shakes, malts, healthy burger options & low carb platters to your home or office."