The best Polish restaurants in NYC
At a Polish restaurant, find NYC's best comfort foods, like pierogies and potato pancakes, for winter (or whenever)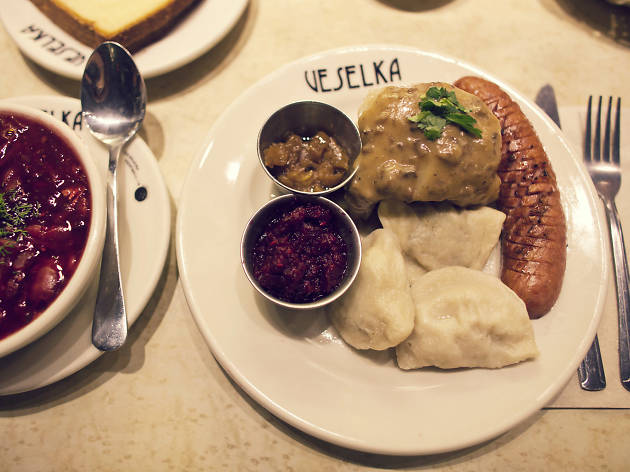 There are plenty of ways to beat the blues, and eating at a Polish restaurant in NYC is one of the best. Whether your prescription requires a pampered day at one of the best spas in NYC or indulging in an array of soothing winter cocktails at one of the coziest restaurants and bars in NYC, no warming method is truly complete without a hearty, stick-to-your-ribs plate of Polish comfort food. From soft and pillowy potato-and-cheese-stuffed pierogies to velvety white borscht adorned with savory bites of grilled kielbasa, New York's plethora of Polish eateries offer just what the doctor ordered. And with sizable Polish enclaves in Manhattan's East Village and Brooklyn's Greenpoint, finding an authentic Polish restaurant won't be a problem—with sit-down, counter-service and BYOB options available, all you'll have to decide on is the ambience.
RECOMMENDED: Full guide to the best restaurants in NYC
Best Polish restaurants in NYC
Looking for a restaurant in Williamsburg?
Check out the best Williamsburg restaurants in NYC for everything from top-rate burgers to great Japanese pub grub
Read more
Sponsored listing
Bespoke Kitchen
Bespoke Kitchen is a contemporary neighborhood restaurant and bar that uses all fresh ingredients from local farms, distilleries and craft breweries within a 50 mile radius. They offer guests a unique dining experience that is innovative and tailored (bespoke) to the guests' likes with refined flavors that showcase all regions of New York. Guests get to have an option of leaving their entree in Chef Barrio's hands. Trust us - you will want to!
Venue says: "A creative menu brought to you by Chef Franco Barrio with locally sourced produce serving New York style food in the heart of West Village."