The best chocolate chip cookies in NYC
From classic renditions to kooky riffs—cookie shots, anyone?—here's where to find the best chocolate chip cookies in NYC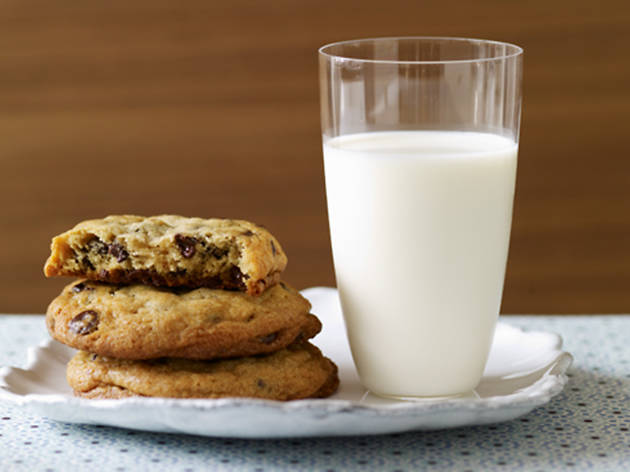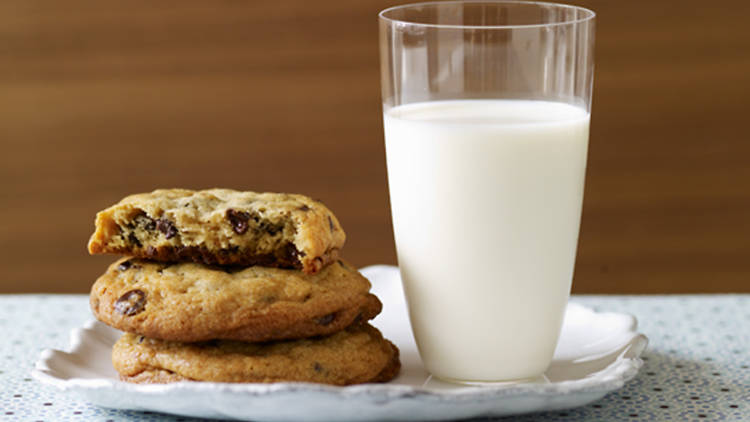 Forget madcap cupcakes and sweet crossbreeds for a second—there are few treats that soothe the way a simple and simply delicious chocolate chip cookie does. Whether you like 'em thick and doughy or thin and crisp-edged, the city's best bakeries whip up chocolate-chip cookies of all shapes and sizes. These aren't just the best chocolate chip cookies in NYC—they're some of the best cookies in NYC, bar none.
Best chocolate chip cookies in NYC
1
The technical description of a chocolate-chunk cookie of this caliber: "yummy." At its core, it's soft and melty, but it comes with just the right amount of crunch courtesy of sea salt, macadamias, almonds, walnuts and a browned exterior. Factor in the imported chocolate and it hits the sweet spot.
Read more
2
At this UWS nook, size matters. Seductively gooey on the inside and golden brown on the outside, this Holy Grail of cookies is the size of your head and big enough to feed your whole crew (or not). Semisweet chocolate morsels and chunks of walnuts mix and mingle, making each buttery bite better than the next. The only thing worse than waiting on the long line out the door is the sinking feeling you'll get when you're left with no more bites.
Read more
3
Throw it back to your childhood dunking days with this very Instagrammable milk-and-cookies combo. Crisp enough on the outside that it won't crumble but still moist in the middle, it's further proof that the Cronut king can do no wrong. Ansel couples rich chocolate with cold-infused Tahitian vanilla milk for the interior coating, and whether you shoot the pool of milk then chase with the cookie or go for the nibble-and-sip technique, it lives up to the hype.
Read more
4
We'll take chocolate with a side of…chocolate. The triple threat—with milk, dark and white—is enough to leave you weak in the knees, while a sprinkling of crystallized salt takes things to another level. The fresh-from-the-oven version even comes with a mason jar of cold vanilla-spiked milk. No one has to know (or will even believe) it's all gluten-free.
Book now
Read more
5
Loaf legend Uri Scheft, the brains behind Tel Aviv's Lehamim Bakery, brought his dough-kneading talents to Union Square with this 9,000-square-foot bakeshop. Grab one of 25 seats for a warm triple-chocolate-chip cookie—imbued with equal parts soft chew and caramelized crispiness—or take out a box of the baked treats if you don't want strangers to see you licking chocolate off your fingers.
Read more
6
Even if math was never your forte, the higher chocolate-to-dough ratio in this delectable treat is one you can get behind. A chocolate lover's dream, the crisp-around-the-edges cookies are chock full of Torres' quarter-size dark-chocolate chips. It's just like the ones Mom used to make, only better. Watch your back, Toll House.
Read more
7
Pastry whiz Christina Tosi conjures up homey sweets at this bakery spin-off down the block from Momofuku Ssäm Bar. East Village hipsters, fawning foodies and in-the-know tourists line up for the cultish goodies, including crack pie (toasted oat crust with a gooey butter filling), cereal-milk soft serve and Tosi's compost cookie, which takes the basic chocolate-chip cookie to oddball new heights with pretzels, potato chips, coffee, oats and butterscotch.
Read more
8
A unique property for Thomas Keller Restaurant Group, Bouchon Bakery & Café at Time Warner Center was the first Bouchon Bakery property to open in New York City in 2006. Overlooking Columbus Circle and Central Park, its landmark setting designed by Adam D. Tihany, features a full-service café offering a wide selection of entrées, small plates, soups, salads and one of New York's best chocolate-chip cookies, filled with gooey chocolate chunks as well as traditional chips.
Book now
Read more
9
Erin Patinkin and Agatha Kulaga, the duo behind the popular wholesale bakery, showcase their quirky pastries in their first retail location—a stylish 13-seat café decked out with herringbone tile and green-and-white patterned wallpaper. Take your Brooklyn Blackout Cake (made with Brooklyn Brewery beer and salted chocolate pudding) or chocolate-chip cookie—a secretly vegan creation that's sprinkled with salt—with a Stumptown coffee.
Read more
10
Justly famous for its rich hot chocolate, the bustling joint—conveniently located down the block from Books of Wonder—also offers serves a mean chocolate-chip cookie, a wonder of butter, chocolate and salt with an underbaked richness.
Read more
11
Owner Seth Berkowitz got his start in the baking biz sating munchies at the University of Pennsylvania. He's since opened this shop in the NYU ghetto. Hot-from-the-oven chocolate-chip cookies and brownies in varieties like Snickers can be delivered from 14th St to Broome St (between Ave A and Westside Highway) from 8pm to 3am.
Read more
Want something a little sweeter?
From all-American apple to primped-up pecan and plenty in between, these are New York City's best pies
Read more
Sponsored listing
Yamato Ramen
During a trip to Japan a couple of years ago, I fell in love with ramen. As basic as it is, ramen is very comforting and has a unique taste that's satisfyingly good. My love of ramen soon turned into an obsession. I started a year-long journey discovering various types of ramen and ended up studying at the world famous Yamato Ramen School. It was there that I met my ramen sensei, Mr. Kaoru Fujii. Mr. Fujii has over 40 years of experience in ramen creation and restaurant operation. He taught me scientific ramen cooking—a method of cooking that allows for every bowl of noodles he creates to taste, smell, and be consistently delicious.