The 25 best tacos in NYC
From tried-and-true al pastor to an off-the-menu, deep-fried creation, tuck into the city's best tacos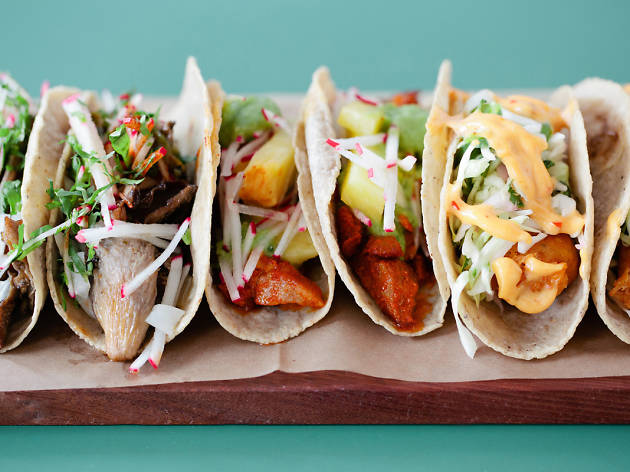 New York claims to be the best at a wide variety of foods, from bagels to sushi, and Mexican is certainly no exception. Distance notwithstanding, any Gothamite will boast that the city's Mexican restaurants rival those of traditional strongholds like California and Texas. From the pocket-friendly street-style to fine-dining tasting menus, these are the best tacos in NYC.
Best tacos in NYC, ranked
25
This spin-off of a Tijuana, Mexico, taqueria channels the Baja original with fresh fish tacos. Golden fried fingers of beer-battered mahi-mahi line a single tortilla and are dressed with crunchy shreds of green cabbage, onions and an herbaceous streak of cilantro mayo.
Read more
24
Rolled tacos are the focus of this graffiti-tagged snack shack. The twice-fried cigars give way to succulent meat fillings: The top-notch beef variety—a moist blend of Creekstone Farms eye of round and short rib—finds delicious foils in salty cotija and chili-garlic sauce.
Read more
23
The tacos at Richard Sandoval's lunch-only outpost of upscale Mexican cantina Pampano may cost a buck more than street-cart varieties, but the killer camarón—sweet and succulent adobo-sautéed shrimp in a supple flour taco—and indoor seating options justify the extra green.
Read more
22
Taco Arabes at Ricos Tacos
Named for its Arabic origins, this Lebanese-Mexican roll-up combines spiced spit-roasted pork with sweet strings of caramelized onion in a pita-like, flour-based flatbread.
21
Miguel Gallardo, 23, dishes out some of the city's best carne asada specimens from this cart, 12 hours a day (6pm to 6am). He deftly chops well-seasoned beef, piles on homemade salsa and toppings (onions! cilantro! guacamole!) and wraps the whole thing into a perfectly portable tortilla cone.
Read more
20
The chorizo at this Bushwick tortilla factory is some of the city's best; ground bits of sausage are sautéed with a few pieces of potato, coating the spuds with cinnamon, chili and pork fat. The spicy mess is deposited on top of two freshly made tortillas, along with cilantro and a squirt of crema.
Read more
19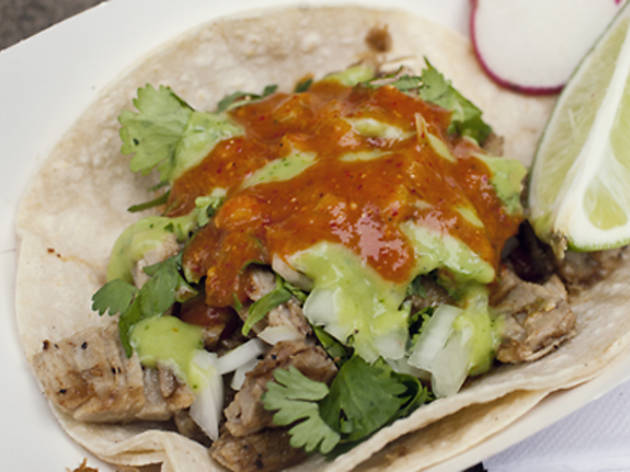 Suadero taco at Tacos Morelos
Late-snacking hipsters can offset whiskey binges at these Williamsburg and East Village trucks, which are satellite operations of a Jackson Heights taqueria. The suadero is cheap and satisfying: Chewy, steamed slices of brisket are pepped up with a mix of onion, cilantro and guacamole.
18
At this top-notch taqueria, beef simmers with dried guajillo peppers and avocado leaf for three hours, until the meat is tender and infused with aromatics. The saucy, spicy stew is finished with a sprinkling of cilantro, onion and guacamole on a double layer of corn tortillas, which can barely contain the filling's savory juices.
Read more
17
This outpost of a New Jersey tortilleria slow-cooks its incendiary goat special in huge pots, then heaps the tender meat generously onto supremely fresh tortillas. The gratis-condiment station offers vats of lively salsas and other toppings.
Read more
16
Inspired by travel and festive meals taken in the family homes, Marc Meyer showcases traditional dishes, from appetizing antojitos made at an in-house comal bar to Veracruz-style whole roasted fish. Tacos, folded using a single house corn tortilla, include barbacoa braised lamb, battered fish and the al pastor—succulent spit-roasted marinated pork with pineapple.
Read more
Show more