Theater in New York: 50 reasons to love NYC theater
Check out 50 of the best Broadway stars, venues, festivals and future legends of theater in New York.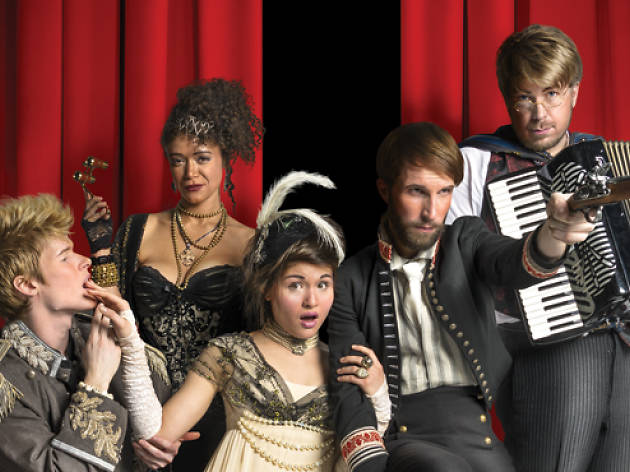 It's incredibly hard to find only 50 things to love about theater in New York. We could name hundreds of actors, playwrights, directors and companies that deserve a standing O for enriching our playgoing lives. Here you'll find a cross section of what's great about the scene, from Broadway to Off-Off, as well as our picks for future legends—the artists we'll be talking about decades from now. To paraphrase Oscar Hammerstein II, these are just a few of our favorite things.—Edited by David Cote and Adam Feldman

Tell us what you think on Twitter at @TimeOutTheater.
More reasons to love NYC theater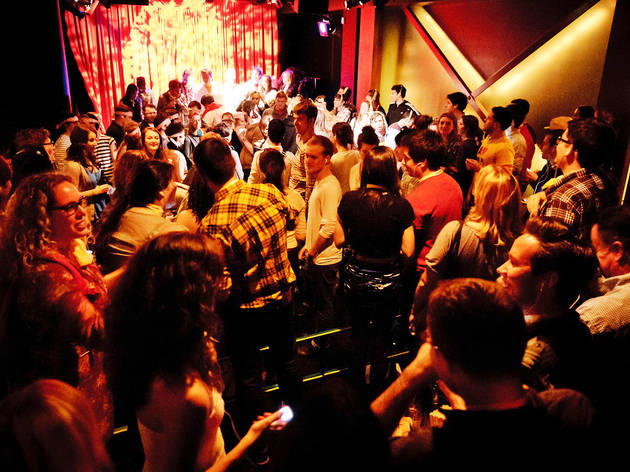 50 reasons to love NYC theater (slide show)
Check out the best of theater in New York, from Broadway stars to underground legends, in our handy slide show. Browse through our slide show for an overview of the things we love about theater in New York. Here, you'll find the actors, playwrights, directors, companies and venues that are the cream of the crop on Broadway, Off Broadway and Off-Off Broadway. We've also included our picks for future legends—the artists we'll be talking about decades from now. Think we left anything out? Tweet us at @TimeOutTheater to weigh in. You might also like Best Broadway shows: musicals, plays and revivals to see now The 25 best Tony Awards performances The 10 hottest chorus boys and girls opening in Broadway musicals Broadway's 25 all-time greatest divas 50 reasons to love NYC theater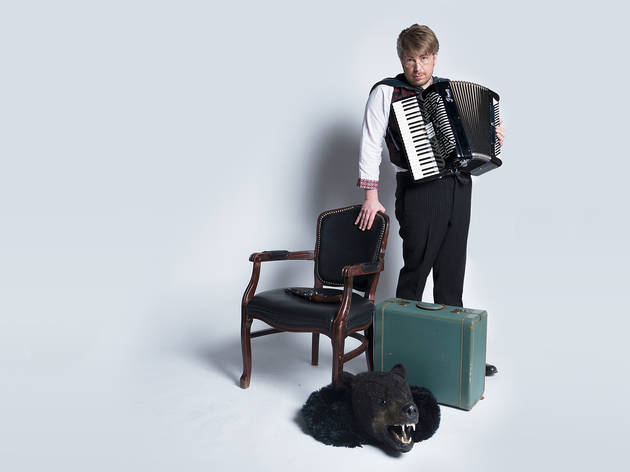 Q&A with Dave Malloy
The songwriter behind Natasha, Pierre & the Great Comet of 1812 mixes Tolstoy and electronica. The prodigiously talented composer-lyricist made a splash on the New York theater scene this past fall with Natasha, Pierre & the Great Comet of 1812. Adapting a section of Leo Tolstoy's doorstop classic War and Peace, Malloy created a rowdy, sung-through operetta-musical hybrid, set in Moscow on the eve of Napoleon's invasion of Russia. Combining an eclectic style—ranging from mock-Russian folk to electronica—with an immersive, vodka-soaked staging, the piece explored love, loyalty and heartbreak, with war looming in the wings. Romantic and sensual, Natasha, Pierre made a bid for best musical of the season. It returns for an extended run at Kazino, a new venue in the Meatpacking District.Time Out New York: Musicals have come from unlikely sources…but Tolstoy? How did you think, Sure, War and Peace will sing onstage?Dave Malloy: About six or seven years ago I was playing piano on a cruise ship. And I had a girlfriend on land, and the way we stayed together was we read War and Peace together. You know, there'd be an e-mail subject line, "Page 372," so there'd be no spoilers. And when both of us got to this section of the novel, we were swept away by it. It's this tight, compact, 70-page melodrama at the center of the book. This is before I wrote any musicals, but when I read it, I was like, Wow, this is a perfect musical. The structure of it is peculiarly traditional, almost in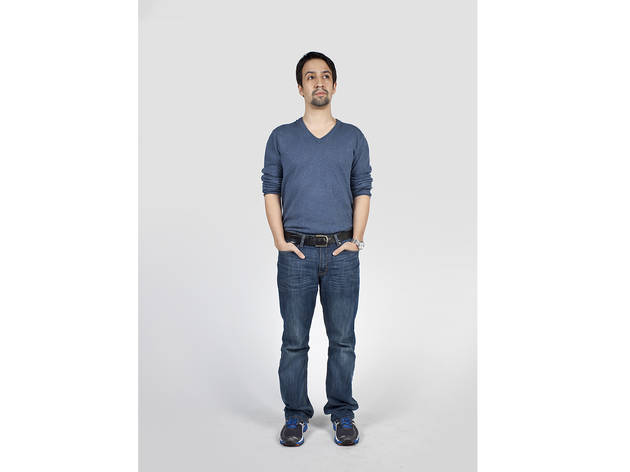 Q&A with Lin-Manuel Miranda
The In the Heights composer-lyricist puts a hip-hop beat under founding father Alexander Hamilton. Songwriter-performer and Twitterico presidente-for-life Lin-Manuel Miranda has helped bring the sound of Broadway up to date in his scores for In the Heights and Bring It On. He is now at work on The Hamilton Mixtape, which sets the story of founding father Alexander Hamilton to hip-hop and R&B grooves.Time Out New York: Why Hamilton, and why hip-hop?Lin-Manuel Miranda: I fell in love with the Hamilton story while I was still in Heights. It's an American immigrant story: Immigrant comes to this country, makes good, is not trusted because he is an immigrant, but actually changes our country for the better—and is gunned down by the Vice President in New Jersey. And all of his successes—and all of his failures—were due to his verbosity, his ability to argue and debate and use his words. So I was like, This is a proto–hip-hop story!Time Out New York: I feel like hip-hop is bringing back a kind of ostentatious wit and rhyme that has a long history in traditional musical theater.Lin-Manuel Miranda: Yeah—I mean, the opening number of The Music Man is a hip-hop number. Like, I don't know why more people don't acknowledge this! It is a percussive, spoken, stylized number. For me the fun is finding those moments where that works onstage. Because the difference between hip-hop and musical theater is that if you're seeing a musical, you have to understand this shit in real time. And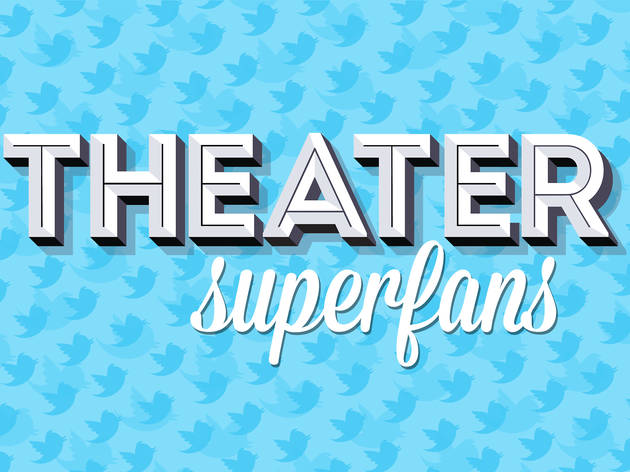 Superfans' tweets
Through Twitter and crazy devotion, they're the stage-door johnnies of the 21st century. Broadway has always drawn its share of devoted—not to say obsessive!—fans. And the advent of Twitter and other social media has given today's Stage Door Johnnies a public platform from which to share an infectious excitement about theater history, writers and performers. They tweet their enthusiasm copiously—along with their inside jokes, drive-by snark, strong opinions and intense emotional investments. (For the excitable Tyler M. Martins, "I'm crying!" has become a catchphrase.)We're compiling a list of the city's most devoted stage followers—we call them "Theater Superfans"—over at our Theater feed, @TimeOutTheater. If you think you belong there, tweet us at our Theater handle and let us know. Be warned, though: Spend enough time in this company, and you may come to feel that all the world's a stage door.Here's a sampling of some recent theater mania: I think the two sexiest scents in the world are "Clean Laundry" and "Old Playbill".— Jennifer Tepper (@jenashtep) March 10, 2013 Someone said they don't need to hear Kelli O'Hara sing all the classic musical theater roles. WELL I DO. #amiright— Tyler J. Martins (@mrtylermartins) March 2, 2013 I only know the date Kennedy died because of ASSASSINS.— Amanda Sales (@Scamandalous) March 5, 2013 Wow. If Smash ratings drop any lower, I will personally know every person who watches.— Mark Falconer (@franklinshepard) February 20, 2013 "Y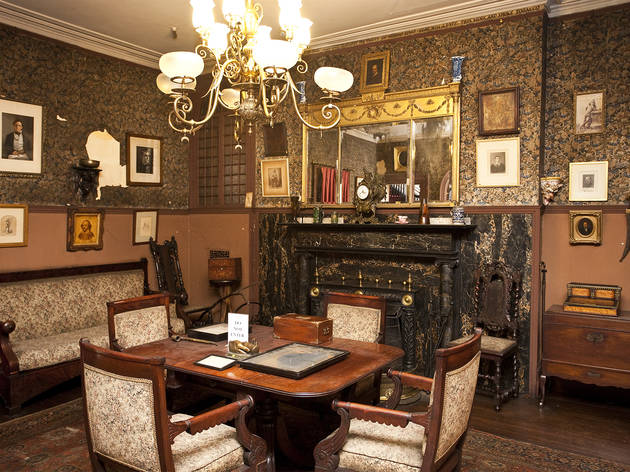 Edwin Booth's bedroom (slide show)
History buffs, take note: One of America's greatest thespians slept (and died) here. It's a shame that Edwin Booth, arguably the 19th century's greatest actor, ended up living in the shadow of his little brother John Wilkes, the 19th century's most notorious assassin. But his legacy endures in a very real way at the Players Club, the storied social center he founded in 1844. The Stanford White–designed building across from Gramercy Park oozes history from its every mahogany pore, its walls lined with old handbills and portraits of its most prominent members. But the most jaw-dropping space there, for theater and history buffs alike, is the bedroom Booth lived in above the club, which has remained almost untouched since the actor died there of heart failure in 1893. Everything is as it was, from the Cervantes inscription painted in gold over the entrance to the night chamber ("Now blessings light on him that first invented this same sleep") to the dictionary Booth kept on a pedestal by the window. Other artifacts on display include the actual human skull that both Booth and his father, Junius Brutus, used onstage when playing Hamlet (in life, it was attached to the body of a theater-loving horse thief); Booth's collection of pipes (he was a heavy smoker) and his makeup kit; and, even though Edwin was a Unionist and renounced John Wilkes after the latter shot President Lincoln, a photograph of his infamous brother along with his other loved ones. Thoug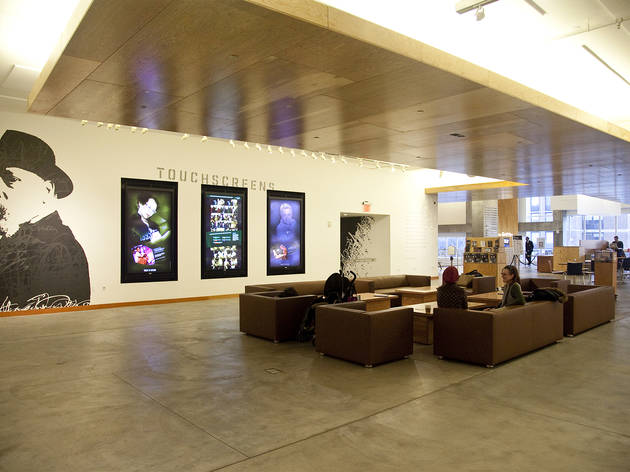 Signature Center's playwright portraits (slide show)
Spot some of our greatest dramatists on the walls of the Pershing Square Signature Center. The walls have ears—and eyes and mouths—at Signature Theatre Company's multistage new home. Scattered throughout the complex are black-and-white portraits of every playwright to whom the company has devoted a season in the past. Edward Albee and Arthur Miller loom near the stairs; Romulus Linney watches over the theater that bears his name; Tony Kushner peeks out of the hall to the men's bathroom. Theater fans can test their cred by seeing how many writers' faces they recognize in the Signature's halls of fame. And just trying to find all of them—Paula Vogel is a tricky one!—provides a neat excuse to explore the Frank Gehry–designed space. You might also like Best Broadway shows: musicals, plays and revivals to see now The 25 best Tony Awards performances The 10 hottest chorus boys and girls opening in Broadway musicals Broadway's 25 all-time greatest divas 50 reasons to love NYC theater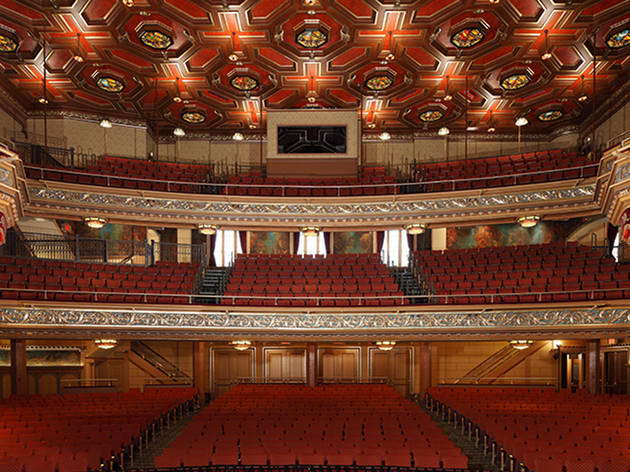 Belasco Theatre renovation (slide show)
Broadway theaters are beautiful, but the newly refurbished Belasco shines the brightest. Of the 40 official Broadway houses, the Belasco may well be the loveliest. Built in 1907—only the New Amsterdam and the Lyceum are older—it doesn't look like much from the staid, neo-Georgian facade. But walk inside and you'll find yourself in an Edwardian fantasy of theatrical magic, with decorative marvels wherever you look. The eccentric stage impresario David Belasco was friends with Louis Comfort Tiffany, and his theater bears the fruit of that friendship: Bunches of purple grapes burst from the room's exquisite stained-glass column capitals. Octagonal panels of Tiffany glass, 22 in all, are set in the coffered ceiling; carved dark wood and elegant murals add to the theater's cozy, quasigothic splendor (magnificently restored by the Shubert Organization in a $14.5 million renovation, unveiled in 2010). David Belasco has long been rumored to haunt the building, and who could blame him if he did? It's the kind of place you never want to leave. You might also like Best Broadway shows: musicals, plays and revivals to see now The 25 best Tony Awards performances The 10 hottest chorus boys and girls opening in Broadway musicals Broadway's 25 all-time greatest divas 50 reasons to love NYC theater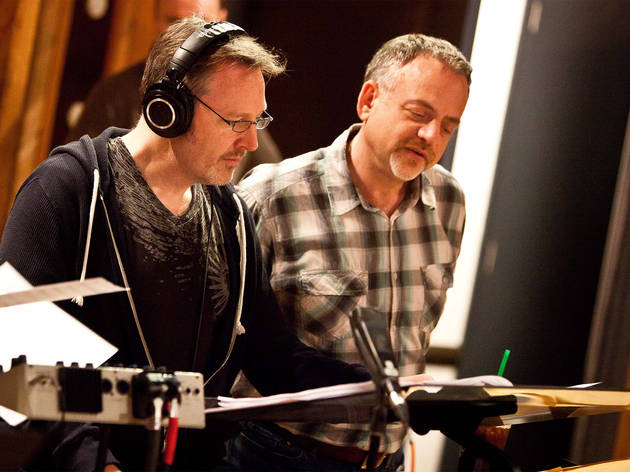 Sh-K-Boom Records playlist (slide show)
Once the final note has been sung, this recording company preserves the score. Where would musicals be without cast albums to preserve their scores for posterity? And where would cast albums be today without Sh-K-Boom/Ghostlight Records? Founded in 2000 by Kurt Deutsch and his wife, Broadway leading lady Sherie Rene Scott, the company has grown into the country's leading source of theater music, with releases ranging from major hits (like The Book of Mormon and In the Heights) to Off Broadway events (like Carrie and the soon-to-be-released Giant)—not to mention sets by top Broadway singers like Patti LuPone and Christine Ebersole. The Broadway tradition is in good hands with Sh-K-Boom keeping score. Scroll down for a Spotify playlist of some of the record company's best tracks, as curated by Deustch. You might also like Best Broadway shows: musicals, plays and revivals to see now The 25 best Tony Awards performances The 10 hottest chorus boys and girls opening in Broadway musicals Broadway's 25 all-time greatest divas Sh-K-Boom Records playlist on Spotify 50 reasons to love NYC theater