Heads up! We're working hard to be accurate – but these are unusual times, so please always check before heading out.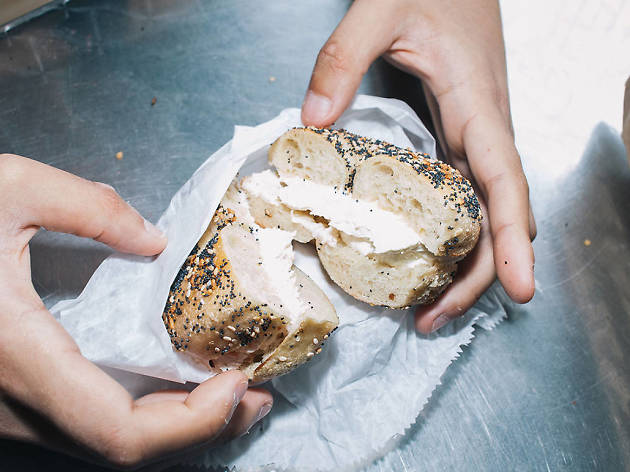 15 things that are actually cheaper in NYC
New York is an expensive city—but there are plenty of exceptions to that rule
There's no question that NYC is a pretty expensive place to live. But hey, there are deals to be had if you know where to look! From street food to free culture, here are 15 things that are actually cheaper in New York than a lot of other places.
RECOMMENDED: Full guide to shopping in NYC
1. Bagels. You can get the world's best bagels for cheap here.
2. Education. In 2017, New York became the first state in the country to offer free four-year college, which ought to help offest the collosal cost of rent for students.
3. Pizza. It may be sacrilege to say, but you can get some pretty decent pizza for just a buck.
4. Museums. There is no shortage of free and pay-what-you-will museums.
5. Dim Sum. You can find dishes in the $4 range at spots around town.
6. Boat rides. Hello, Staten Island Ferry?
7. Dumplings. Head to Vanessa's Dumplings for a $3 dinner.
8. Sushi. Cheap sushi spots are everywhere in New York City, serving above-average rolls for around $5 a pop.
9. Manicures and pedicures. Just make sure to do your research before booking an appointment.
10. Island vacations. You only have to take the ferry to Governors Island or the air tram to Roosevelt. (Note: This is a joke Judah Friedlander has been making for years.)
11. Kayaking. It's free at the Downtown Boathouse.
12. Oysters. In the 19th century, it was estimated that there were more oysters in New York Harbor than any other place on Earth. That's since changed, but there are plenty of spots where they're just a dollar.
13. Exercise. Bryant Park hosts a run of free yoga classes every year, but let's be honest: the real exercise New Yorkers get is from traversing the city on foot.
14. Designer clothes. Just hit up one of the city's latest sample sales.
15. Thrills. Figure it out.
Looking for more great deals in NYC?
Conquer NYC's shopping scene by visiting the best shops for clothing, deals, accessories, home goods and more