The NYC No Pants Subway Ride guide
Prepare for the annual New York subway strip-down with Improv Everywhere's No Pants Subway Ride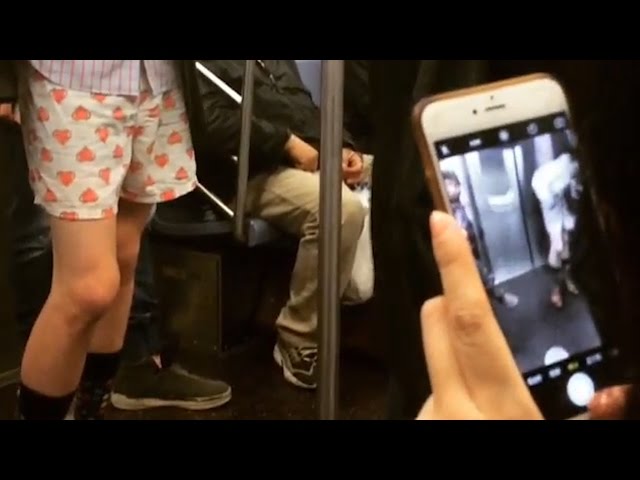 One of the best and most amusing NYC events in January is the No Pants Subway Ride created by Improv Everywhere's Charlie Todd. In 2002, the funny fella produced the first-ever event and posted it on YouTube, where the short clip quickly gained popularity. Now it has turned into one of the group's most anticipated events, as thousands of New Yorkers continue the funny tradition on subway cars across Gotham. Donning winter coats—minus their pants—the straphangers share the same goal: to confuse bystanders. The event had only 150 participants in its first year, but now the prank is an international sensation with over 25 countries involved. Why? Because annual international pranks are fun! Find everything you need to know about the No Pants Subway Ride. And make sure to consult our list of bars with fireplaces for warming up afterward.
RECOMMENDED: Full guide to things to do in the winter in NYC
When is the No Pants Subway Ride?
This year's No Pants Subway Ride is Sunday, January 7 from 3–5pm.
Where is the No Pants Subway Ride?
Participants should meet at one of seven locations below.
Astoria: Meet at Hoyt Playground
Brooklyn: Meet by the Old Stone House
Downtown Manhattan: Meet at Foley Square
Midtown Manhattan: Meet at Hudson Yards Park on 34th St
Queens: Meet at the Unisphere in Flushing Meadows Park
Uptown Manhattan: Meet at the Great Hill in Central Park
Williamsburg/Bushwick: Meet at Maria Hernandez Park
The official after party will be at Bar 13 (13th St and University Place). The cost is $15 at the door and a no-pants dress code is required. (Pants-check is available.)
What should I bring to No Pants Subway Ride?
Your MetroCard, a bag or backpack, and a willingness to take off your pants!
What should I wear to No Pants Subway Ride?
Sport your normal winter clothes: coat, scarf, gloves, etc.
How do I R.S.V.P. to No Pants Subway Ride?
See Improv Everywhere's Twitter page (use #NPSR @ImprovEvery) or do so on the Facebook event page. R.S.V.P. is not required to participate.
No Pants Subway Ride
Photos of the No Pants Subway Ride
Archive content of No Pants Subway Ride