The NYC No Pants Subway Ride guide
Everything you need to know about the annual New York subway strip-down with Improv Everywhere's No Pants Subway Ride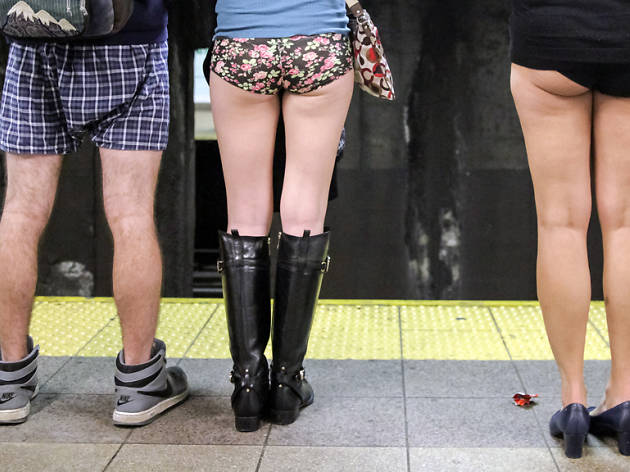 One of the best and most amusing NYC events in January is the No Pants Subway Ride created by Improv Everywhere's Charlie Todd. In 2002, the funny fella produced the first-ever event and posted it on YouTube, where the short clip quickly gained popularity. Now it has turned into one of the group's most anticipated events, as thousands of New Yorkers continue the funny tradition on subway cars across Gotham. Donning winter coats—minus their pants—the straphangers share the same goal: to confuse bystanders. The event had only 150 participants in its first year, but now the prank is an international sensation with over 25 countries involved. Why? Because annual international pranks are fun! Find everything you need to know about the No Pants Subway Ride. And make sure to consult our list of bars with fireplaces for warming up afterward.
RECOMMENDED: Full guide to things to do in the winter in NYC
When is the No Pants Subway Ride?
The No Pants Subway Ride tradition is usually during the second weekend of January, but this winter it is canceled.
"Due to the COVID-19 pandemic, we are cancelling the annual No Pants Subway Ride this year," they wrote in a statement. "We look forward to hosting more large-scale events once it is safe to do so again."
Where is the No Pants Subway Ride?
Everyone usually meets at Foley Square before being given their respective train lines.
What should I bring to No Pants Subway Ride?
Your MetroCard, a bag or backpack, and a willingness to take off your pants!
What should I wear to No Pants Subway Ride?
Sport your normal winter clothes: coat, scarf, gloves, etc. This is obviously the time to show off your finest undies, so feel free to go all out (and be sure to pack some warm socks!).
How do I R.S.V.P. to No Pants Subway Ride?
See Improv Everywhere's Twitter page (use #NPSR @ImprovEvery) or do so on the Facebook event page. R.S.V.P. is not required to participate.
No Pants Subway Ride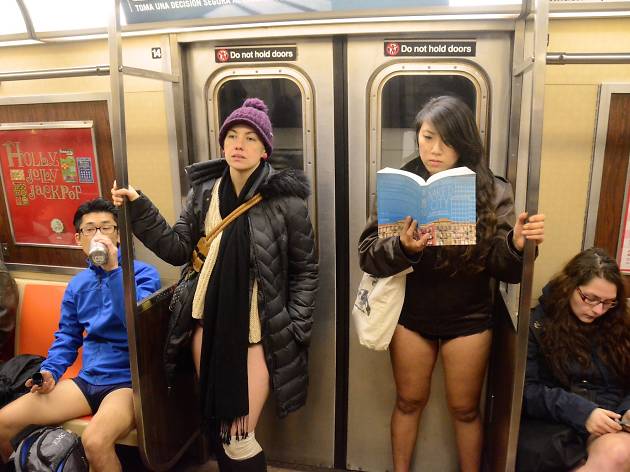 The No Pants Subway Ride returns to NYC this weekend
Improv Everywhere's annual prank, the No Pants Subway Ride, is back this Sunday, which means going sans-trousers is A-OK, at least for one afternoon. If you can be stone-faced while wearing your skivvies in public, all you have to do is bring your MetroCard and show up to Foley Square in normal winter clothes for the 19th annual event. There, you'll be assigned a subway line and train car and head out to make heads turn and cheeks blush. At just the right moment–one stop before a casual exit–jokesters are tasked with standing up and taking their pants off. There's nothing to it. Plus, once the gag is over, Improv Everywhere, which has been doing this since 2002, will host an after party with free pizza, hot chocolate and a pants check, (with a $15 cover charge) at Bar 13, starting at 4pm.
Photos of the No Pants Subway Ride
Archive content of No Pants Subway Ride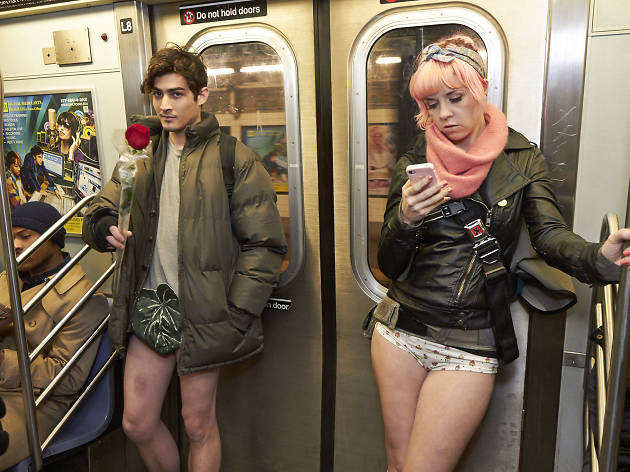 The No Pants Subway Ride returns to NYC this weekend
Is anything more relieving than peeling your pants off after being confined by those stiff and unforgiving seams all day? Don't act like freeing your fanny isn't the first thing you do when you get home. And like us, you might have wondered how it feels to romp around New York half-naked, free as a street bird. Thanks to mastermind Charlie Todd of Improv Everywhere—a comedy collective that hosts humorous public stunts all over the city—you can join the act of wandering Gotham in your underwear during the 17th annual No Pants Subway Ride on Sunday, January 7 at 3pm. RECOMMENDED: Full guide to No Pants Subway Ride 2018 The winter tradition brings thousands of bold and bare-legged participants together to ride the subway and make regularly clad passersby feel dumbfounded, awkward and, perhaps, jealous. (Everyone gathers at designated meeting places beforehand. See which one is closest to your location below!) Once the pants-less shenanigans end, the group huddles indoors and warms up on the dance floor during the after-party at Bar 13 ($15 at the door). If this sounds like the definition of your Sunday Funday, sport your best pair of undies (dig deep in your drawer for the ones without holes) and visit Improv Everywhere's website to R.S.V.P. for the practical joke. Pro tip: Don't forget to pack a pair of pants for the journey there and home—it's cold out there. Meeting Points Astoria: Meet at Hoyt Playground Brooklyn: Meet by the Old Stone House Downtown Manhattan: Me