Heads up! We're working hard to be accurate – but these are unusual times, so please always check before heading out.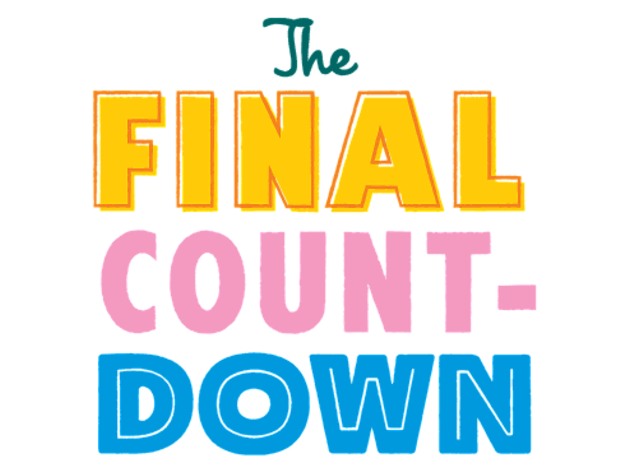 99 things to do in NYC before you die
Here's our essential, badass checklist of the 99 things you need to do before bidding farewell to NYC
New Yorkers live and die for our city. We tolerate and even embrace infinitesimal personal space, endless hustling and rent so high we have to laugh to keep from crying—all for our devotion to these five boroughs. And why? Because New York City loves us back and is. Our insane metropolis keeps us wanting seconds, thirds and more because of the thousands of extraordinary moments we can experience only here. And damn, we do want to experience them all. So here's our collection of the 99 killer, nontouristy things to do in the city before you die—a list made by New Yorkers for New Yorkers—that takes you through tunnels, over bridges, on top of buildings and into the sea. This way, when you finally kick the bucket (or maybe just move to upstate New York or to the Left Coast), you can say "No regrets" and mean it. Start ticking off those boxes, people.
99 things to do in NYC before you die
When it comes to classic NYC experiences and the movies, it's hard to eclipse Film Forum, the Soho stalwart that, since 1970, has been a beacon for the city's die-hard cinephiles. Go to a weekend matinee, and you'll encounter young brainiacs and long-in-the-tooth regulars, all united under the banner of experiencing quality independent and foreign films in the theatrical context for which they were intended. Order a chocolate egg cream—an item that's been on the concessions menu for decades—and take in a title. Then do your own Woody Allen walk-and-talk on your way to a late boozy brunch at Jack's Wife Freda.
Photograph: Courtesy Peter Aaron/Esto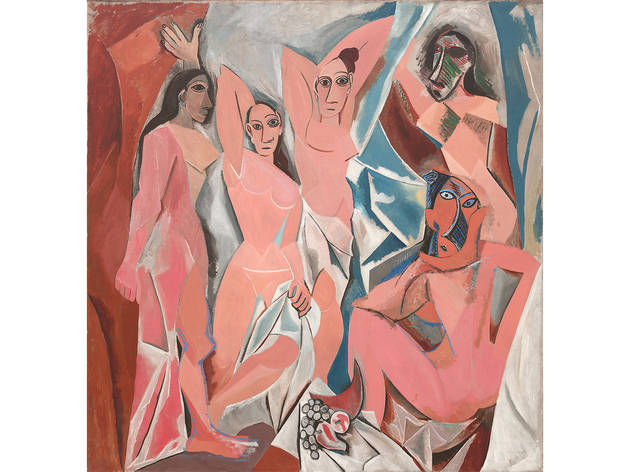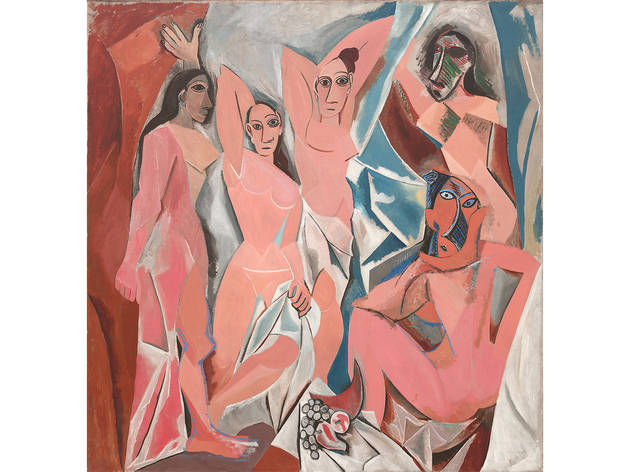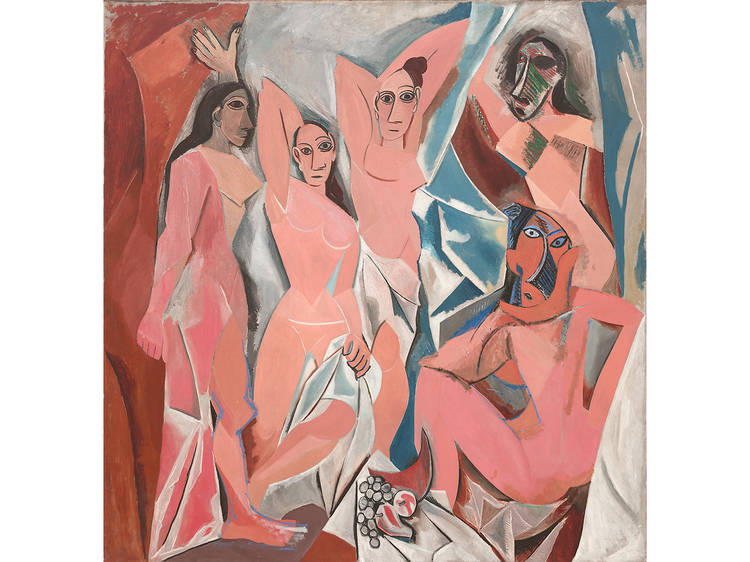 Photograph: Estate of Pablo Picasso/ARS
See the most essential paintings in NYC, including:
28. Pablo Picasso, Les Demoiselles d'Avignon (1907)
Picasso's greatest work is also art history's greatest rule breaker, delivering the final blow to the representational tradition of Western art while pointing the way toward the abstract art to come. Museum of Modern Art, 11 W 53rd St (212-708-9400, moma.org)
29. Johannes Vermeer, Young Woman with a Water Pitcher (1662)
Vermeer achieves something astounding here: representing light as something tangible. Each of the painting's elements is exquisitely balanced as the woman in the image rests one hand on a window (the source of light here) and the other on a silver pitcher (item most able to reflect the light). Metropolitan Museum of Art, 1000 Fifth Ave (212-535-7710, metmuseum.org)
30. Gustav Klimt, Portrait of Adele Bloch-Bauer I (1907)
The Neue Galerie's crown jewel, this Jugendstil portrait of a Viennese society lady was called Austria's Mona Lisa before its eventual resettlement at the Neue Galerie. It's the most famous example of the artist's golden period. 1048 Fifth Ave (212-628-6200, neuegalerie.org)
31. Jean-Honoré Fragonard, "The Progress of Love" (1771–73)
In this cycle of paintings about love, the 18th-century French artist chronicles the pursuit of the object of desire through courtship to marriage to remembrance of earlier intensity. It's a masterpiece of rococo opulence conveying a concise visual narrative. The Frick Collection, 1 E 70th St (212-288-0700, frick.org)
32. George Tooker, The Subway (1950)
This painting is Tooker's best known, and its depiction of somnambulant straphangers moving through a carceral realm of tiled hallways and staircases suggests an odd cocktail of Piero della Francesca and M.C. Escher: It's a classic of its genre.
Photograph: Courtesy Estate of Pablo Picasso/ARS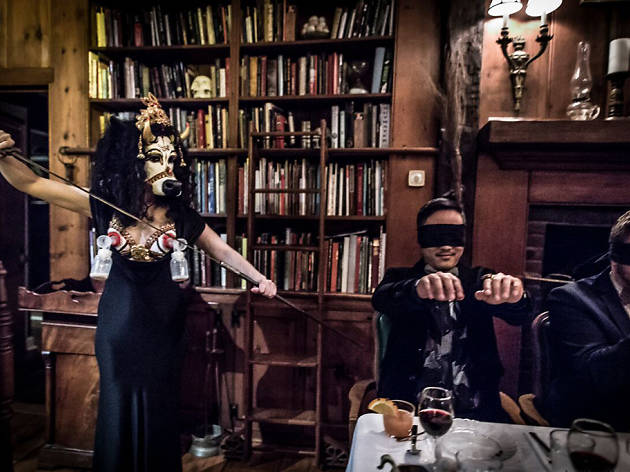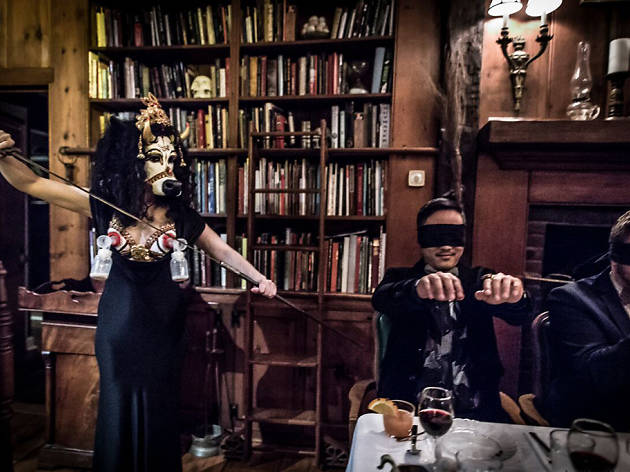 Experience adventurous theater at:
33. The Box
You'll see an extravagant, limit-stretching show here, which may include anything from burlesque and vaudeville acts to scat play and someone spitting their own piss on the audience—that is, if you can even get in. 189 Chrystie St (212-982-9301, theboxnyc.com)
34. The Illuminati Ball
Dress to the nines, and climb into a limousine bus that whisks you and 40 others to a waterfront mansion upstate, where a night of mystery and madness (and animal kinship) unfolds. If it's warm enough, throw yourself into the lake. (theilluminatiball.com)
35. Accomplice
You and nine of your pals (or soon-to-be-bestie strangers) head out on a crime-solving, scavenger-hunting trek through the streets of New
York City for a 13-and-up–friendly experience into immersive theater. (accomplicetheshow.com)
On a Wednesday night this past January, "a billion dollars' worth of comedians" descended upon Greenwich Village's Comedy Cellar, or so said Dave Chappelle when he kicked off his set to an unsuspecting crowd. And he wasn't exaggerating; that evening saw surprise stand-up not only from Chappelle but also from Jerry Seinfeld, Chris Rock, Amy Schumer and Aziz Ansari. It's not a rare occurrence for comedy elite to take the Cellar stage to test new material: Louis C.K. and Jon Stewart popped by unannounced on a Wednesday night in 2015; Chappelle, Kevin Hart, Marlon Wayans and Bill Bellamy did the same back in 2014. So how do you experience these FOMO-inducing sets for yourself? Pro tip: Keep an eye out for any big-name comedians who are in town to host Saturday Night Live, are scheduled on late-night talk shows, have performances booked during the week at Madison Square Garden or events of that ilk. You can never know for sure, but they just might drop by this cramped underground comedy den on a rogue weekday night to tell a billion-dollar joke or two.
38. Shake it at soul night at Friends and Lovers
40. "Have dinner on Arthur Avenue, the real Little Italy #OG."
—@apk17, #mynycbucketlist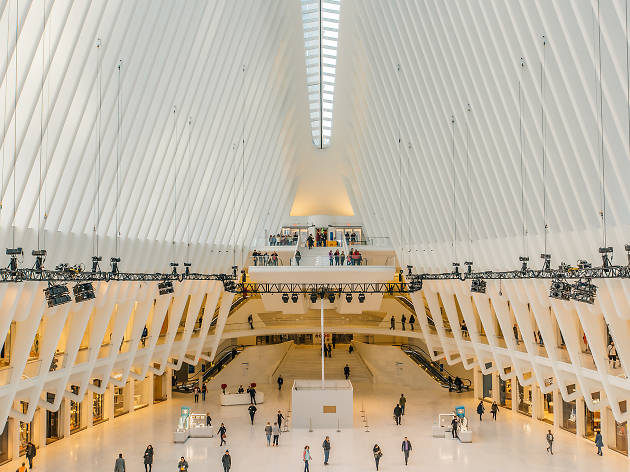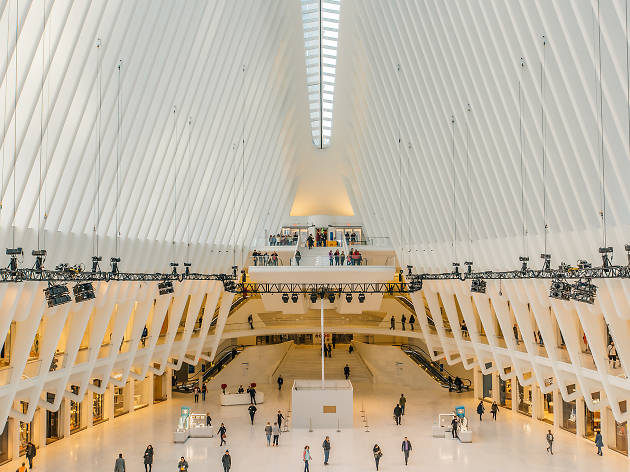 Photograph: Shutterstock
Get stoned and trip out at:
41. The Oculus, Church and Vesey Sts
42. Hayden Planetarium, 200 Central Park West (amnh.org)
43. The Cloisters, 99 Margaret Corbin Dr (metmuseum.org)
Photograph: Shutterstock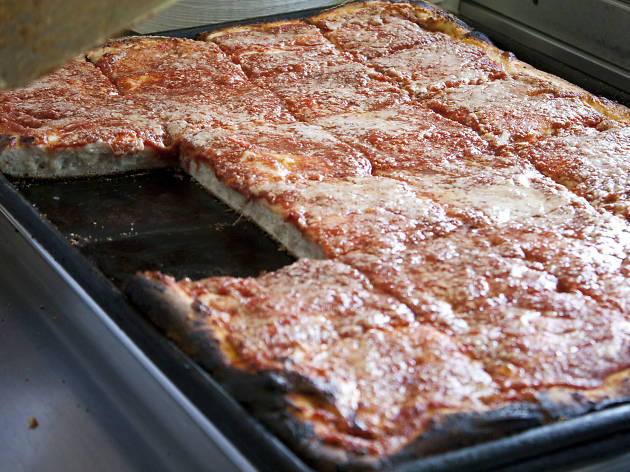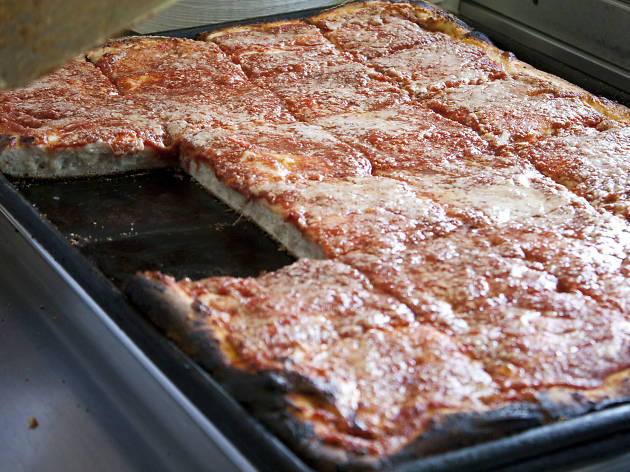 Photograph: Courtesy Melissa Sinclair
44. Do a DIY South Brooklyn pizza crawl
Consider this your New York pizza education: Study the classics with a trip to Brooklyn's southern tip, which boats three of the borough's most acclaimed and time-honored pie operations. Beat the lines by arriving early at Midwood's 52-year-old Di Fara Pizza (1424 Ave J; 718-258-1367, difarany.com), where you'll still find octogenarian pizza legend Dom DeMarco behind the counter, snipping fresh basil onto his world-class Neapolitan pies. Then it's off to Gravesend for a puffy Sicilian square at L&B Spumoni Gardens (2725 86th St; 718-449-1230, spumonigardens.com) and, if you have room, a paper cup of rainbow spumoni for dessert. But don't fill up too much. You're going to want to save some space for the char-pocked, thin-crusted Margherita pies at Totonno's, a Coney Island institution since 1924 (1524 Neptune Ave; 718-372-8606, totonnosconeyisland.com).
Photograph: Courtesy Melissa Sinclair
Show more
Looking for things to do outside?
Your guide to getting outdoors to the best beaches, pools, parks, outdoor bars and restaurants, and events in New York