Heads up! We're working hard to be accurate – but these are unusual times, so please always check before heading out.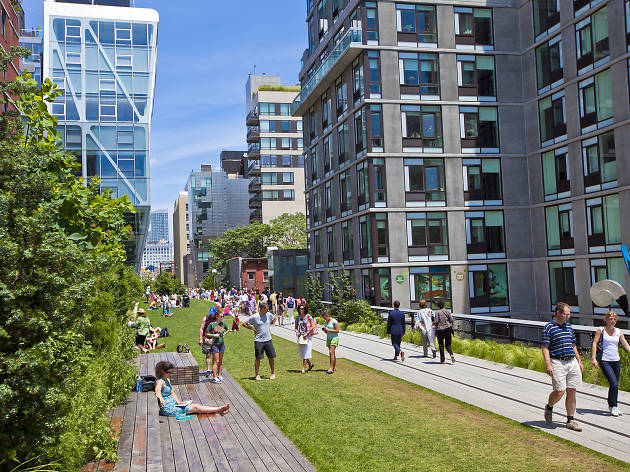 12 things to do when your family visits NYC
Keep the whole family entertained with an itinerary full of museums, walking tours and totally New York things to do
No matter if they're coming from the other side of the world or just outside city lines, the idea of your family visiting NYC is enough to stress out any New Yorker. Don't get us wrong: We love our parents, but planning an itinerary jam-packed with all the top New York attractions can feel like a chore. Instead of taking on the role of chief tour guide, just let this list of museums in NYC, parks and other attractions serve as your itinerary. The fam will leave New York city with memories that will last a lifetime, and you might even be able to escape a dreaded visit to Times Square.
Things to do when your family visits NYC
New York City can feel a little overwhelming to people who aren't used to the fast pace. Take your parents to Central Park for a break from the madness. There's something for everyone: gorgeous gardens for mom, historic statues for dad and plenty of room for little ones to run and play. Rent bikes to explore the park from top to bottom, paddle around The Lake on a rowboat or just hit all the big sites on a guided walking tour.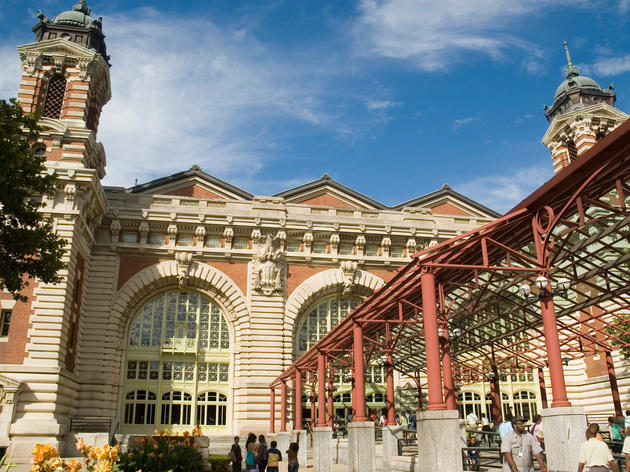 Talking first-time visitors out of a visit to the Statue of Liberty might be tough. Instead of touring the statute itself, opt for a quick trip to Liberty Island and longer visit to Ellis Island. The immigration museum includes three floors of artifacts, fascinating photos and historic records. You can even look up an ancestor in the database for a small fee. It's a win-win: Your family will still have plenty of opportunities to snap pictures of Lady Liberty, plus you'll all learn something more substantial.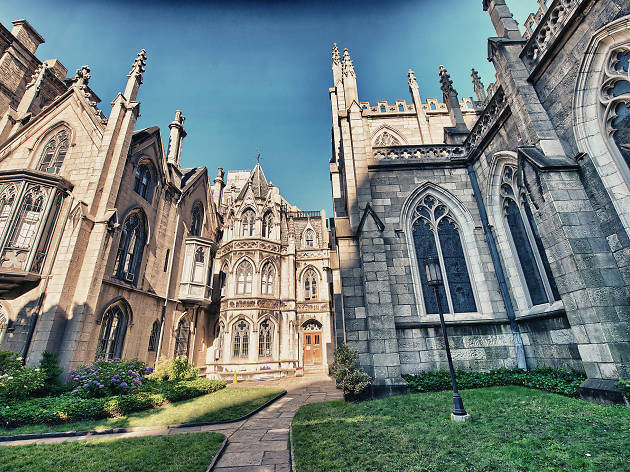 Photograph: Shutterstock
Follow the footsteps of Hamilton and Burr
The story of Alexander Hamilton and Aaron Burr has it all: political intrigue, salacious gossip, historical drama and even a fatal duel. After all, that's why it was so successful as a Broadway musical. Discover all the fascinating details on a walking tour to some of the oldest remaining historic sites in the city. Along the way, you'll hear from both men through original documents from the time. Follow up the tour with tickets to Hamilton on Broadway to really take the experience to the next level.
It would be easy to kill an hour or two wandering through Eataly, Mario Batali's enormous Italian market and restaurant in the Flatiron District. Home cooks will want to buy up all the high-quality ingredients and cooking supplies, while the rest of the family will be busy sampling made-to-order cannolis, silky risotto and fresh-baked focaccia bread. You can also have dinner at one of Eataly's six in-store restaurants or take a cooking class from the professional chefs at La Scuola.
If your family spends every summer vacation somewhere on a beach, you'll want to take them to the city's maritime district: South Street Seaport. Visit moored historic ships like the Wavertree, stroll through the famed Fulton Fish Market and grab a drink at old-timey watering holes like Bridge Cafe. The area also boasts George Washington's first presidential mansion, Federalist buildings from the late 1700s and Greek Revival warehouses from the 1830s.
Families with lots of kids might want to opt for a visit to the American Museum of Natural History. Little explorers will be awed by the over-the-top displays: The grizzly bear in the Hall of North American Mammals, 94-foot blue whale model in the Hall of Ocean Life and the massive titanosaur fossil are all favorites. Don't forget to take in a show in the planetarium or check out the immersive exhibit on the senses while you're there.
Open year round, the New York Botanical Garden provides a welcome dose of nature's beauty in all weather. On sunny days, you could spend hours exploring the 250 acres of outdoor fields, gardens and paths. If the weather isn't cooperating, hightail it inside the Victorian-style Haupt Conservatory glasshouse, home to the Orchid Show in the spring and Holiday Train Show in the winter. Green thumbs can also learn from the botanical garden's caretakers in hands-on classes on everything from landscape design to horticultural therapy.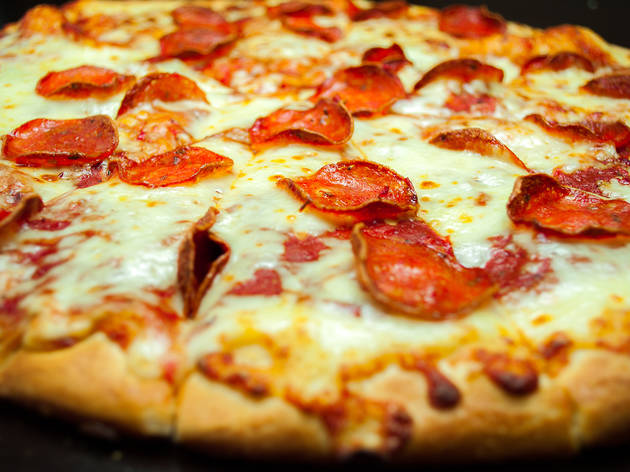 Photograph: Shutterstock
Taste some of Brooklyn's best pizza
Every New Yorker has their preferred pizza joint, but some neighborhoods have a better reputation for crispy, thin-crust pies than others. Sample the slices at three of the most popular Cobble Hill pizza restaurants on this food tour. In between bites, you'll also get to meet the chefs of each slicery. You'll end the tour with full bellies and a better understanding of authentic New York 'za.
The world renowned collection of art and antiquities at the Met keeps it at the top of every must-see list. Whether your family wants to check out early American home decor, ancient Greek statues or gleaming suits of armor, there's something to keep everyone happy. You might even consider booking an EmptyMet Tour for a special occasion. This VIP experience allows you into the museum to get an up close and personal look at the collection before the galleries open to the public. Pro tip: It's also makes a spectacular gift.
The city's only elevated park runs from Hudson Yards to the northern edge of Chelsea. As you stroll of the 1.45-mile-long strip with the family, pause to check out stunning views of the Hudson River, watch traffic from high above at the 10th Avenue Overlook and view constantly changing public art exhibitions. Explaining the High Line's history as an elevated rail line only makes it seem cooler.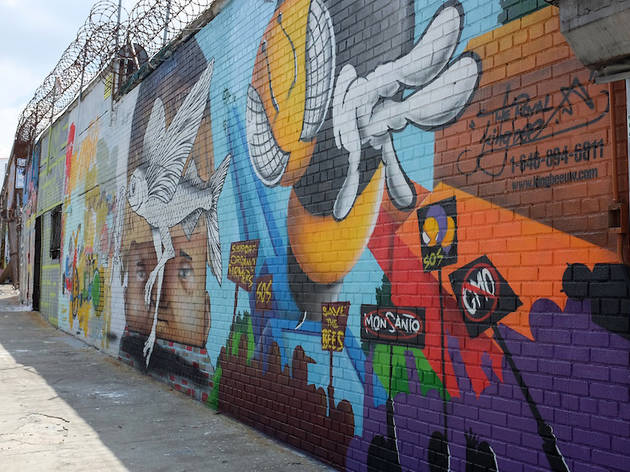 Photograph: Courtesy CC/Flickr/sespenorio
Spot street art in Queens
If your family has already visited all the top New York museums, take to the sidewalk to discover some of the city's most impressive street art. This walking tour starts in Long Island City, where 5Pointz started the tradition of aerosol art. From there, you'll take the ferry to Astoria to check out the Welling Court Mural Project and another kind of public art at Socrates Sculpture Park.
Photograph: Courtesy CC/Flickr/sespenorio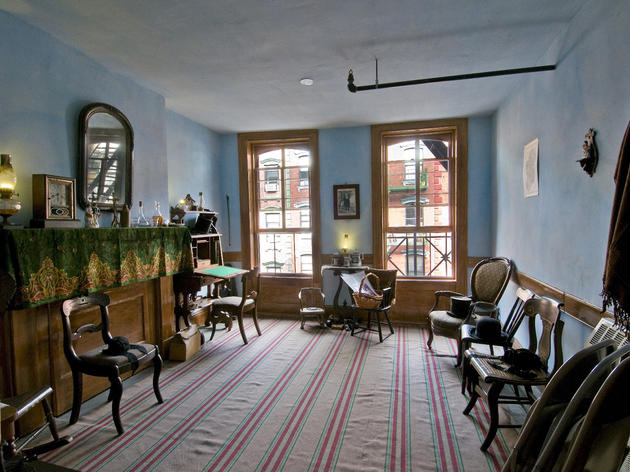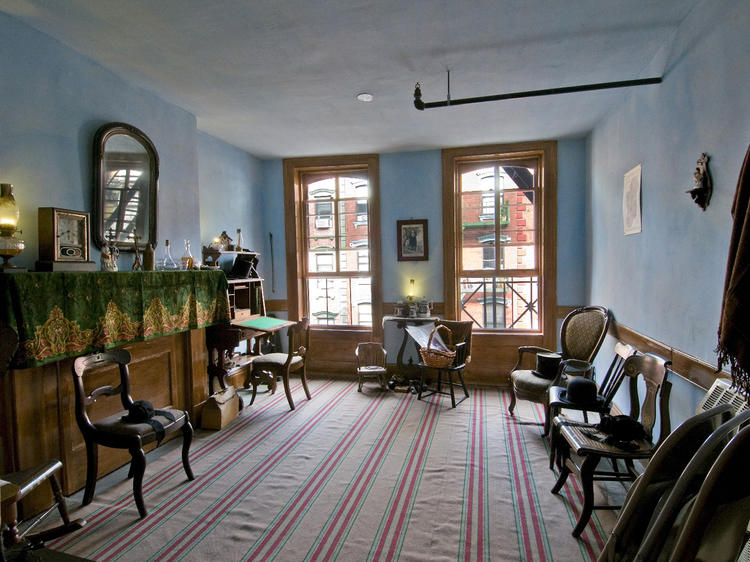 If your childhood vacations consisted of road trips to Revolutionary War battle sites, you'll probably want to take your parents to some historic attractions in NYC. History buffs will go nuts for the Tenement Museum. By restoring three neighboring tenement houses on the Lower East Side, the museum staff gives you a peek into life in the early 1900s. Guided tours focus on various themes, including sweatshop workers, Irish immigrants and family businesses.
Looking for more things to do in NYC?
Instead of touristy bus tours and statue cruises, hit up these lesser-known NYC attractions that lie off-the-beaten-path