Where to find quiet in NYC
Noise driving you crazy? Take a breather and escape the city's ever-loving din at these tranquil spots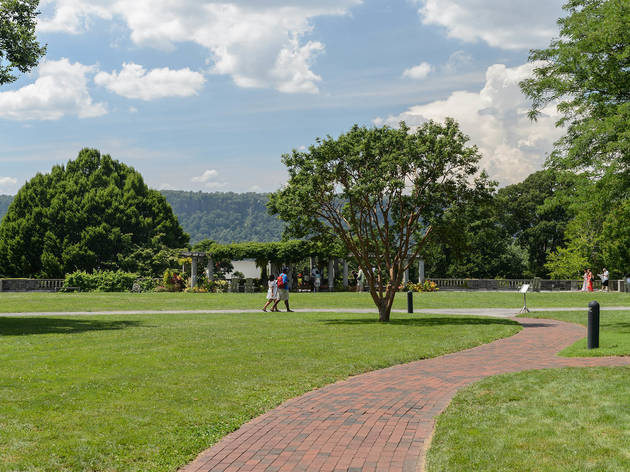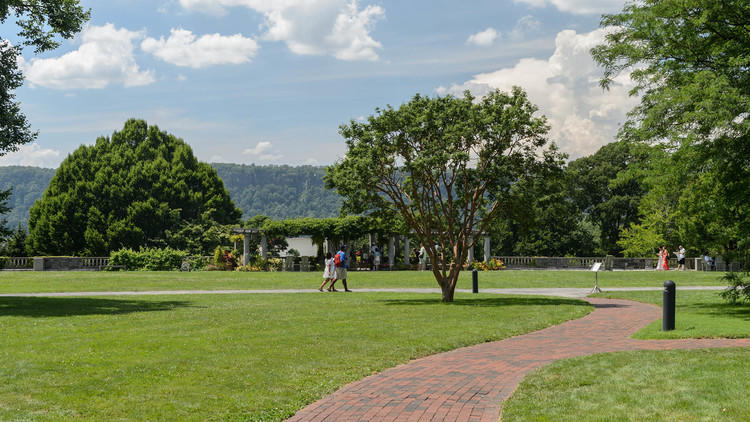 Yes, it is possible to find pockets of quiet amid New York City's madness: If you're searching for a spot where you can shut out the noise of garbage trucks, screaming children (or adults) and the subway's screech—so, you know, the usual NYC din—head to one of our favorite quiet spots in the city. We promise that you'll feel at least slightly more serene after visiting these parks, museums, cafes and more. (And if not, well, at least you got away from the noise for a little bit.)​
RECOMMENDED: Find more on NYC parks
Parks
Those willing to take the A train to the end of the line are rewarded with something rare: total solitude. Inwood Hill Park is not only huge—it takes up most of Manhattan's northern tip—it's also home to the borough's oldest natural forest, meaning you can lose yourself amid gigantic trees. (Stick to the two-mile hiking trail that wends through the park so you don't actually lose yourself.) Take a load off at the recently opened Muscota Marsh, a new green space with views of the Shorakapok Preserve and the Henry Hudson Bridge. It's near a Columbia sports facility, but don't worry; you're more likely to run into a blue heron than rowdy coeds.
Read more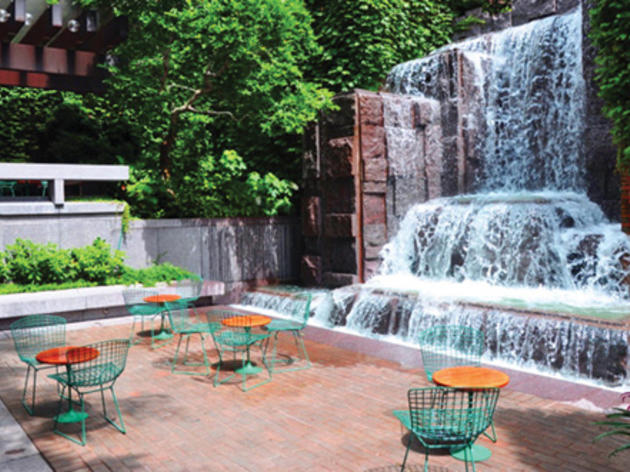 Greenacre Park
Yes, it is possible to find a place to relax in busy midtown: This small pocket park is tucked away on a side street, so it sees less foot traffic than other open spaces in the neighborhood. Take advantage of the numerous tables and chairs and settle in for a spell, or find a perch next to the roaring waterfall. With the sound of rushing water in your ears and verdant plants blooming all around, you might just forget that tourist-slammed Fifth Avenue is just a few blocks away. 217 E 51st St between Second and Third Aves (212-838-0528)


You don't have to go to the middle of the East River to find tranquility, but it certainly doesn't hurt. Ostensibly a memorial to President Franklin D. Roosevelt, the space is also a peaceful albeit small refuge. A triangular lawn lined with linden trees provides plenty of grass for stretching out, while the marble steps at the park's entrance are a good perch. From there, you can zone out and stare at the United Nations building across the river—or the creepy, dilapidated ruins of the abandoned Smallpox Hospital just a few feet away. Your call.
Read more
Ah, bliss. At this large Bronx conservatory, noisy activities—like loud birthday parties, fetch with Fido and pickup soccer games—are verboten, making it a more peaceful respite than the average city park. Set on the grounds of what was once a country estate that played host to Mark Twain and Teddy Roosevelt, the way uptown oasis has areas to satisfy every sort of nature lover's curiosity. Stare contemplatively at the Hudson River from underneath an Italian pergola, wander through a dense forest, or veg out among a bed of spring blooms. Whatever you do, you're sure to feel calm afterward.
Read more
Bars and restaurants
Bring a date to this not-so-secret speakeasy, hidden away behind an East Village sushi joint. The bar doesn't accommodate parties larger than four, and classical music is kept at a low level, so you can actually talk to someone you're wooing without hearing rowdy patrons "woo!"-ing. As you sip a cocktail (try the Mack the Knife, made with orange- and thyme-infused gin, ginger, maple syrup and citrus juice; $15), marvel over the fact that you can actually discuss your favorite books without having to cup your ear to hear over the din.
Read more
Unlike its boisterous Noho neighbors, this Art Deco drinking den has bartenders who keep the music—often classical jazz—on low, so the conversation among its patrons can flow freely. Settle in at the mahogany bar and make a selection from the cocktail menu: Try the gimlet ($TK), which takes the classic recipe—Bulldog gin and lime juice—and adds basil for a twist.
Read more
This abbeylike East Village beer bar is famous for its monastic noise policy: If you're too rowdy, you will be scolded. (No, really: The bartenders—who may don monk's robes, in keeping with the theme—will issue a drawn out shhhh, forcing louder drinkers to bring their voices down.) The 12-beer-strong tap list changes frequently, and often features Belgian brews like Tripel Karmeliet ($9). Grab a glass or goblet and hole up at one of the bar's cozy tables; when the weather's nice, head for the small porch, although the library-worthy quiet unfortunately doesn't extend outdoors.
Read more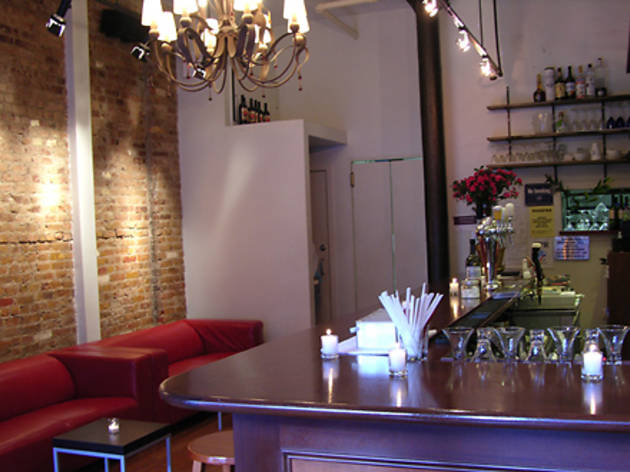 Sunita
Casual regulars pack the narrow bar at this neighborhood joint, named for its owner and bartender, Sunita Lofters. She's responsible for the cocktails, including a fiery passion-fruit-and-jalapeño martini ($12), and for the vibe, which is low-key and relaxed. The music is kept low and the wilder Lower East Side crowds seem to not even know the bar is there, which is good news for those of us who don't want to leave a watering hole at 1am with our ears ringing. 106 Norfolk St between Delancey and Rivington Sts (212-253-8860)
No one likes to shout across a table at a noisy restaurant, but chef Nicholas Nauman takes that aversion and runs with it. His Greenpoint restaurant, Eat, gained fame last fall for its Silent Dinners, during which patrons are tasked with the impossible: not saying a word during a meal. (Texting, though, is apparently fine.) The prix-fixe menu (so you don't have to order verbally, obvi) features local organic fare, and you can request a vegetarian option ahead of time. If you find it hard to stop yapping, expect to get a kindergartenesque time-out: At past dinners, patrons who talk have been sent outside to finish their meals.
Read more
It can be impossible to find a café where laptop-toting freelancers aren't clacking away all day, but this used-book emporium cum coffeeshop is mostly worker-bee-free, making it an excellent spot to indulge in some solo time. You don't even need to bring reading material: Simply select a gently used tome (all the proceeds go toward Housing Works' mission of fighting homelessness and AIDS), and pull up a chair in the downstairs café. Your new-old book will go nicely with a cup of Intelligentsia coffee ($3) or—depending on the time of day—a Brooklyn Lager ($5).
Read more