Heads up! We're working hard to be accurate – but these are unusual times, so please always check before heading out.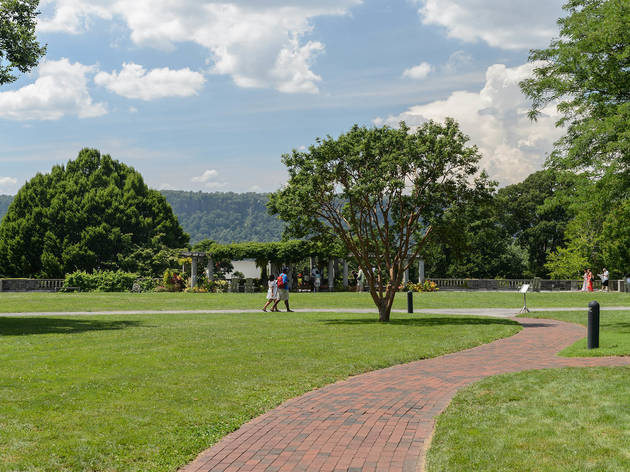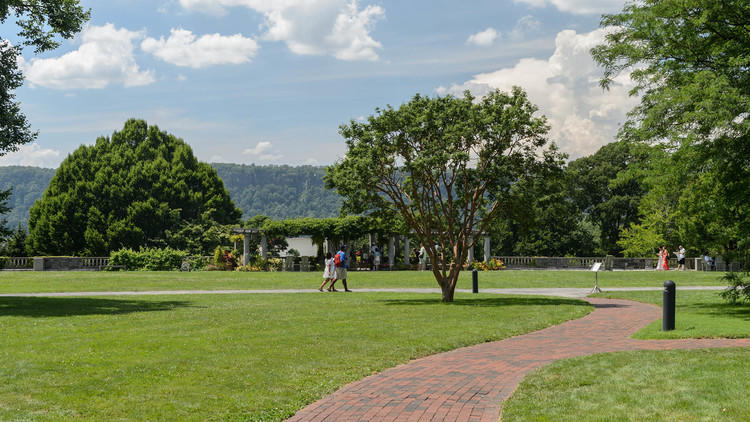 Where to find quiet in NYC
Explore these oases of calm and quiet in NYC when you want to escape the city without actually leaving it
What's a New Yorker got to do to get a little peace and quiet in NYC? Here's what to do: Check out one of the city's precious little pockets of serenity. Whether you need date ideas for a place where you can carry an audible conversation or the best NYC parks for some introspective meditation, here are the perfect places. They're also a great substitute for when you can't afford the time or money for weekend getaways but desperately need a break from the city's nonstop people-shouting, car-honking, siren-wailing commotion.
Parks
Come admire the living art exhibit that is the New York Botanical Garden. The vibrant colors, the sweet, floral smells and the peaceful quiet of the gardens make visiting this place an experience that engages the senses. The grounds include a massive climate-controlled greenhouse which hosts some of the most delicate plant varieties, a waterfall and even a forest. It's the perfect place to come and appreciate natural beauty that hails from all over the world.
We know, we know, it's all the way out on Staten Island, but it is so worth the trek. The New York Chinese Scholar's Garden is styled to resemble the Ming Dynasty Gardens and includes eight pavilions, a bamboo forest and koi ponds with quietly gurgling waterfalls. Visiting the garden feels like being transported out of the city—and even the current time period—entirely. It's also a gorgeous backdrop if you want to practice your photography (fine, Instagram) skills.
For a little breath of fresh air in southern Manhattan, head to this little-known park found just two flights of stairs off the street. Wooden benches and concrete steps form bleachers for ample seating options. There is shade, flowers, shrubbery and, best of all, magnificent views of the water and Brooklyn skyline. FYI, you do not need to enter the building to access the park; escalators are located outside.
Show more
Museums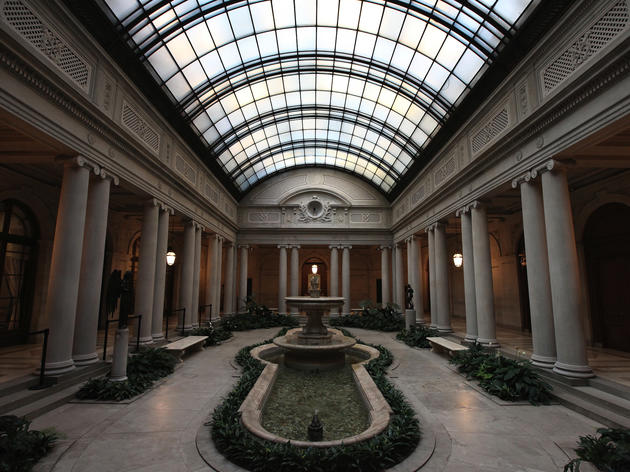 Unless you're a propertied billionaire yourself, you won't find a more peaceful place on the Upper East Side that this mansion turned art museum. (Even its name sounds like a murmured curse word!) Relax by the fountain in the skylighted Garden Court or bask in the calm, timeless gaze of a Rembrandt or a Titian, all in the opulent environs of art collector and industrialist Henry Clay Frick's former crash pad. The 18th-century European-style building is as much a work of art as the masterpieces it houses. Plus, no screaming kids: The under-ten set isn't allowed in the museum.
Staten Island is the last place you'd expect to find a Tibetan-style monastery, but a pilgrimage to Egbertville will not disappoint. And although its promontory, Lighthouse Hill, may not be Everest, it is one of the highest points on the Eastern Seaboard. Founded in 1945 by pioneering female art collector Jacques Marchais, the Dalai Lama–approved institution is a Shangri-la of terraced gardens, ponds and meditation cells, and houses one of the largest collections of Himalayan art and artifacts in the country.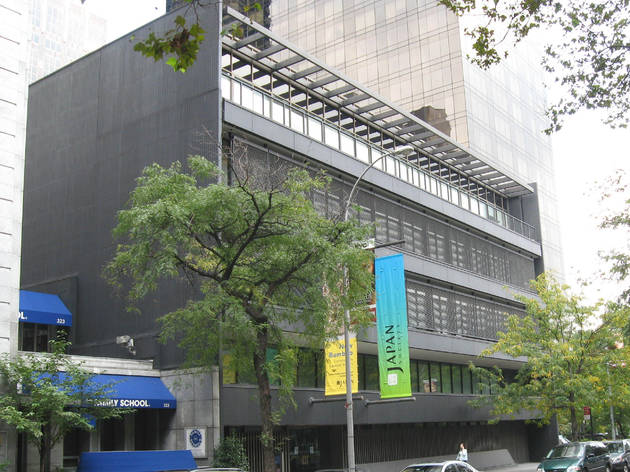 Plenty of museums have fountains, but not every one has a waterfall. Pull up a bench and bliss out to the gentle trickle of this cultural institution's indoor cascade, which feeds into a reflecting pool and is shaded by bamboo stalks. Be sure to wander through the galleries as well, which are thin on crowds and display ever-changing exhibits of modern and traditional Japanese art.
Show more
Public spaces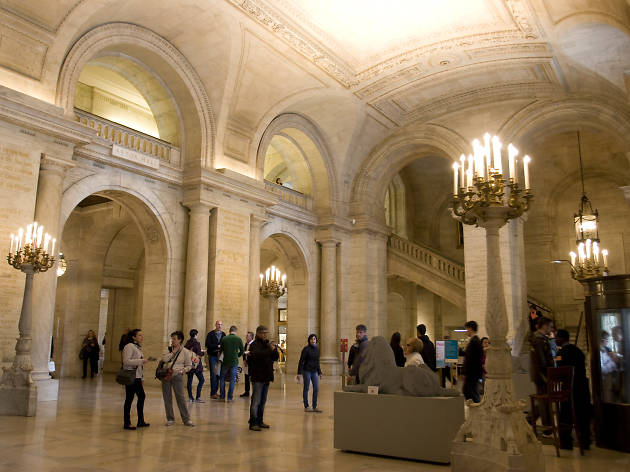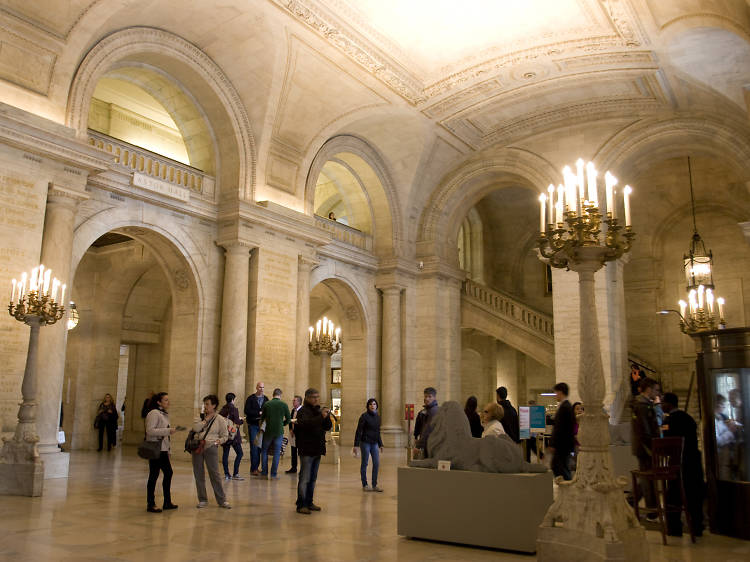 You probably won't get shushed by a bespectacled librarian if you speak above a whisper here, but it's best to play it safe by shutting up and just drinking in the scenery. The New York Public Library's elegant main room is exactly how you'd want a grand old library to look, with bronze lamps casting a glow over long wooden tables and a soaring ceiling covered in soothing murals of cloudy skies. If you're still distracted by your neighbors, the North Hall is an official quiet zone, meaning you can read The Goldfinch without awed tourists snapping photos all around you.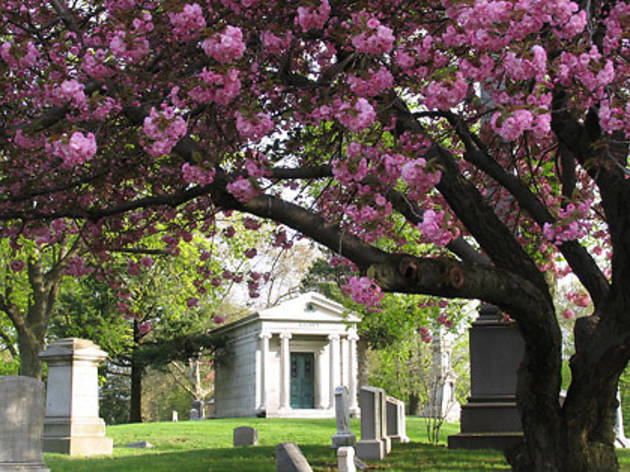 Weird goth kids aren't the only ones who flock to Brooklyn's most famous graveyard: In the 19th century, it drew more out-of-towners than Niagara Falls, and tourists still make pilgrimages to the final resting places of icons like Leonard Bernstein and Basquiat. But even with the grave seekers, you'll have no trouble finding a tranquil place to pull up a patch of grass. (It is a cemetery, after all—which reminds us: Be respectful, okay?) Climb Battle Hill, the highest point in Kings County and the site of a deadly Revolutionary War skirmish; that'll give you plenty to contemplate (the meaning of life, mortality—you know, the usual) as you gaze upon the Statue of Liberty.
Grab a bench at this walled-off oasis, which feels like a magical country garden dropped into the middle of a bustling city. Hidden from street view by the red-brick 19th-century church, St. Luke's greenery is among the city's prettiest, with six separate flora-filled areas (expect to see cherry trees blooming in the next couple of weeks). And thanks to a no-cell-phones policy, the loudest noise you're likely to hear as you kick back on a wooden bench is a few birds chirping.
Show more
Bars and restaurants
It's no surprise that you can find a quiet setting to have drinks on the Upper East Side, but to find a quiet setting as rich in personality as The Auction House is unusual. Antique red velvet couches and chaises, exposed brick walls and dimly lit chandeliers lend a warm, intimate vibe to the lounge. The crowd runs a little older than what you might find at a similar establishment downtown—hence the quiet. And no loud music interrupts the flow of conversation, making this the perfect spot for an intimate date.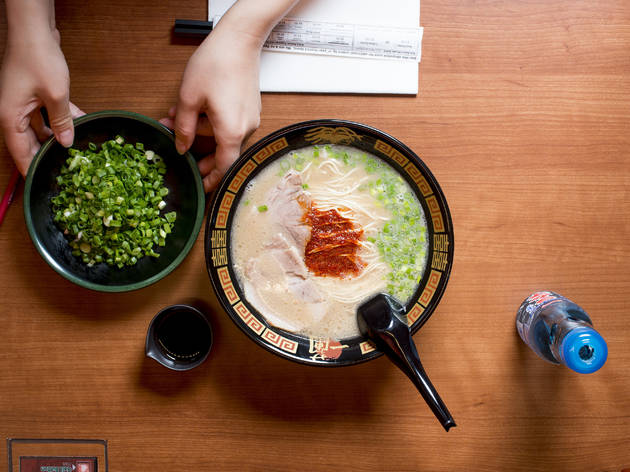 Ichiran, one of the best ramen chains in Japan, has come to NYC to deliver a safe haven for introverts and anyone who just likes to eat in peace. Past the main dining room are hallways filled with little curtained cubicles. The gimmick is that you order by marking up a little paper menu, then a bamboo panel lifts and your food is served to you, wordlessly, by a server whose face you never see. No human contact is required, and diners are even encouraged to silence their phones.
The Immigrant is a great place to duck into while wandering the East Village to enjoy a few hours of quiet over wine or a decent variety of craft beers. The small, cozy space does not amplify the sounds of neighboring tables, so relaxing here with friends can feel like you've just cracked open a good bottle of wine in the comfort of your own living room. The staff is friendly and knowledgeable, the prices are reasonable, and light bites or a cheese plate are the perfect accompaniment to whatever libation you've chosen to help you unwind.
Show more
Looking for more things to do alone?
Feeling lonely tonight? Don't be—there are a ton of fun things to do alone without feeling like a loser.