Things to do in New York this Saturday
The best things to do in New York this Saturday include amazing shows and parties to keep you going all day and night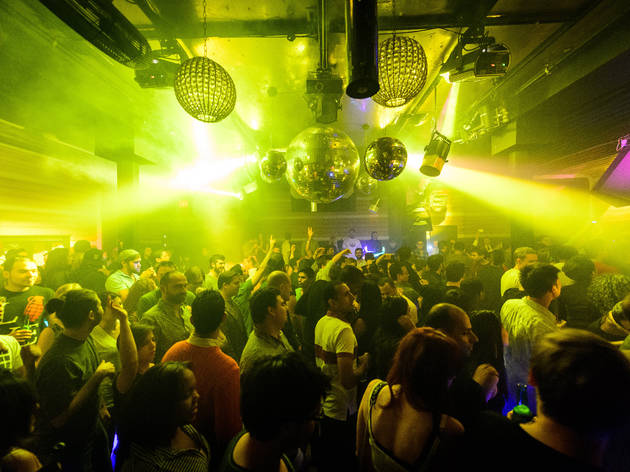 Featured things to do this Saturday
Popular things to do this Saturday
At this massive grub hub, there's only one rule: Come hungry. The Brooklyn Flea spin-off draws more than 10,000 visitors per day with a slew of 75 to 100 incredible food vendors. Our pro tip? Make sure you peruse the lineup before you go—those mouthwatering scents and the bevy of choices can make you dizzy (and the dense crowds can make you hangry). 
Read more
This Lower East Side flea, now in it's eighth season, hosts one of the best collections of vendors in Manhattan, with more upstarts joining the fray each week. Standouts from recent years and who have gotten their start at the fair include include Macaron Parlour, Petee's Pie Company, Melt Bakery, La New Yorkina, Arancini Bros and Cheeky Sandwich.  
Read more
Enter the mother of all summer barbecues, hosted by NYC Hot Sauce Expo producers Food Karma. Join chefs like George Motz and Michael Yapi as they flare up hot dogs, porchetta, portobello burgers and more. Witness the gooey spectacle of the grilled-cheese-sandwich competition, and burn away your senses at the hot sauce pavilion. Grab craft beers and ciders and even some ice cream to balance out the hot stuff. If you're coming to slay, we recommend wearing a bib.
Read more
This city tradition feels fresh every spring when artists following in the footsteps of Jackson Pollock and Willem de Kooning set up shop in the park. Hundreds of exhibitors, from NYU students to artists who remember the Village as a creative enclave, display their paintings, sculptures, photography, jewelry and woodcraft.
Read more
Tom and Betsy Salamon's unique adventure—part interactive theater, part scavenger hunt, part walking tour—draws participants into an amusing web of puzzles and intrigue. You can choose between the three-hour New York tour, which takes participants through various historical and diverse neighborhoods of lower Manhattan, or the two-hour Village tour, which travels through quirky Greenwich Village on Saturdays. Groups of as many as ten are booked every half hour.     
Read more
There are more than 18,000 known species of butterflies and five families. Meet gems from three of those families, including Pieridae (white and sulphur), Papilionidae (black and yellow swallowtails) and Nymphalidae (psychedelic-colored longwings) as they fly around in a vivarium compound. 
Read more
Tictail and Absolut Art team up for this rad Lower East Side tour, which displays the work of female artists on local businesses. Though self-led tours of the pieces are available for visitors of Tictail, you can head to guided tours on May 20–21 to learn more about the creators. 
Read more
Twice a year, this outdoor food fest brings buzzworthy bites from the city's best restaurants to Worth Square in the Flatiron District. Best eats include Roberta's sensational pizza, MeltKraft grilled cheese sandwiches and cheesesteaks by the Truffleist. The one-stop shop for the tastiest grub in town will be available every day until June 3, so make sure to wear your stretchy pants.   
Read more
Hamilton: Theater review by David Cote What is left to say? After Founding Father Alexander Hamilton's prodigious quill scratched out 12 volumes of nation-building fiscal and military policy; after Lin-Manuel Miranda turned that titanic achievement (via Ron Chernow's 2004 biography) into the greatest American musical in decades; after every critic in town (including me) praised the Public Theater world premiere to high heaven; and after seeing this language-drunk, rhyme-crazy dynamo a second time, I can only marvel: We've used up all the damn words. Wait, here are three stragglers, straight from the heart: I love Hamilton. I love it like I love New York, or Broadway when it gets it right. And this is so right. A sublime conjunction of radio-ready hip-hop (as well as R&B, Britpop and trad showstoppers), under-dramatized American history and Miranda's uniquely personal focus as a first-generation Puerto Rican and inexhaustible wordsmith, Hamilton hits multilevel culture buttons, hard. No wonder the show was anointed a sensation before even opening. Assuming you don't know the basics, ­Hamilton is a (mostly) rapped-through biomusical about an orphan immigrant from the Caribbean who came to New York, served as secretary to General Washington, fought against the redcoats, authored most of the Federalist Papers defending the Constitution, founded the Treasury and the New York Post and even made time for an extramarital affair that he damage-controlled in a scandal-stanching pamp
Book now
Read more
Show more
Free things to do this Saturday
Movies to see this Saturday
Jane Jacobs's clash with NYC urban planner Robert Moses makes for a great drama
Read more
Richard Gere triumphs in the role of his career, as a scrappy Manhattan schmoozer
Read more
British filmaker Terence Davies, turns his attention to the poet Emily Dickinson
Read more
The story of a college-bound teen and her father who wants to cut corners for her
Read more
Today's Beauty and the Beast is a lavish pull-out-all-the-stops musical
Read more
You can't re-create your past, but you can relive it in your head over and over again
Read more
Show more
Concerts to see this Saturday
Looking for the perfect brunch?
Consult our comprehensive guide to the best brunch NYC has to offer and enjoy the perfect late breakfast this weekend
Read more
Sponsored listing
Yia Yia's Homemade Greek Food
Whether you're looking for a quick lunch or casual dinner, Yia Yia's Homemade Greek Food has Upper East Siders covered. Snacks and appetizers include spanakopita ($4.95), egg-lemon soup ($4.25), classic Greek salad ($9.95) and a trio of tzatziki, tirokafteri cheese spread and taramasalata fish spread ($4.95). Of course, the menu includes classic entrees like a lamb gyro sandwich ($7.95), a chicken souvlaki plate with lemon potatoes ($7.95), moussaka ($14.95) and peppers and tomatoes stuffed with ground beef and rice ($14.95). The desserts lean toward lighter, healthier options like a yogurt parfait with fresh fruit ($8.50), although Yia Yia's does give a nod to its location with a New York-style cheesecake ($4.95).
Venue says: "Our homemade Greek food is freshly prepared every day. Call us at (212) 452-1210 today to place an order, free delivery available!"