Things to do in New York this Saturday
The best things to do in New York this Saturday include amazing shows and parties to keep you going all day and night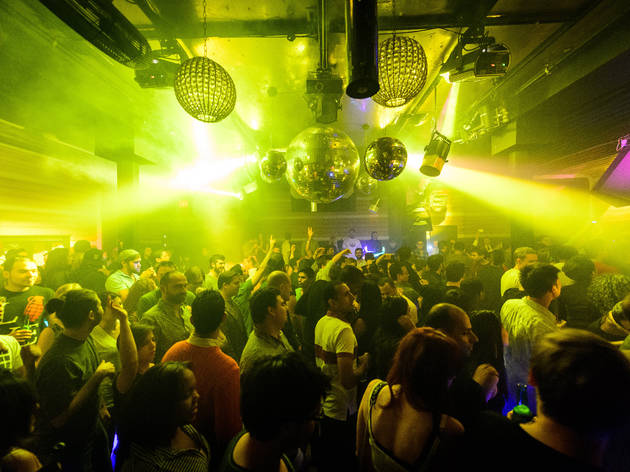 Featured things to do this Saturday
1
Tom and Betsy Salamon's unique adventure—part interactive theater, part scavenger hunt, part walking tour—draws participants into an amusing web of puzzles and intrigue. You can choose between the three-hour New York tour, which takes participants through various historical and diverse neighborhoods of lower Manhattan, or the two-hour Village tour, which travels through quirky Greenwich Village on Saturdays. Groups of as many as ten are booked every half hour.     
Read more
4
View over 100 works made by creators outside of the artistic community, including inventive self-taught sculptors in New York City and illustrators who found their passion in prisons and psychiatric hospitals. Explore the inner lives of unknown artists through works made in private and often discovered after the artists' passing, with pieces like Steve Ashby's Rocking Bed Cunnilingus Whirligig and Henry Darger's watercolor At Sunbeam Creak/At Wickey Lansinia. 
Read more
5
Storied New York–native singer-songwriter Melissa Manchester, whose biggest hits include "Whenever I Call You Friend," "Through the Eyes of Love" and "Don't Cry Out Loud," offers a set of tunes and tales.
Book now
Read more
6
Even if the sidewalks are overrun with tourists, you'll have ample room to skate at the city's most iconic rink; only 150 people are allowed on the ice at once. So be prepared to spend a bit of a wait in line fantasizing about your waltz jumps and double axels: the buildup will be worth it once you're on the ice.  RECOMMENDED: More rinks for ice skating in NYC
Read more
7
Folk-pop crooner Joan Osborne has shown surprising staying power since her '90s hit, "One of Us." In her return to the Café Carlyle she focuses on songs by Bob Dylan, with whom she has collaborated in the past.
Read more
8
As its name implies, this fair is devoted to works (drawings, prints, photos, mixed-media) on paper, but not just on paper: The offerings include inventive three-dimensional sculptures and installations made out of paper. As the latter suggests, Art on Paper is dedicated to pushing the envelope on one of art's oldest mediums.
Read more
9
The Art Dealers Association of America has been in business since 1962, making this fair the longest-running one in the United States. Naturally, it attracts only the highest-profile galleries from around the country, most of them featuring solo exhibits of the biggest names in modern, postwar and contemporary art.
Read more
10
Launched in 2011, this scrappy fair sets itself apart by having outside curators select the artists. Also, the shows are mounted in unconventional locations: Previous editions have set up shop in the Cathedral School of Old Saint Patrick's in Nolita and at the former James A. Farley Post Office across from Madison Square Garden. This year's event takes up two floors of the former Conde Nast Tower off of Times Square, so in addition to art, visitors will have bird's-eye views of the Crossroads of the World.
Read more
Show more
Popular things to do this Saturday
Free things to do this Saturday
With screenings, panels and performances at theaters around the city, JCC Manhattan's celebration of film depictions of the differently-abled is bigger and more diverse than ever. Check out films like Sanctuary, Kills on Wheels, At Eye Level and Spectrum: A Story of the Mind during the festival's packed week of screenings. 
Read more
Movies to see this Saturday
Director Gore Verbinski brews impressive atmosphere for this unsettling, magnificently weird tale of spa-based horror.
Read more
A little plastic bat fights the forces of evil in this hilarious comic-book pastiche.
Read more
Keanu Reeves is back in a sequel that feels more gory, more stylish and more fun than the original.
Read more
This superb, forlorn documentary charts the history of black activism.
Read more
Gorgeously rendered, this foreign-made animated movie begins as a story of desert-island survival and evolves into something deeper, about our communion with the natural world.
Read more
A powerful doc about life on Sicily's Lampedusa, the frontline of the refugee crisis.
Read more
Show more
Concerts to see this Saturday
Looking for the perfect brunch?
Consult our comprehensive guide to the best brunch NYC has to offer and enjoy the perfect late breakfast this weekend
Read more
Sponsored listing
Onieals Grand Street
A former brothel, speakeasy and gambling parlor, Onieals had quite the heydey during the Prohibition era. Though imbibing is legal once again, some of the vestiges of the bar's nefarious origins still survive; the tunnel that bootleggers used to use to smuggle in booze now serves as the wine cellar. With an extensive menu of beer, wine, spirits and inventive cocktails, the bar has something for anyone looking to take the edge off. These days, Onieals also serves an upscale menu of classic American dishes with hints of influence from other cuisines. At brunch, try the shrimp and grits ($15) or the omelette with goat cheese, shiitake mushrooms and asparagus ($14). For dinner, start with the filet mignon carpaccio with parmesan and horseradish creme ($19) or grilled oysters on the half shell ($15), then move on to sesame-crusted tuna with tempura green beans ($26) or hammered chicken in a shallot wine sauce ($23).
Venue says: "Wednesday's Happy Hour 4-7pm, $1 Oysters all night. Late Night Food Menu until 1am."
Little Italy
Online booking