Things to do in New York this Saturday
The best things to do in New York this Saturday include amazing shows and parties to keep you going all day and night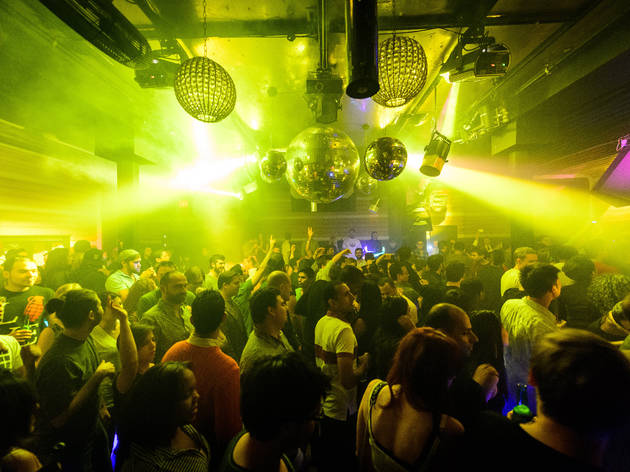 Featured things to do this Saturday
Popular things to do this Saturday
This Lower East Side flea, now in it's eighth season, hosts one of the best collections of vendors in Manhattan, with more upstarts joining the fray each week. Standouts from recent years and who have gotten their start at the fair include include Macaron Parlour, Petee's Pie Company, Melt Bakery, La New Yorkina, Arancini Bros and Cheeky Sandwich.  
Read more
Your feed is going to blow up with shots of this weekend-long bash that celebrates Japanese culture—so why miss out on the fun? To celebrate the end of Hanami (read: the season of Japanese flower porn), Brooklyn Botanic Garden unveils cherry blossoms at their picturesque peak for two glorious days. But that's only part of the draw. There's also a Japanese tea room, an art gallery and a mini flea market hawking loot such as mouthwatering Raaka chocolates, wall scrolls and silk wraps. Stay for the jam-packed schedule of entertainment, which includes taiko drummers, cosplay actors, samurai sword masters, J-rock bands, stand-up comics and dance parties. 
Read more
At this massive grub hub, there's only one rule: Come hungry. The Brooklyn Flea spin-off draws more than 10,000 visitors per day with a slew of 75 to 100 incredible food vendors. Our pro tip? Make sure you peruse the lineup before you go—those mouthwatering scents and the bevy of choices can make you dizzy (and the dense crowds can make you hangry). 
Read more
Theater review by David CoteStrangers with candy should be avoided, our parents warn. Roald Dahl urges us to grab the sugary goods—but be prepared for the consequences. Families who accept the treats currently proferred at the Lunt-Fontanne, though, are in for a rough time on Broadway. Joyless, shapeless and grating, Charlie and the Chocolate Factory is a stale Necco wafer of a musical.Where did such promising material—gut-renovated after its 2013 London debut—go wrong? Let's start at the top: Eccentric sweets manufacturer Willy Wonka (Christian Borle in fey bully mode) saunters on at the very beginning and tells us he's on a mission to find his replacement. Farewell, dramatic tension! In the movie, the Wonka legend is built up so that when Gene Wilder appears, it's a genuine thrill. Here Borle encourages us to loathe Wonka at our earliest convenience; and we know he's going to favor plucky poor-kid Charlie (Ryan Foust, alternating with two other boys).Wonka then disguises himself as a store proprietor and warbles "The Candy Man," Leslie Bricusse and Anthony Newley's dreamy ditty from the 1971 film. That number and the rapturous "Pure Imagination" are little oases in the desert of cheap, cynical pastiche that Marc Shaiman and Scott Wittman crank out all night.The limping first act is riddled with countless missteps and badly placed songs, sludgy narrative movement and jokes that go splat.Act Two at least has the benefit of seeing the nasty children who've won a guided tour of
Book now
Read more
Looking to go from average moviegoer to hard-core cinephile? A ticket to Robert De Niro's spectacular, showing buzzworthy premieres, under-the-radar docs and breakout indies, will do the trick. Some passes—priced as high as $1,250—give you unfettered access to all the events and talks but ticket prices for essential screenings ($10 matinee, $21 evening/weekend) are thankfully a lot more budget-friendly. 
Read more
Theater review by Adam FeldmanThe secret of Dolly Levi's success is revealed at the top of Hello, Dolly!'s unstoppable title song. The number is usually recalled as a paean to the star, sung by the adoring waiters of the ritzy Harmonia Gardens Restaurant as she descends a staircase in triumph and a bright red dress. But it begins, tellingly, with Dolly singing to them: "Hello, Harry / Well, hello, Louie…" It's been years since her last visit, but she remembers them all and greets them by name. No wonder they love her. She makes them feel loved.In the musical's blissful Broadway revival, the same thing happens between Bette Midler and the audience. Midler fans out her performer's wares with expert self-assurance—she delivers her jokes at a steady vaudevillian clip, like Mae West in a hurry—but she also seems like she couldn't live without us. And the part of Dolly, a matchmaker in late-19th-century New York, is exquisitely suited to Midler's enormous warmth, savvy and drive. (She cuts her schmaltz with zest.) It's hard to imagine a better match of actor and role: It is, in a word, perfection.Adapted by Michael Stewart from a Thornton Wilder comedy, Hello, Dolly! may be a vehicle for its star, but this revival treats it like a vintage Rolls-Royce. From the rousing overture on, everything about the production, directed with joyful aplomb by Jerry Zaks, gleams with old-fashioned charm. David Hyde Pierce brings droll dignity and adorable flashes of cartoon clowning to his performa
Book now
Read more
Theater review by Adam FeldmanBroadway musicals often feature heroines trying to find themselves, but perhaps never as literally as in Anastasia. In 1927 Leningrad, the scrappy, strapping Dmitry (Derek Klena) and the worldly, roguish Vlad (John Bolton) devise a scheme to pass off a street sweeper, Anya (Christy Altomare), as the Grand Duchess Anastasia Nicholaevna Romanov, rumored to have survived the massacre of the rest of her royal family in the Russian Revolution 10 years earlier. But as the con men school her, My Fair Lady–like, in the ways of nobility—hoping to deceive Anastasia's grandmother in Paris, the Dowager Empress (an elegant Mary Beth Peil)—it emerges that Anya may be the real Anastasia after all. Who knows? Not Anya: She has amnesia. What former self might be nested like a doll inside her, waiting to be revealed? And might there be other dolls inside that one?As Anastasia piles discovery upon discovery, the happiest surprise is how consistently good the musical turns out to be. Smartly adapted by Terrence McNally from the 1997 animated film and the 1956 Ingrid Bergman movie—with Stephen Flaherty and Lynn Ahrens impressively expanding their score from the former—Anastasia is a sweeping adventure, romance and historical epic whose fine craftsmanship will satisfy musical-theater fans beyond the show's ideal audience of teenage girls. (When I saw it, a second-act kiss was greeted with deafening shrieks of approval.) Director Darko Tresnjak keeps the story swirling
Book now
Read more
There are more than 18,000 known species of butterflies and five families. Meet gems from three of those families, including the Pieridae (white and sulphur), the Papilionidae (black and yellow swallowtails) and the Nymphalidae (psychedelic-colored longwings) as they fly around in a vivarium compound. 
Read more
Tom and Betsy Salamon's unique adventure—part interactive theater, part scavenger hunt, part walking tour—draws participants into an amusing web of puzzles and intrigue. You can choose between the three-hour New York tour, which takes participants through various historical and diverse neighborhoods of lower Manhattan, or the two-hour Village tour, which travels through quirky Greenwich Village on Saturdays. Groups of as many as ten are booked every half hour.     
Read more
Show more
Free things to do this Saturday
Movies to see this Saturday
British filmaker Terence Davies, a master of finese, turns his attention to the poet Emily Dickinson
Read more
A college-bound teen and her father who wants to cut corners for her—has plenty of ethical compromise to go around
Read more
Today's Beauty and the Beast is a lavish pull-out-all-the-stops musical
Read more
You can't re-create your past, but you can relive it in your head over and over again
Read more
Kristen Stewart is excellent in Olivier Assayas's magnificently unconventional Paris-set ghost story
Read more
Director Gore Verbinski brews impressive atmosphere for this unsettling, magnificently weird tale of spa-based horror.
Read more
Show more
Concerts to see this Saturday
Mitski Miyawaki's come far since self-releasing her first two albums and playing DIY gigs—that much is obvious considering she sold out her three most recent NYC concerts and basically every other show on her last national tour months in advance. Her latest collection of heartrending songs, Puberty 2, continues where 2014's breathtaking Bury Me at Makeout Creek left off: dreamily yearning indie rock that highlights her talents for complex, emotive melody and pointed lyricism.
Book now
Read more
The orchestra bearing the name of one of America's greatest composers rocks your week with his royal, indelible songbook. During this stint at Blue Note, the big band will be celebrating the 100th anniversay of Ella Fitzgerald's birth.
Read more
Popular jazz singer-guitarist Pizzarelli returns to his familiar stomping grounds at the Carlyle—this time without his wife and frequent show partner, Jessica Molaskey—to ac-cent-tchu-ate the positively essential legacy of Great American Songbook master Johnny Mercer.
Read more
This Vancouver crew's recent release, Paradise, is chock-full of the same fiery, hard-driving punk and brilliantly warped guitar work found on the band's acclaimed 2014 LP Deep Fantasy. For fans of pointed, fuzzed out riffage, look no further than the dizzying licks employed by the band's guitarist, Kenneth William.
Read more
Looking for the perfect brunch?
Consult our comprehensive guide to the best brunch NYC has to offer and enjoy the perfect late breakfast this weekend
Read more
Sponsored listing
MI-NE SUSHI TOTOYA
Our goal is to graciously serve our customers delicious sushi as well as other Japanese dishes with passion.We would like to express our deepest gratitude towards our customers. Since Mi-Ne Sushi's opening in 1971 at Kumamoto, Japan, we have since opened three more locations in Kumamoto as well as nine sister locations in the fiercely competitive city of Hong Kong. We aspire to keep the traditions of Japanese food culture alive while striving towards perfecting our taste as well as providing a gracious environment to be enjoyed with the company of family and friends, on any event or celebration.
Venue says: "MI-NE Sushi Totoya offers a variety of Japanese cuisine from the Kyushu region and beyond. Originating from Kumomoto, Japan."
Greenwich Village
Online booking