Things to do on a Sunday in New York
Have fun like there's no tomorrow with the best things to do on a Sunday in New York including events, brunch and more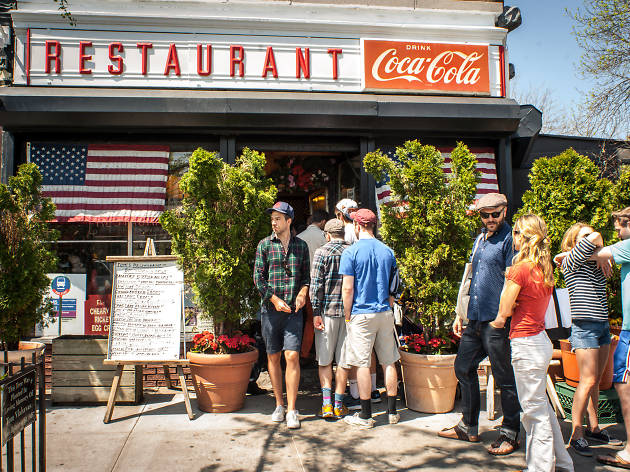 Forget about work in the morning: you've got too much partying to do today, so here are the best things to do on a Sunday in New York. Whether you're planning a day trip from NYC, looking for an awesome festival, or finally have the time to see some of the best museum exhibitions in NYC, we've got the rundown for your best Sunday Funday right here. And if you blew all your cash on Saturday, stick with our picks for the best free things to do in town.
RECOMMENDED: Full guide to things to do in NYC this weekend
Featured things to do this Sunday
Things to do on any Sunday
Popular things to do this Sunday
At this massive grub hub, there's only one rule: Come hungry. The Brooklyn Flea spin-off draws more than 10,000 visitors per day with a slew of 75 to 100 incredible food vendors. Our pro tip? Make sure you peruse the lineup before you go—those mouthwatering scents and the bevy of choices can make you dizzy (and the dense crowds can make you hangry). 
Read more
This Lower East Side flea, now in it's eighth season, hosts one of the best collections of vendors in Manhattan, with more upstarts joining the fray each week. Standouts from recent years and who have gotten their start at the fair include include Macaron Parlour, Petee's Pie Company, Melt Bakery, La New Yorkina, Arancini Bros and Cheeky Sandwich.  
Read more
This city tradition feels fresh every spring when artists following in the footsteps of Jackson Pollock and Willem de Kooning set up shop in the park. Hundreds of exhibitors, from NYU students to artists who remember the Village as a creative enclave, display their paintings, sculptures, photography, jewelry and woodcraft.
Read more
For one night every year, this seminal throwback party aims its focus entirely on the '90s for a rager worthy of all five House Party movies. Get down to No Doubt, Salt-N-Pepa, Mariah Carey and other icons, as provided by DJs Herbert Holler, Cosi and Marc Smooth. Serve your finest Punky Brewster realness to win up to $500 in the costume contest. Better bring it.
Read more
What's better than Saturday morning cartoons? Saturday morning mimosas. Indulge in a stacked $35 prix-fixe brunch that offers steak and eggs, chicken and waffles, and champagne, all while DJ E Class spins the pop jams that delighted Generation X, including TLC and the Backstreet Boys. Live boy band RNB Boys are on hand to serenade you with the jams of your youth.
Read more
There are more than 18,000 known species of butterflies and five families. Meet gems from three of those families, including Pieridae (white and sulphur), Papilionidae (black and yellow swallowtails) and Nymphalidae (psychedelic-colored longwings) as they fly around in a vivarium compound. 
Read more
Tictail and Absolut Art team up for this rad Lower East Side tour, which displays the work of female artists on local businesses. Though self-led tours of the pieces are available for visitors of Tictail, you can head to guided tours on May 20–21 to learn more about the creators. 
Read more
Spend a Sunday afternoon browsing the wares of local artists, designers and vintage dealers at this weekly market. It's a great place to pick up limited-edition art, handmade jewelry, unique home furnishings and tasty artisanal treats. Plus, 100% of the bazaar's net revenue is donated to four neighborhood public schools, so no risk of buyer's remorse here.
Read more
Tom and Betsy Salamon's unique adventure—part interactive theater, part scavenger hunt, part walking tour—draws participants into an amusing web of puzzles and intrigue. You can choose between the three-hour New York tour, which takes participants through various historical and diverse neighborhoods of lower Manhattan, or the two-hour Village tour, which travels through quirky Greenwich Village on Saturdays. Groups of as many as ten are booked every half hour.     
Read more
Show more
Free things to do this Sunday
Movies to see this Sunday
Jane Jacobs's clash with NYC urban planner Robert Moses makes for a great drama
Read more
Richard Gere triumphs in the role of his career, as a scrappy Manhattan schmoozer
Read more
British filmaker Terence Davies, turns his attention to the poet Emily Dickinson
Read more
The story of a college-bound teen and her father who wants to cut corners for her
Read more
Today's Beauty and the Beast is a lavish pull-out-all-the-stops musical
Read more
You can't re-create your past, but you can relive it in your head over and over again
Read more
Show more
Concerts to see this Sunday
Looking for the perfect Sunday brunch?
Consult our comprehensive guide to the best brunch NYC has to offer and enjoy the perfect late breakfast this weekend
Read more