Things to do in New York this Saturday
The best things to do in New York this Saturday include amazing shows and parties to keep you going all day and night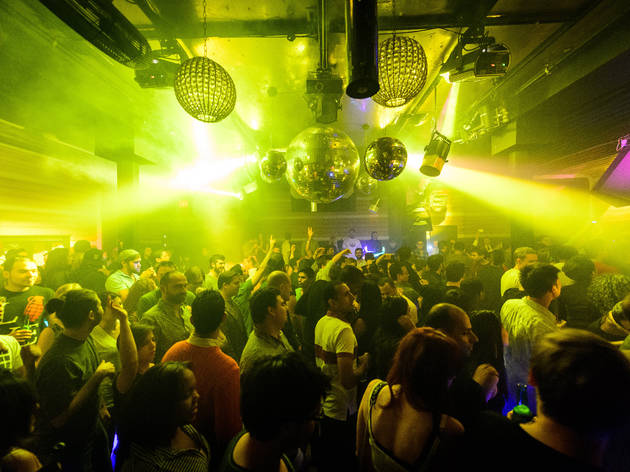 Featured things to do this Saturday
Popular things to do this Saturday
At this massive grub hub, there's only one rule: Come hungry. The Brooklyn Flea spin-off draws more than 10,000 visitors per day with a slew of 75 to 100 incredible food vendors. Our pro tip? Make sure you peruse the lineup before you go—those mouthwatering scents and the bevy of choices can make you dizzy (and the dense crowds can make you hangry). 
Read more
This Lower East Side flea, now in it's eighth season, hosts one of the best collections of vendors in Manhattan, with more upstarts joining the fray each week. Standouts from recent years and who have gotten their start at the fair include include Macaron Parlour, Petee's Pie Company, Melt Bakery, La New Yorkina, Arancini Bros and Cheeky Sandwich.  
Read more
Tom and Betsy Salamon's unique adventure—part interactive theater, part scavenger hunt, part walking tour—draws participants into an amusing web of puzzles and intrigue. You can choose between the three-hour New York tour, which takes participants through various historical and diverse neighborhoods of lower Manhattan, or the two-hour Village tour, which travels through quirky Greenwich Village on Saturdays. Groups of as many as ten are booked every half hour.     
Read more
Twice a year, this outdoor food fest brings buzzworthy bites from the city's best restaurants to Worth Square in the Flatiron District. Best eats include Roberta's sensational pizza, MeltKraft grilled cheese sandwiches and cheesesteaks by the Truffleist. The one-stop shop for the tastiest grub in town will be available every day until June 3, so make sure to wear your stretchy pants.   
Read more
There are more than 18,000 known species of butterflies and five families. Meet gems from three of those families, including Pieridae (white and sulphur), Papilionidae (black and yellow swallowtails) and Nymphalidae (psychedelic-colored longwings) as they fly around in a vivarium compound. 
Read more
This city tradition feels fresh every spring when artists following in the footsteps of Jackson Pollock and Willem de Kooning set up shop in the park. Hundreds of exhibitors, from NYU students to artists who remember the Village as a creative enclave, display their paintings, sculptures, photography, jewelry and woodcraft.
Read more
Enter the mother of all summer barbecues, hosted by NYC Hot Sauce Expo producers Food Karma. Join chefs like George Motz and Michael Yapi as they flare up hot dogs, porchetta, portobello burgers and more. Witness the gooey spectacle of the grilled-cheese-sandwich competition, and burn away your senses at the hot sauce pavilion. Grab craft beers and ciders and even some ice cream to balance out the hot stuff. If you're coming to slay, we recommend wearing a bib.
Read more
Tictail and Absolut Art team up for this rad Lower East Side tour, which displays the work of female artists on local businesses. Though self-led tours of the pieces are available for visitors of Tictail, you can head to guided tours on May 20–21 to learn more about the creators. 
Read more
Theater review by Sandy MacDonald In the two decades since its Public Theater debut, Suzan-Lori Parks's Venus has lost none of its power to unsettle and appall. If anything, the story of Saartjie Baartman's exploitation at the hands of early-19th-century human traffickers—some venal, some high-minded—has gained in shock value. Its current revival, directed by Lear deBessonet as part of Parks's retrospective residency at the Signature, is devastating. A young Khoikhoi woman from southern Africa, Baartman (Zainab Jah) traveled to London in 1810 with visions of earning a mint as a "dancing African princess"; instead, dubbed the Hottentot Venus, she became a celebrated attraction at the freak shows then in vogue. The focus was on her formidable, steatopygous rump (conveyed here by a skin-toned bodysuit that is donned in plain sight): poke-bait to curiosity seekers of all castes. At the Venus's unveiling, a septet of ensemble cast members are done up as Crayola-coiffed toffs. Who are the real freaks here? If the first act seems mannered and arch, beware: You're being set up. Returning from intermission, you'll come upon John Ellison Conlee as the Baron Docteur—a composite character based on comparative anatomist Georges Cuvier—reading excerpts from a postmortem report. Parks extrapolates the exotic-erotic nature of the Venus Hottentot phenomenon into a sexual relationship between the scientist and his subject. Act Two begins in a dreamy Paris hotel room, where the doctor plies
Book now
Read more
Show more
Free things to do this Saturday
Movies to see this Saturday
Jane Jacobs's clash with NYC urban planner Robert Moses makes for a great drama
Read more
Richard Gere triumphs in the role of his career, as a scrappy Manhattan schmoozer
Read more
British filmaker Terence Davies, turns his attention to the poet Emily Dickinson
Read more
The story of a college-bound teen and her father who wants to cut corners for her
Read more
Today's Beauty and the Beast is a lavish pull-out-all-the-stops musical
Read more
You can't re-create your past, but you can relive it in your head over and over again
Read more
Show more
Concerts to see this Saturday
Looking for the perfect brunch?
Consult our comprehensive guide to the best brunch NYC has to offer and enjoy the perfect late breakfast this weekend
Read more