Things to do in New York this Saturday
The best things to do in New York this Saturday include amazing shows and parties to keep you going all day and night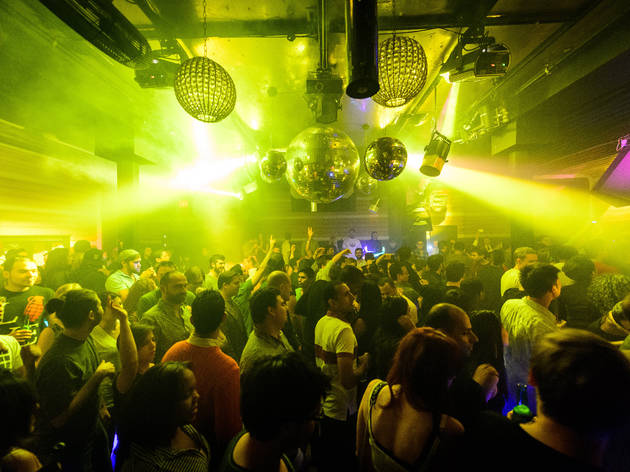 Featured things to do this Saturday
Popular things to do this Saturday
At this massive grub hub, there's only one rule: Come hungry. The Brooklyn Flea spin-off draws more than 10,000 visitors per day with a slew of 75 to 100 incredible food vendors. Our pro tip? Make sure you peruse the lineup before you go—those mouthwatering scents and the bevy of choices can make you dizzy (and the dense crowds can make you hangry). 
Read more
Launched more than 30 years ago by nonprofit community–arts organization BRIC to revitalize Prospect Park, Brooklyn's premier outdoor performance series returns with free music, dance, and film events. Highlights this year include Pharoah Sanders on June 23, Talib Kweli on June 24, Amadou & Mariam on July 21, Andrew Bird and Esperanza Spalding on July 28, a screening of Creed with live scoring from Wordless Music Orchestra on Aug 4 and Whitney on Aug 11. While you're there, be sure to check out NY Handmade Collective's market, which features wares from local artisans like Jes Switaj, Suniq, Topolski Jewelry, Wallcojr Designs and Titiluli.
Read more
This Lower East Side flea, now in it's eighth season, hosts one of the best collections of vendors in Manhattan, with more upstarts joining the fray each week. Standouts from recent years and who have gotten their start at the fair include include Macaron Parlour, Petee's Pie Company, Melt Bakery, La New Yorkina, Arancini Bros and Cheeky Sandwich.  
Read more
Tom and Betsy Salamon's unique adventure—part interactive theater, part scavenger hunt, part walking tour—draws participants into an amusing web of puzzles and intrigue. You can choose between the three-hour New York tour, which takes participants through various neighborhoods of lower Manhattan, or the two-hour Village tour, which travels through quirky Greenwich Village on Saturdays. Groups of as many as 10 are booked every half hour. 
Read more
New York Classical Theatre begins its summer season of free alfresco theater with Richard Brinsley Sheridan's bawdy 1775 comedy, whose gifts to the world include the word malaprop (named after a deliciously error-prone character). The production, directed by NYCT founder Stephen Burdman, plays for a month in Central Park (enter at 103rd St and Central Park West), then spends a week apiece at two other locations.
Read more
This exhibition invites you to see how the comic-book art of Steve Ditko, John Romita, Todd McFarlane and other visionaries involved in drawing Marvel's beloved wall crawler influenced the way superhero stories are told.
Read more
The Lower Manhattan Cultural Council's wide-flung free celebration has many exciting offerings in 2017. Participating artists include En Garde Arts, Netta Yerushalmy, Jodi Melnick, John Monti, Beth Gill, Faye Driscoll, Marjani Forté-Saunders, Maria Hassabi, Kamau Ware, Kameelah Janan Rasheed and the Dance Cartel. Also on the lineup is A Marvelous Order (June 15, 17–18), an original opera about the clash between city planner Robert Moses and activist Jane Jacobs.
Read more
Famed Chinese dissident artist Ai Wei Wei teams up with au courant Swiss starchitects Jacques Herzog and Pierre de Meuron in this immersive installation about the surveillance state. Drones and infrared cameras follow visitors as they move about, creating high-tech breadcrumb trails in their wake. 
Read more
Politically conscious writers, artists, choreographers, domestic workers and more lead the charge at this collaborative experiment that welcomes members of the public to write on the walls of an abandoned house in Governors Island's Nolan Park. This year's season features Olga Rodriguez Ulloa, Alexandra Chasin, Luis Jaramillo, Matthew Brookshire, Ana Lara, LaTasha Diggs, Mariame Kaba, Laia Sole and Anthony Rosado. 
Read more
Show more
Free things to do this Saturday
Movies to see this Saturday
Jane Jacobs's clash with NYC urban planner Robert Moses makes for a great drama
Read more
Richard Gere triumphs in the role of his career, as a scrappy Manhattan schmoozer
Read more
British filmaker Terence Davies, turns his attention to the poet Emily Dickinson
Read more
The story of a college-bound teen and her father who wants to cut corners for her
Read more
Today's Beauty and the Beast is a lavish pull-out-all-the-stops musical
Read more
You can't re-create your past, but you can relive it in your head over and over again
Read more
Show more
Concerts to see this Saturday
Looking for the perfect brunch?
Consult our comprehensive guide to the best brunch NYC has to offer and enjoy the perfect late breakfast this weekend
Read more