Best cheap eats in Singapore
We pick the best and most value-for-money dishes you can chow down for $10 or less
Dining out in Singapore can be expensive – but not if you know where to look. These lunch spots provide a satisfying meal for under $10. From healthy salad options to our hawker favourites, these are the best cheap eats in the city. Here's helping you spend less on lunch so you can splurge on the things that matter.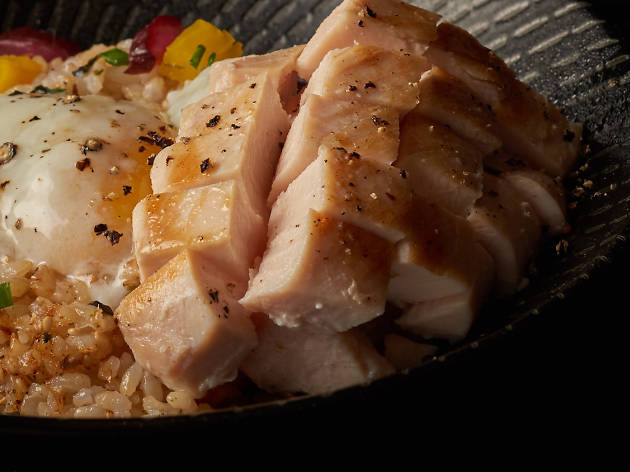 Chicken donburi
At Wafuken
For healthy and affordable build-your-own bowls in the CBD, hit up Wafuken at either Asia Square Tower 2 or OUE Downtown Gallery. A plain donburi ($4) – choose between furikake Japanese brown rice or white rice – is served with onsen egg, daikon and cucumber pickles and you can choose to add on protein options like sous vide chicken breast ($4) to make a bowl that still comes in at under $10.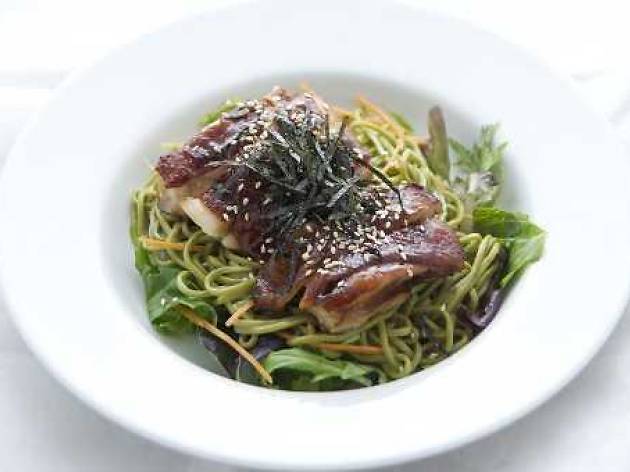 Bull Run Soba
At Wheat Baumkuchen
This quick service healthy food joint has been a firm favourite among people working in Raffles Place for a long time. And now it's opened a new outlet at Marina One. The new outlet has more "Design Your Own Bowl" options but the Bull Run Soba ($8) is a no-brainer for when you're in a rush. Served with grilled teriyaki chicken, green soba and salad, this meal comes in at under 500 calories for those watching their weight.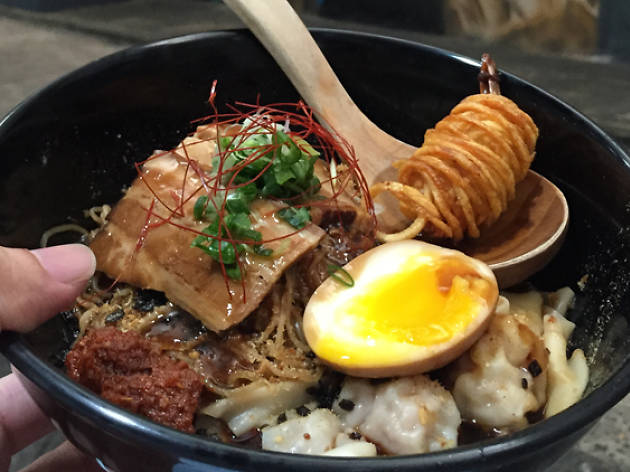 At A Noodle Story

It's got one of the longest queues at Amoy Street Food Centre, and for good reason. The 'Singapore-style' ramen the two young lads at this stall whip up is like a cross between wonton mee, mazesoba and magic. Over springy mee kia tossed with a moreish and slightly sweet chilli oil, they pile sous vide char siew, wontons, a potato-wrapped prawn, spring onion and an onsen egg.
Read more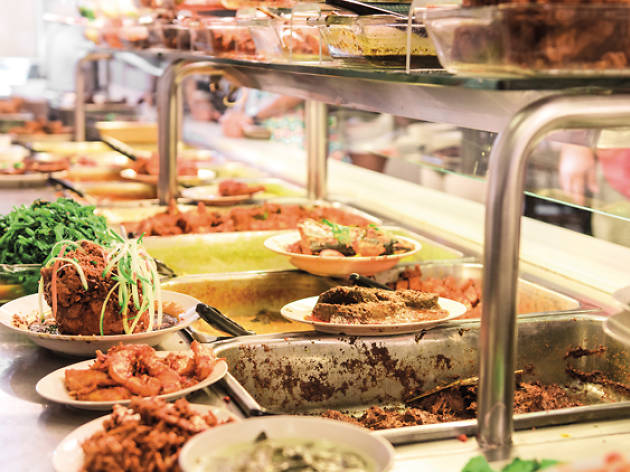 At Hjh Maimunah

The queue at this nasi padang restaurant stretches out the door even before lunchtime hits. We can't blame the crowd, though, as only the early birds get the worm. Or in this case, stellar beef rendang and sambal goreng. Also, don't miss out on the tauhu telor that sells out fast. Aside from quintessential nasi padang dishes, there are also rarer ones like lemak siput sedut, sea snails swimming in a coconut-rich broth.
Read more
At Tamoya Udon

Clinching the 'Best Udon Maker of Kagawa Prefecture' in a Japanese TV show, Tamoya pulls thick wheat flour noodles that are a result of blending three types of flour and adjusting the amount of salt to our city's humidity levels. Pick from hot or cold dishes – prices range from $5.80 to $13.40 a bowl, but only the beef, pork and curry udons will set you back more than $10. Once you've made your choice, pick up a veggie ($1) or prawn ($2.50) tempura to accompany your bowl. Our favourite? The pork sanuki udon ($9.80) – its light broth complements the salty-sweet pork perfectly.
Read more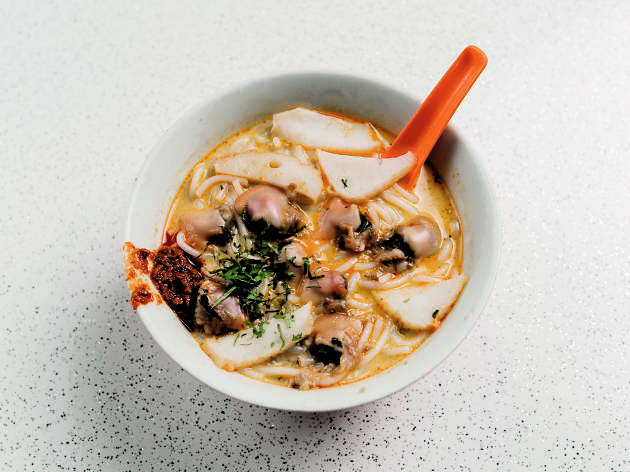 At Sungei Road Laksa

The shop name says it all. With only one thing on the menu, this humble eatery still rakes in long queues every day. The laksa gravy, cooked over charcoal, is light and not too spicy – that's what the sambal is for. Stir it in if you want more heat in your bowl ($3). Topped only with fishcake and plump cockles, you'll polish off a bowl in under 5 minutes.
Read more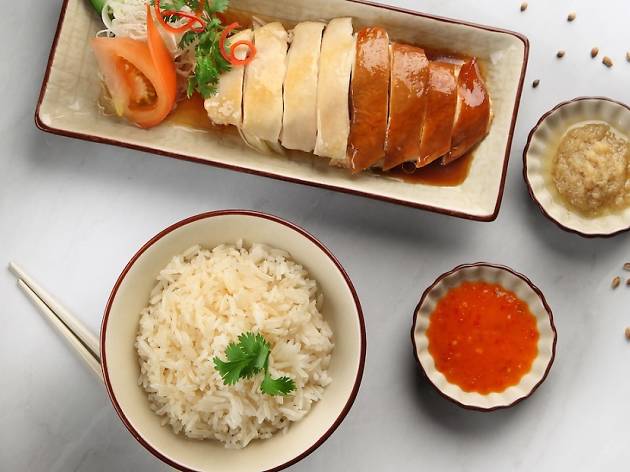 At Roost

Chicken rice stalls are a dime a dozen in Singapore, but it's not often you come across a place with its very own automated poultry cooking machine. The machine took 13 years to perfect and now dishes out consistently tender and fragrant birds each time. Roost's poached and soya sauce chicken rice ($8.90 each) are also healthier alternatives to the ones found at hawker centres – the rice is cooked with canola oil and comes in at under 500 calories per plate. Get the yin yang chicken rice ($8.90) for half portions of both types of chicken. If you're looking to indulge, try the chicken laksa ($7.90) and tom yum fried rice ($8.90) instead.
Read more
At Teppei Daidokoro, Timbre+

Yamashita Teppei – he of the affordably priced omakases, kaisen dons and kushiyaki sticks – replicates his Daidokoro ('Japanese kitchen') concept at the new Timbre+. Staples such as katsus, meaty Japanese curries and teppanyaki dishes are all served in bowls, but we say go for the yakitori don ($8.80) – sticks of meat brushed in a smoke-infused glossy lacquer of sauce and served over rice.
Read more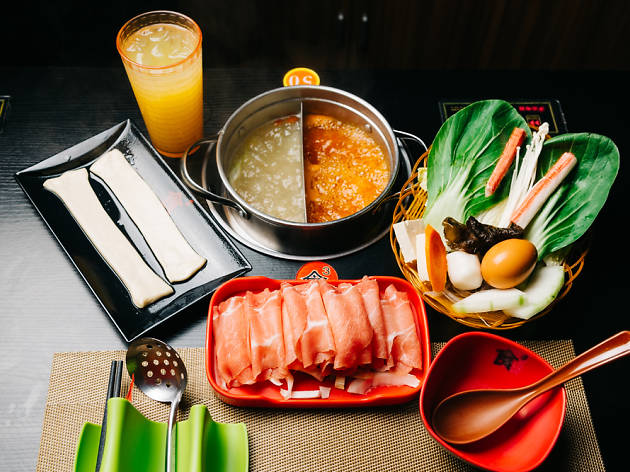 At Shi Li Fang

Herbal chicken broth hot pot with fatty pork belly and toothsome hand-pulled noodles, all for just $10? Yes, it's possible at Shi Li Fang. The Taiwanese steamboat restaurant offers steamboat set lunch meals for just $9.90 (taxes not included; so take note) that even comes with a drink of your choice. You pick a soup base (the place prides itself on not using MSG), a main protein and the type of noodles for your meal. Then on top of that, you get a good heaping of vegetables – slices of cabbage, carrot, winter melon, bok choy – tofu, black fungus, enoki mushrooms and an egg. It's definitely enough to induce a post-lunch food coma.
Read more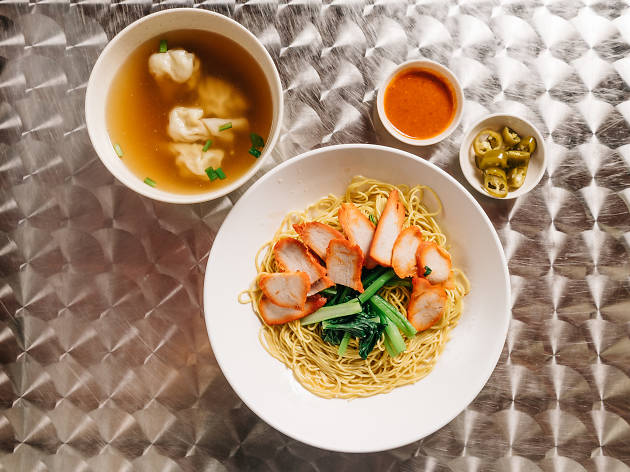 At Nam Seng Noodles and Fried Rice

We'll be the first to admit that, flavour-wise, this is not the best wonton mee around. The wontons and char siew ($4-$5) are nothing to write home about, but everyone's really here for the noodles: they're thicker than usual and come swimming in a slightly soupy base of soya sauce and sesame oil. If anything, it reminds us of the version from our school canteens – and that in itself makes the dish special.
Read more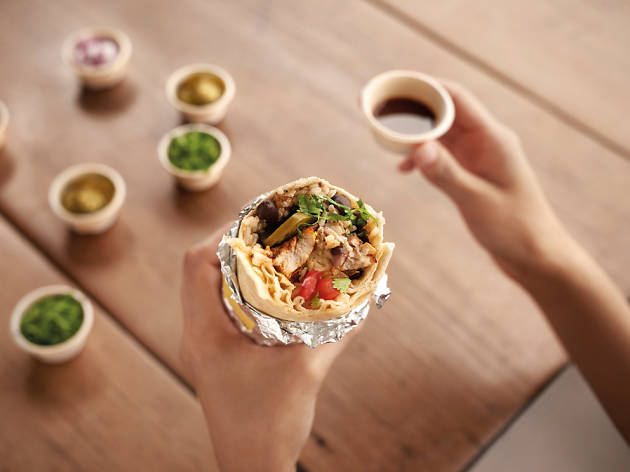 At Guzman Y Gomez

It's hard to beat Guzman's price tag for a wholesome burrito that's stuffed with rice, soft black beans, salsa, melted Jack cheese, and your choice of filling: mild or spicy grilled chicken, steak, fish, or roasted pork – there's even a vegetarian option with sautéed onions, mushrooms and guacamole. We chose pan-seared fish, dressed in a tangy garlic-lime sauce that removed any hint of fishiness. You can pimp out your burrito with add-ons such as guacamole ($1) and brown rice ($0.50), too.
Read more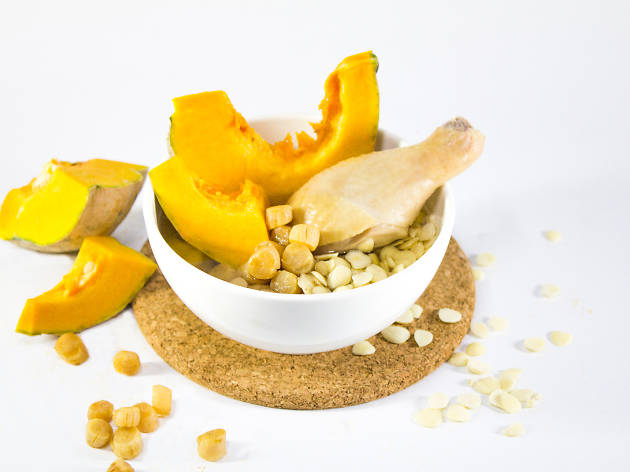 At Soup Living

Each Cantonese-style, slow-fire soup here is made from premium Chinese herbs and is boiled without MSG or chicken stock cubes. There are currently six types of soups on the menu, including favourites like The Golden Pump ($6), a naturally sweet soup boiled from Australian golden butternut pumpkin, apricot kernels and dried scallops. Add $2.50 to complete your meal with a bowl of fluffy Japanese rice (or brown rice) topped with furikake or two pieces of handmade siew mai and a drink.
Read more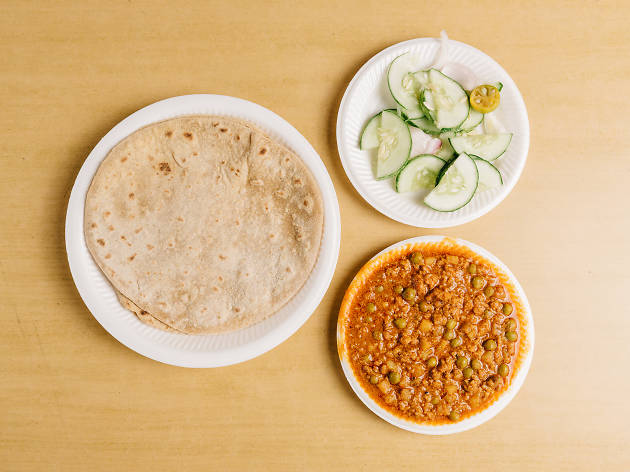 At Azmi Restaurant

While there's a wide variety of curries to choose from at Azmi, ask any connoisseur and they'll tell you that chapati goes best with mutton keema ($5.20). Tear off some of the warm flatbread, scoop up the devil-red mix of minced mutton, potato and peas, add a slice of raw cucumber or onion, and stuff it all in as the keema dribbles down your hand. It's so good, you won't mind the mess.
Read more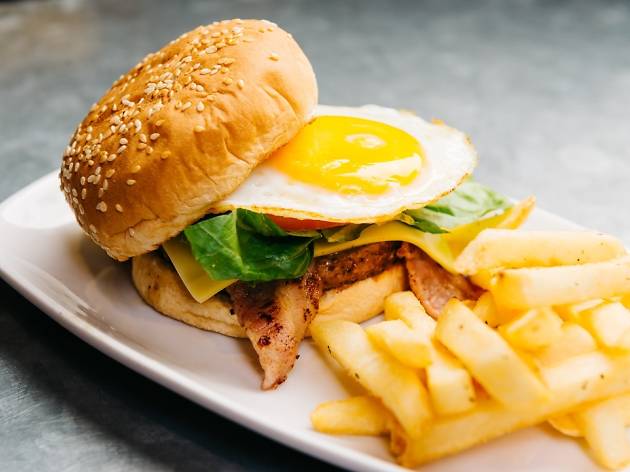 At iSteaks Diner

What started out years ago as a hawker stall serving affordable steaks has since gotten an upgrade – it's now got two air-conditioned outlets, in Serangoon Gardens and Holland Village. Thankfully, the new digs didn't come along with significantly higher prices. Besides very decent steaks, the hawker-style Western fare runs the usual gamut of soups, burgers, pastas and grilled meats like chicken and lamb chops. But for under ten bucks you'd wanna order the beef burger. You get a juicy patty, cheese, lettuce, tomato and a side of fries. Granted, it's not the best burger in Singapore by a long shot, so we'd recommend you add toppings such as sautéed mushrooms, bacon or a fried egg – they're all $1 a pop.
Read more
At One Ice Cafe

It's hot out, and it seems like it's only going to get warmer. So chasing the current bingsu, or Korean shaved ice dessert, trend has its benefits. And why splash the cash for what is essentially ice kachang? One Ice Cafe has the most affordable bowls of bingsu on the island. Ranging from $6.80 to $8.80, its shaved ice bowls come in flavours like matcha, chocolate banana and peanut. Sure, its range of toppings might not be as elaborate as those from other joints, but the bowls still come in impressive mounds. Apart from a scoop of vanilla ice cream topped with an Oreo cookie, the Oreo Bingsu ($6.80) has a thick bed of cookie crumble covering lightly flavoured shaved ice – any more condensed milk would be way too cloying. Grab a friend or two to help clean the bowl up.
Read more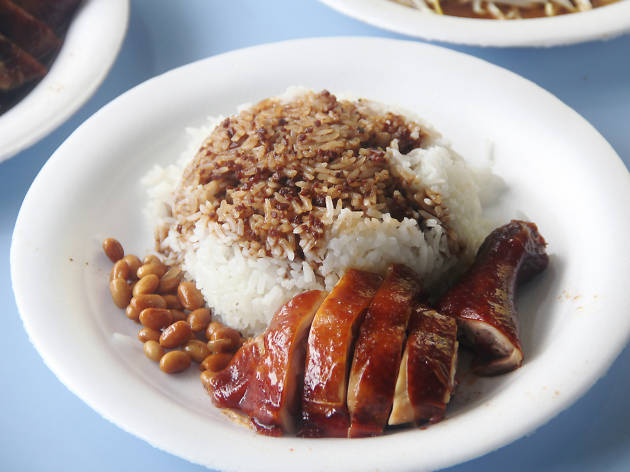 At Hong Kong Soya Sauce Chicken Rice and Noodle
Prepare to queue 2 to 3 hours for this soya sauce chicken rice. Chef Chan Hon Meng has been cooking soya sauce chicken for over three decades and has elevated the humble fowl to its, err, beak potential. Each bird is tender and juicy – have it on a bed of rice, with a helping of steamed nuts and dark sauce ($2) or order half or the whole chicken to share (from $7).
We hear that Chan has plans to expand his business in a tie-up with an F&B group soon. Considering that he's getting on in years, he might not be cooking for much longer. So head down to get the world's cheapest Michelin-starred meal, cooked by the original chef, while you still can.
Read more
Want more cheap things?
Take happy hour to the next level with these cheaper deals.
Read more
We present five ways to say you've dined at a celebrity chef restaurant – without going hungry for the rest of the month.
Read more