Where to see Aboriginal art in Sydney
Whether you're looking to expand your knowledge or understanding of this continent's rich Indigenous art history or its contemporary practice, these galleries and collections are where to start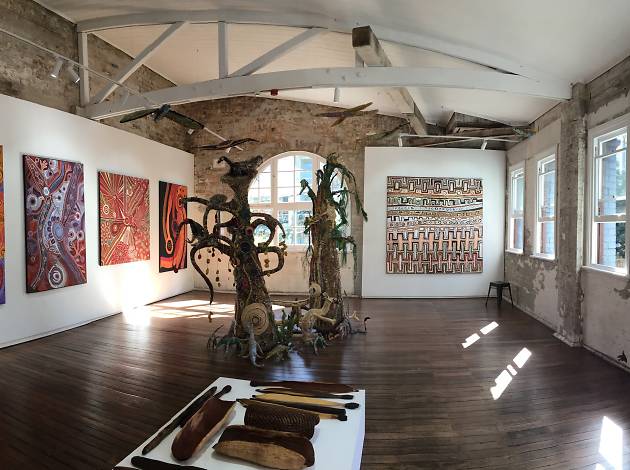 Whether you're visiting from overseas or a curious local looking to get beyond the basics (Dot paintings? Bark paintings? Just the tip of the iceberg), these are the places to see the best of Australia's diverse Indigenous art practice.
You can also see the work of a handful of Aboriginal artists on the streets of the city: check out our hit-list of the best public art in Sydney. And see which exhibitions are taking over the city this month.
Public institutions and collections
The AGNSW has a broad collection of works on paper, bark and canvas, as well as sculptures, fibre works, photomedia and multimedia – of which only a small proportion are on display at any given time. You can see them for free on lower level three in the Yiribana Gallery. Their current hang includes works by key contemporary artists Esme Timbery and Daniel Boyd.
The MCA is home to the Ramingining Collection (bark paintings, carved-wood sculptures and functional objects from northeastern Arnhem Land), the Maningrida Collection (works primarily in fibre) and the 'Arnott's Bark' collection of paintings on bark. Besides these permanent collections, the MCA contains many works by Indigenous and Torres Strait Islander artists in the Level 2 gallery as part of the exhibition MCA Collection: Today Tomorrow Yesterday – including works by Vernon Ah Kee, Daniel Boyd and Gordon Bennett, among others.
It's worth the trek to Canberra for the NGA's Aboriginal and Torres Strait Islander art collection – the largest in the world, comprised of over 7500 works, and displayed in a purpose-built wing containing 13 galleries. There's a hugely diverse range of works on display and the Indigenous colection is growing each year.
Commercial galleries and artist co-ops
Which exhibitions should you see?
There's art in every corner of the city this month.