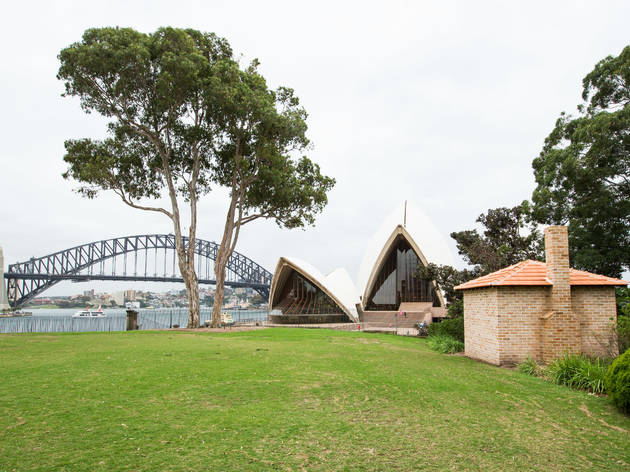 Biennale of Sydney: The 'in-between' spaces
Some of the best art at this year's Biennale of Sydney happened outside the major galleries and institutions.
The in-between spaces
Just two works in the Biennale of Sydney tackled the global refugee crisis head on – and the most striking (not visually but conceptually) was Murillo's 'art of omission'. Instead of presenting the work he'd planned, the Colombian-born London-based artist flushed his passport down the plane's toilet while he was in transit to Sydney. Consequently, when he landed in Sydney he was deported.

In a statement released by the artist, he said: "Destroying my passport was a way of challenging the conditions in which I have the privilege of moving through the world, as a citizen." You can read more about the incident in the New York Times.

You can see a trace of Murillo's work-to-be in this between-building gap on Abercrombie Street: a series of medical autopsy tables stacked on top of one another, with black canvas stretched over the top.

You can also find a book and a sound installation in the ticket office at the Embassy of Transition, Mortuary Station.
Archie Moore's 'hut' has been built on the Bennelong Lawn in front of Government House – and is a reimagination of the hut that Governor Philip built for Indigenous leader Bennelong in around the same spot. The inside of the hut, with its dirt floor, is not only an imagination of Bennelong's hut, but an evocation of Moore's grandmother's hut in in Glenmorgan (Queensland), as he remembers it.
Brazilian artist Ricardo Basbaum created one of his trademark diagrams in large, bill-board scale. The Biennale's statement about the work reads: "In it, or through it, Basbaum advances his bioconceptualism to propose to Sydney passersby a poetic-choreographic cartography for the afterlife of conditioned presence."

We have no idea what this means. But we like it when billboards are not selling us shit, but rather making us curious.
Local collective Brown Council have taken over the former premises of Grantpirrie gallery to continue their ongoing project paying tribute to pioneering Australian performance artist and feminist Barbara Cleveland.

Join them Sat Jun 4 from 4pm to see the work in action. Pop in on Sat from 10am to check out documentation of the project.
Crawl through a tent tunnel into the patchwork wonderland of Keg de Souza's temporary venue: the Redfern School of Displacement – for discussions of local and global displacement.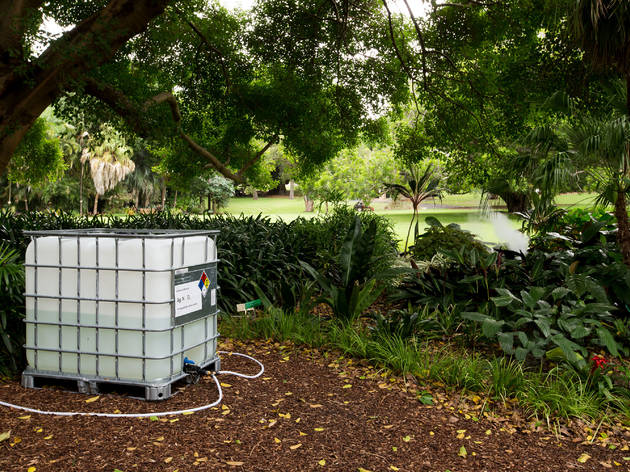 Dane Mitchell, 'Remedy for Agoraphobia, Ataxia, Anxiety (AgNO3)', 2016 / Photograph: Ben Symons
Royal Botanic Garden, Sydney