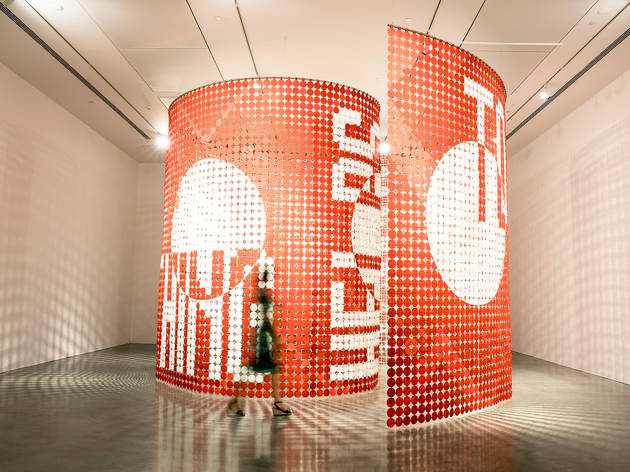 The National Biennial of New Australian Art: a guide
Our guide to Sydney's new biennial, commencing in 2017
What is The National? It's a festival of new Australian art that will happen every two years for at least three editions: 2017/2019/2021. This means – phew – it will be alternating with Sydney's other major art festival: the Biennale of Sydney.
When is it? The first edition The National Biennial of New Australian Art opened March 30 and runs for slightly different durations at each venue.
Where is it? It's at Art Gallery of New South Wales, Carriageworks and the Museum of Contemporary Art (MCA).
How many artists are presenting works within the festival? 48 – roughly divided into a third of that number per venue.
Who chose the artists? Each venue appointed specific curators (from among their curatorial staff) for their part of The National, and the resulting curatorial collective chose the artists. Below you can see a breakdown of the curators and artists at each venue.
What kind of art is it? All kinds of art. There are paintings, drawings, photographs, textile works, sculptures, installations, sculpture installations, video works – you get the jist.
Why is it exciting? It's particularly exciting because the works are predominantly new, and created specifically for this festival. When you think that each edition of The National will present new work by about 48 artists, with no guiding theme or limitations, you start to see the potential for this exhibition to be a snapshot of what are artists are interested in or concerned about right now.
What else? There will be a public program of performances and talks during the festival – check The National website for up-to-date information and tickets.
Click through for a gallery of images from The National 2017.
Highlights from The National
Who is where, when
Dates: Mar 30-Jul 16
Line-up: Gordon Bennett; Megan Cope; Keg de Souza; Emily Floyd; Alex Gawronski; Gunybi Ganambarr; Dale Harding; Taloi Havini; Helen Johnson; Nicholas Mangan; Alex Martinis Roe; Tom Nicholson; Raquel Ormella; Khaled Sabsabi; Yhonnie Scarce; Tiger Yaltangki.
Curators: Anneke Jaspers (curator Contemporary Art) and Wayne Tunnicliffe (head curator Australian Art)
Dates: Mar 30-Jun 18
Line-up: Khadim Ali; Zanny Begg; Matthew Bradley; Gary Carsley; Erin Coates; Marco Fusinato; Alex Gawronski; Julie Gough; Gordon Hookey; Peter Maloney; Karen Mills; Rose Nolan; Stieg Persson; Elizabeth Pulie; Ronnie van Hout; Nell.
Curator: Blair French (director – curatorial & digital)
Dates: Mar 30-Jun 25, 2017
Line-up: Richard Bell; Chris Bond & Wes Thorne; Karla Dickens; Atlanta Eke & Ghenoa Gela; Heath Franco; Alex Gawronski; Agatha Gothe-Snape; Alan Griffiths; Jess Johnson & Simon Ward; Richard Lewer; Archie Moore; Claudia Nicholson; Ramesh Mario Nithiyendran; Justene Williams; Jemima Wyman
Curators: Carriageworks director Lisa Havilah and visual arts head Nina Miall.
Want more?
Here's your hit-list for the best that Sydney's galleries have to offer this month.