Where to play free pool in Sydney
Get your hustle on at these open tables across Sydney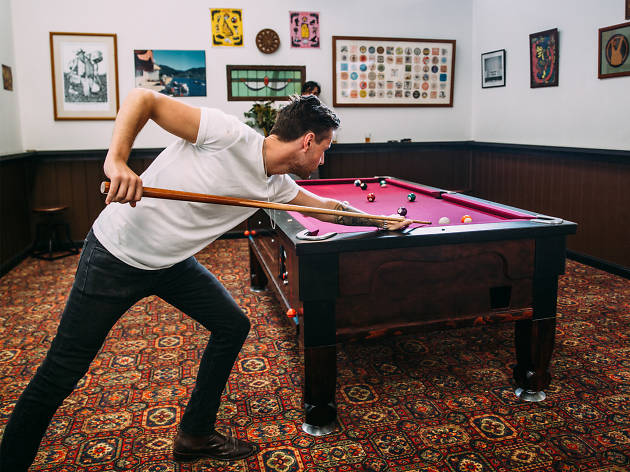 You'll find a pool shark inside every local watering hole in the city, and battles over whether to enforce the pants down penalty can rage fiercely, but if you just want to sink some balls while you sink some beers, give these free pool tables a workout.
Like we need more reasons to prop up the bar at this neighbourhood gem... but solid pub food and free pool on Tuesdays are a combination sure to motivate even the most entrenched homebody.
Read more
The fireplace will warm you up as fast as $5 Grifter schooners chill you down from the inside and free pool will keep idle hands busy on Thursdays. If you're competitive or just like a challenge, enter the Crix Pool competition on the last Thursday of every month.

Read more
The Malaysian bistro may have been replaced with more traditional pub food, but the pool tables still won't cost you a cent on Tuesdays. It will cost a dollar per game on Sundays, which should keep you out of trouble until your Sunday roast arrives.
Read more
Grifter Brewery has a pool table in one corner of the brewery warehouse where they also allow local artists to display their work. That means free pool, great beer and up'n'coming art all in one spot.
Read more
Keeping things budget-friendly at the start of the week, Kelly's offers free pool on Monday and Tuesdays. Monday they have a pool competition from 7.30pm, with a $5 entry fee that includes a free standard drink. First prize is $70, second prize is $30, and to make the first person out feel less like a loser, a schooner of beer will be given as a consolation prize.
Read more
On Sundays at the Rose they have free pool all day, plus live music and jugs of beer to keep your three-drink sharp-shooting intact. Just try not to stick people in the ribs as they squeeze through to the front bar for a refill.

Read more
At this craft-beer haven on south King Street there's free pool every Tuesday from 6pm until close, and $1 pool every Sunday from 5pm. That's more dollars for booze, which is how we like it.

Read more
Or for something a little more edgy...