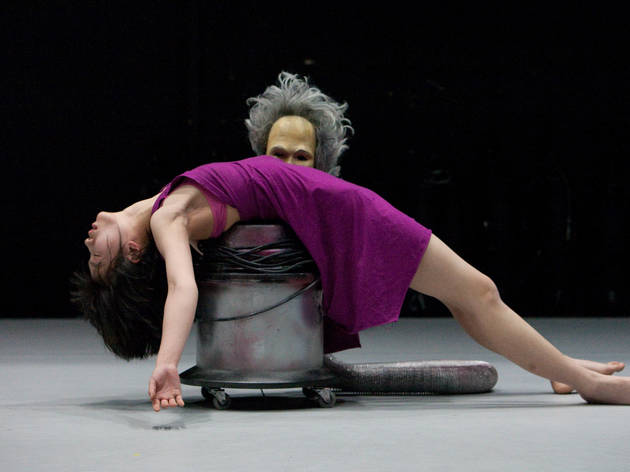 We watched this dancer simulate sex with a vacuum cleaner – and loved it
Posted: Friday November 3 2017, 9:51am
Welcome to the 43rd guest blog post of Time Out Sydney's 52 Weeks of #SydCulture 2017 challenge! October's culture selector is Nerida Ross: Arts and Culture EP at FBi Radio, and the producer of Two Up talks and the after pARTY series. Every week in October, Nerida will be telling us what she loved the week before. Think of it as your recommendations for this week, from someone who sees a helluva lot of arts and culture. Over to her.
In the second week of Liveworks Festival I experienced everything from an intimate one-on-one performance in which Jen Jamieson attempts to create the 'love hormone', oxytocin, with a complete stranger, to a 12-hour queer performance party featuring more than 11 artists and 27 unique performances. In intriguing and unexpected experiences, Liveworks really does deliver.
My favourite works at the festival are the ones that tap into emotions. If I laugh, cry or gasp you can pretty much guarantee I'll be thinking about it for the rest of my life.
7 Ways by Geumhyung Jeong made me laugh. By placing a mask on various parts of her body – from her foot to her wrist – Jeong played intimately with the inanimate objects that were scattered across the stage.
I was captivated by the physical control Jeong had over her body. She was dressed at times in a morphsuit, and you could easily forget that her masked foot was connected to a leg and not a neck. Her approach to the question "Where lies the boundary between the body and the machine?" was humorous and playful. By giving new roles to her various limbs at different stages of the performance, she created space for you to imagine that a body could have sex with a vacuum cleaner.
The slow pace and drawn-out silences aren't everyone's bag, but the audience's awkward chuckles became an essential part of the performance, and really gave a sense of Jeong's deadpan humour.
Another highlight from this week was Carrion by Justin Shoulder. This work takes us into a post-apocalyptic setting where Shoulder's newest persona 'Carrion', a post-human cyborg, 'echoes the horrors of our time'.
The work is unsettling, which is pretty appropriate for a performance that explores what it means to be human in a world of mass consumption and environmental destruction. Shoulder's works are informed by club culture, and successfully tread the line between critical thinking and entertainment. In a masked costume with bones strapped to his limbs, Shoulder explored his environment; it reminded me of the opening scene of WALL-E, but instead of a cockroach being the only remaining life, plastic talking birds chirped eerily from various points around the stage.
The piece ends with a giant inflatable that looks like a flower combined with a mushroom cloud. As it expands into the space, the tension builds. As a final climax Shoulder's masked face appears out of the tip of the inflatable, like the creature is gasping for air – and the audience simultaneously gasps with him.
In its third year, Liveworks is going from strength to strength. Its growing reputation seems to be giving it more traction with artists and audiences. I am really looking forward to next year. Hopefully they can program an artwork that will make me cry.
See what else is on stage this month, and check out our hit list of the best art in Sydney right now.
While you're here, check our 52 Weeks of #SydCulture challenge, and let us know what you're seeing/loving on Instagram via the hashtag #SydCulture.
Share the story