Alliance Française French Film Festival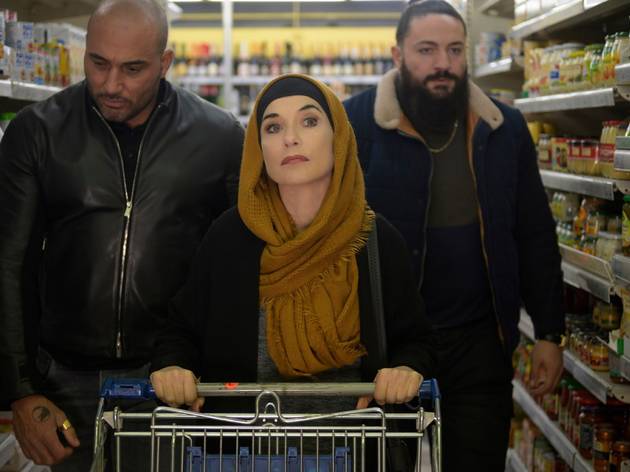 Time Out says
Vive le festival! Alliance Française swings into action one year after being so rudely interrupted
Plus ça change as the Alliance Française French Film Festival returns in March for its 32nd hurrah after being so rudely interrupted this time last year. And it's a whole new start in many ways, as led by the creative vision of incoming artistic director Karine Mauri. And what a debut program she has pulled together, with 37 features led by glittering stars including Isabelle Huppert, Monica Bellucci, Gérard Depardieu and Omar Sy, and movies helmed by esteemed directors like Anne Fontaine and François Ozon.
While the full line-up is still under wraps, we've had a sneaky peak at some of the festival highlights. We can thoroughly recommend the darkly comic laughs of Jean-Paul Salomé's crime caper The Godmother. Think Breaking Bad but without the anxiety attacks as Huppert plays an Arabic-speaking police translator who turns, winding up with a lucrative sideline dealing hash. It's based on a hugely popular French novel by Hannelore Cayre, and Huppert's inscrutable poker face means she's pitch-perfect casting for a film that also takes an irreverent look at race relations in Paris.
If you want an '80s/'90s-style racy thriller, then look no further than the twisting turns of Vienna-set Appearances from director Marc Fittousi. It stars Delicatessen's Karin Viard as a snobby ex-pat who turns stalker detective when she suspects her insufferable composer husband is having an affair with their son's teacher. But things take a surprising turn when she has an unplanned fling of her own.
If you're after something a little more feel-good then you'll love Miss. The sophomore feature from actor-turned-director Ruben Alves (The Gilded Cage) casts a revelatory Alexandre Wetter as a non-binary boxer who is determined to enter and win the Miss France beauty pageant. It's a film that's all about queer joy and found family. The Rose Maker is also gorge. It stars Marguerite lead Catherine Frot as a cantankerous rose grower facing the ruin of her family business. In desperation, she takes on a bunch of no-hopers and actually winds up striking a sweet bond with a former crim played by rapper Melan Omerta in his eye-opening screen debut.
There are also two astounding directorial debuts in the line-up. Gagarine, the first feature from Fanny Liatard and Jérémy Trouilh, casts another incredible newcomer in Alseni Bathily as a young man living in the Parisian project flats named after Russian cosmonaut Yuri Gagarin. It was filmed on location in 2019, the year the brutalist landmark was demolished, and the filmmakers interviewed residents in preparing the groundwork for this magical realist tale with a touch of 2001: A Space Odyssey. And if you were horror-struck watching the aftermath of the Beirut blast last year, the bittersweet salve of French-Lebanese director Chloé Mazlo's nostalgic feature debut Skies of Lebanon is for you. It takes a lyrical look at what makes the city tick, with the aid of Michel Gondry-like quirky stop motion animation and sublime choreography in this live action/animation hybrid that you won't forget in a hurry.
All these and many more yet to be announced leave us salivating for good cheese and fine wine when the festival returns to Palace Central, Palace Verona, Palace Norton Street, Chauvel Cinema and the Hayden Orpheum Cremorne from March 2-31. Watch this space for more info when the program drops in full.
Details