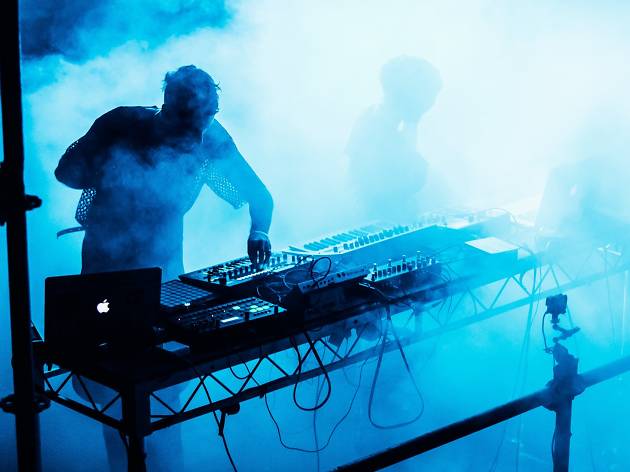 Time Out says
Head west for this one-day firecracker of a festival
A music and arts festival unlike any other in Sydney, Soft Centre whirrs, flashes and throbs through the cement-bound hallows of the Casula Powerhouse. This year the festival is curated by the hot shots who went on to lead Dark Mofo's insanely popular Dark Mass, so you know you are in good hands.
A one-day festival, Soft Centre crams an impressive amount of Vivid-esque light installations and world-class performance into a few hours of experience. Hopping off the train at Casula you're essentially plunged into a sensory overload of light, sound, performance and a sea of punters out for a good time.
Describing the show doesn't really nail the surprising experience Soft Centre is bound to provide. Put aside your Saturday and get immersed in the whirrs, flashes and throbs. Be warned, though: the website is probably not safe for anyone with flashing light-induced epilepsy or migraines.
Here's the full line-up:
33EMYBW [China]
Aishani
Anklepants
Atro
CORIN x Tristan Jalleh pres. Manifest
D-GRADE
Defektro
Female Wizard x Jada pres. What Is Human ?
Gabber Modus Operandi pres. ? [Indonesia]
Gail Priest x Karul Projects
Giulia
Gooooose [China]
Ham Laosethakul
Holly Childs x J.G. Biberkopf pres. Hydrangea 2 : Gnarled Roots of a Creation
Theory w/ GVN908 & Jana Hawkins-Andersen
INNR & Thrax pres Jannah Quill pres. SIGHT with House of Vnholy
Kallista Kult
Kilimi
Lilly Kane
Lucas Abela pres. Fort Thunder
MILAT
MLDVR
Monako
NETTI
Nkisi [Congo/Belgium]
Sam Whiteside
Shoeb Ahmad pres. broken-binary-brown
Shohei Fujimoto [Japan]
SOTE [Iran]
Super Critical Mass
Tralala Blip
Wytchings
Details