Theatre is truly back, baby – and the latest batch of winners of the annual Sydney Theatre Awards are a testament to the formidable force of the city's theatrical community. On Monday night, 30 awards were presented, shared between 18 productions that played on Sydney stages during 2022.
Best Mainstage Production was awarded to Belvoir's The Jungle and the Sea, which also won Best New Australian Work (S. Shakthidharan and Eamon Flack), Best Ensemble, and Best Original Score of a Mainstage Production (Arjunan Puveendran). The follow-up to the acclaimed Counting and Cracking, this new play brought the untold histories of the Sri Lankan civil war to the Australian stage with consideration and tenderness, and continues to crack open tough conversations. (Read our interview with playwright S. Shakthidharan and our four-star review.)
Best Independent Production went to Albion from Secret House, New Ghosts Theatre Company and Seymour Centre, which also took home Best Direction of an Independent Production (Lucy Clements). Best Direction of a Mainstage Production was presented to Kip Williams for Sydney Theatre Company's Strange Case of Dr Jekyll and Mr Hyde (read our five-star review), the next show to get Williams' epic cine-theatre treatment after The Picture of Dorian Gray blew everyone away (Dorian returns to Sydney this February).
Best Performer in a Leading Role in a Mainstage Production went to Heather Mitchell for her spectacular turn in RBG: Of Many, One (read our four-star review); while Best Performer in a Leading Role in an Independent Production was awarded to Jane Phegan for The End of Winter.
Best Musical was presented to Global Creatures for Moulin Rouge! The Musical (read our four-star review) and Best Direction of a Musical very deservingly went to Cameron Mitchell for Nice Work If You Can Get It (read our four-star review). The Judith Johnson Award for Best Performance in a Leading Role in a Musical went to Stefanie Jones for the way she inhabited the titular magical nanny in Mary Poppins (read our five-star review and our interview with Stefanie). And Best Performance in a Supporting Role in a Musical went to Simon Burke (Moulin Rouge! The Musical). Masego Pitso (Chewing Gum Dreams) took home Best Newcomer.
Two Sydney Theatre Awards for Lifetime Achievement were presented, one to legendary photographer and performance artist William Yang, and the other to beloved executive producer John "Robbo" Robertson.
The 500 or so members of the Sydney theatre community who gathered in the Seymour Centre's York Theatre to celebrate were also treated to some special performances. This included a performance by Brittanie Shipway from the new Australian musical The Dismissal; and to celebrate the 35th anniversary of Les Misérables opening in Australia, 34 performers from the cast of the 1987, 1997 and 2014 Australian tours took to the stage for an epic surprise number.
There was a lot of talk about it being the most diverse pool of winners yet, and while there's still plenty of work to be done, it's great to see the direction the industry is heading in. You can find the full list of winners from the night, below.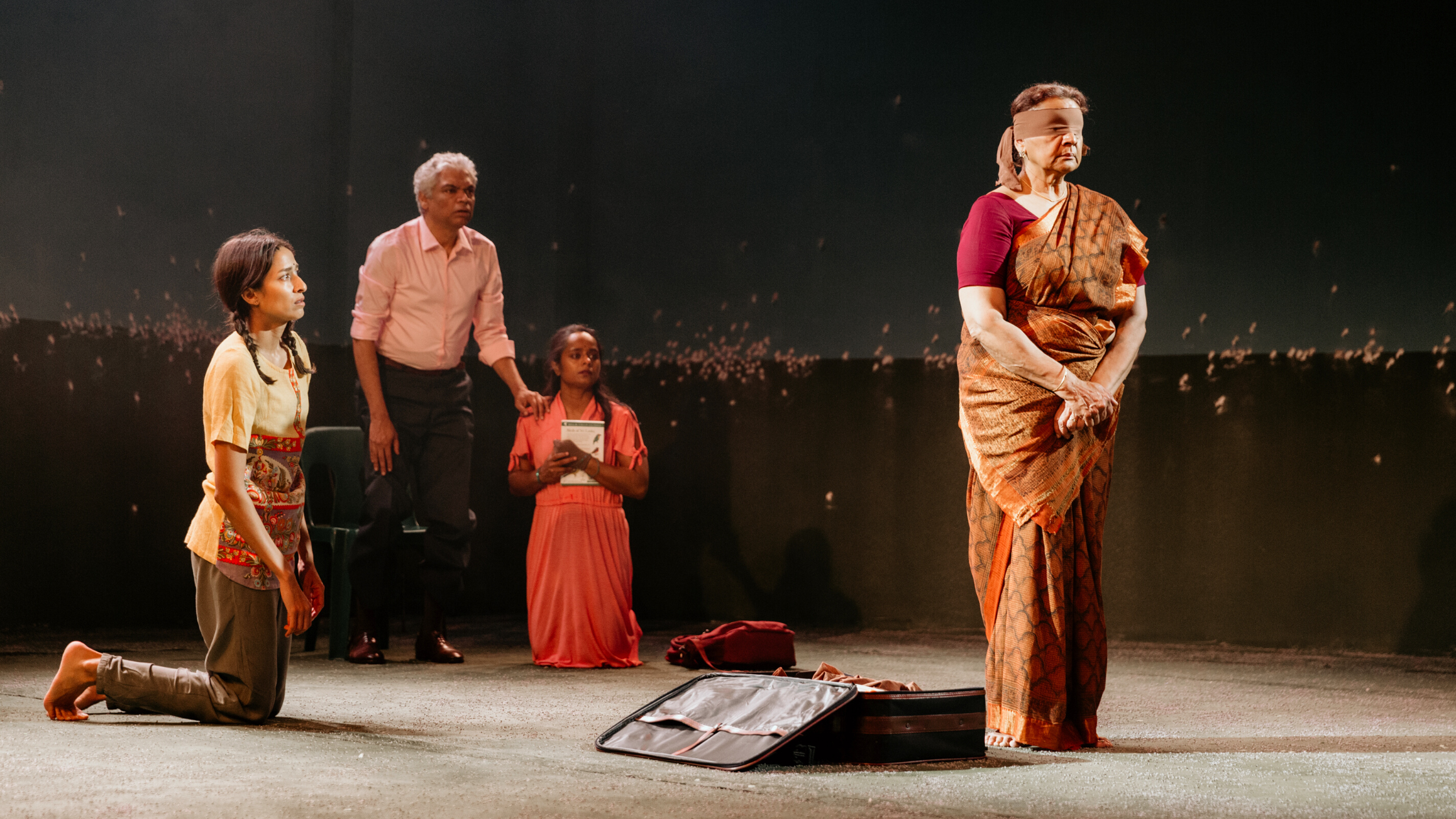 Photograph: Belvoir/Sriram Jeyaraman
WINNERS OF 2022 SYDNEY THEATRE AWARDS
BEST MAINSTAGE PRODUCTION
The Jungle and the Sea (Belvoir)
BEST INDEPENDENT PRODUCTION
Albion (Secret House, New Ghosts Theatre Company and Seymour Centre)
BEST DIRECTION OF A MAINSTAGE PRODUCTION
Kip Williams (Strange Case of Dr Jekyll and Mr Hyde)
BEST DIRECTION OF AN INDEPENDENT PRODUCTION
Lucy Clements (Albion)
BEST PERFORMER IN A LEADING ROLE IN A MAINSTAGE PRODUCTION
Heather Mitchell (RBG: Of Many, One)
BEST PERFORMER IN A LEADING ROLE IN AN INDEPENDENT PRODUCTION
Jane Phegan (The End of Winter)
BEST PERFORMER IN A SUPPORTING ROLE IN A MAINSTAGE PRODUCTION
Peter Carroll (The Tempest)
BEST PERFORMER IN A SUPPORTING ROLE IN AN INDEPENDENT PRODUCTION
Merridy Eastman (Hand to God)
BEST STAGE DESIGN OF A MAINSTAGE PRODUCTION
Mel Page (A Raisin in the Sun)
BEST STAGE DESIGN OF AN INDEPENDENT PRODUCTION
Grace Deacon and Kelsey Lee (Destroy, She Said)
BEST COSTUME DESIGN OF A MAINSTAGE PRODUCTION
Romance Was Born and Anna Cordingley (Amadeus)
BEST COSTUME DESIGN OF AN INDEPENDENT PRODUCTION
Esther Zhong (Moon Rabbit Rising)
BEST LIGHTING DESIGN OF A MAINSTAGE PRODUCTION
Nick Schlieper (Strange Case of Dr Jekyll and Mr Hyde)
BEST LIGHTING DESIGN OF AN INDEPENDENT PRODUCTION
Tyler Fitzpatrick (Moon Rabbit Rising)
BEST SOUND DESIGN OF A MAINSTAGE PRODUCTION
Michael Toisuta (Strange Case of Dr Jekyll and Mr Hyde)
BEST ORIGINAL SCORE OF A MAINSTAGE PRODUCTION
Arjunan Puveendran (The Jungle and the Sea)
BEST SOUND DESIGN AND COMPOSITION OF AN INDEPENDENT PRODUCTION
Christine Pan (Moon Rabbit Rising)
BEST NEW AUSTRALIAN WORK
The Jungle and the Sea (S. Shakthidharan and Eamon Flack)
BEST NEWCOMER
Masego Pitso (Chewing Gum Dreams)
BEST ENSEMBLE
The Jungle and the Sea (Belvoir)
BEST PRODUCTION OF A MUSICAL
Moulin Rouge! The Musical (Global Creatures)
BEST DIRECTION OF A MUSICAL
Cameron Mitchell (Nice Work If You Can Get It)
JUDITH JOHNSON AWARD FOR BEST PERFORMANCE IN A LEADING ROLE IN A MUSICAL
Stefanie Jones (Mary Poppins)
BEST PERFORMANCE IN A SUPPORTING ROLE IN A MUSICAL
Simon Burke (Moulin Rouge! The Musical)
BEST MUSICAL DIRECTION
Chris King, Steven Kramer and Nigel Ubrihien (Jekyll and Hyde)
BEST CHOREOGRAPHY OF A MUSICAL
Cameron Mitchell (Nice Work If You Can Get It)
BEST PRODUCTION FOR CHILDREN
Yong (Monkey Baa Theatre)
BEST PRODUCTION FOR YOUNG PEOPLE
The Deb (ATYP)
LIFETIME ACHIEVEMENT AWARD
John Robertson
William Yang