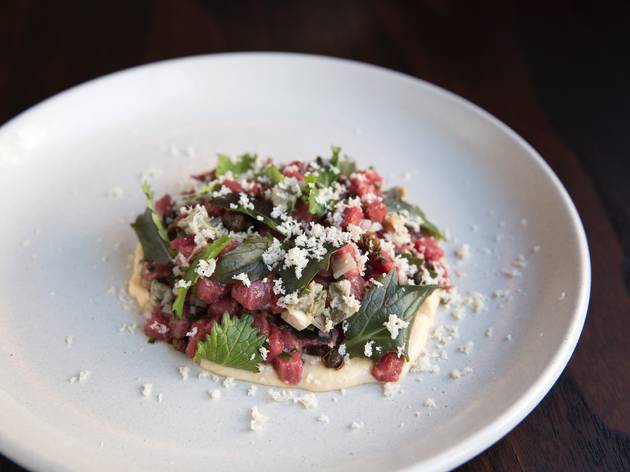 1/9
Photograph: Anna Kucera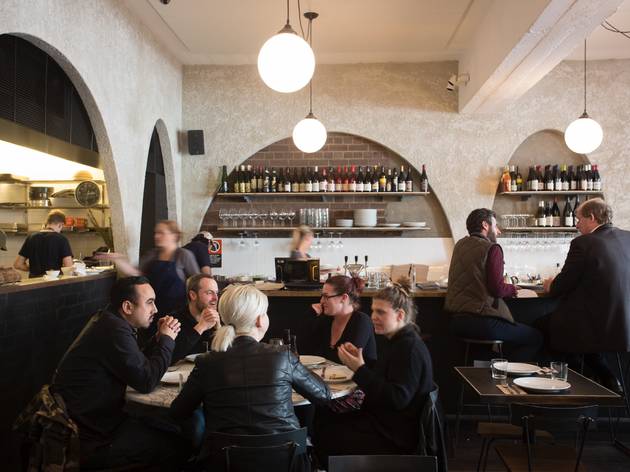 2/9
Photograph: Anna Kucera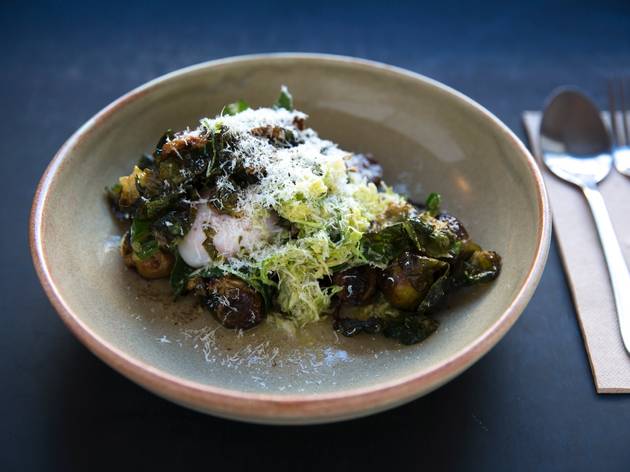 3/9
Photograph: Anna Kucera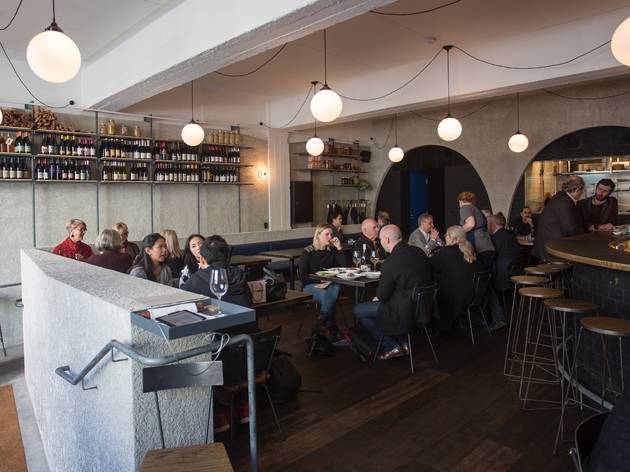 4/9
Photograph: Anna Kucera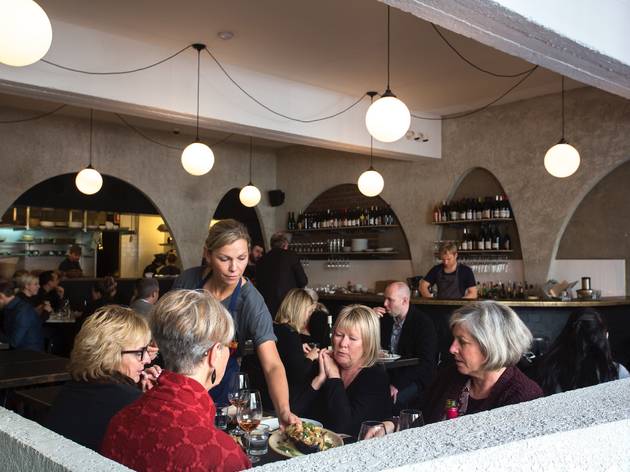 5/9
Photograph: Anna Kucera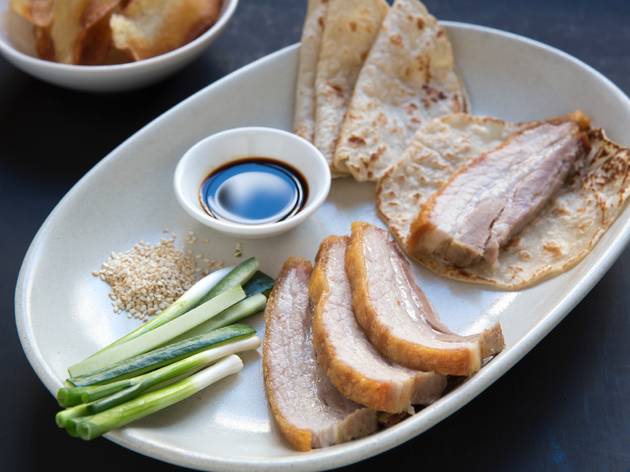 6/9
Photograph: Anna Kucera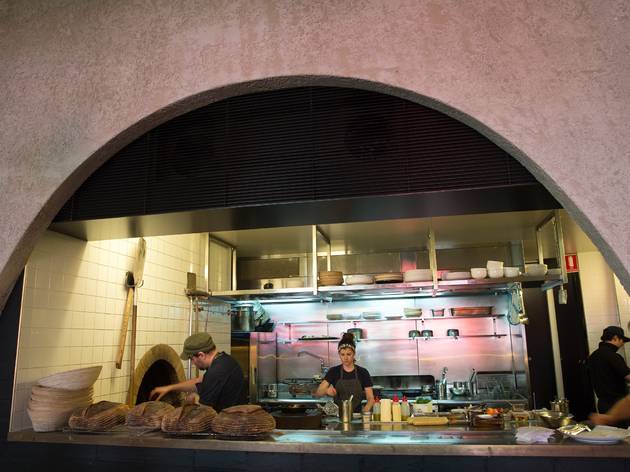 7/9
Photograph: Anna Kucera
8/9
Photograph: Anna Kucera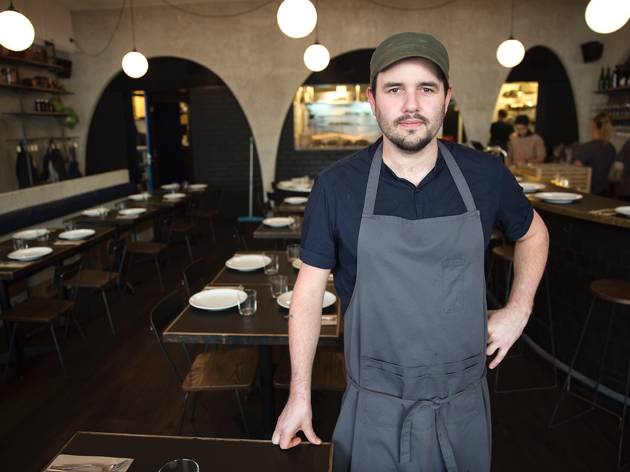 9/9
Photograph: Anna Kucera
With beautiful food, educated staff and an atmosphere that puts you at ease on every level, Chippendale dining never looked so good
It's hard not to fall totally in love with Ester the moment you walk through the door. Its arched concrete features, open kitchen and laid-back but chic vibes are intoxicating.
All of this is lovely, but it's the food that's going to get you, one way or the other. That's because behind the pass is Mat Lindsay – a man who knows how to prepare a meal that feels as accessible as it is delicious, but still, in the undercurrent, is actually sophisticated cooking.
The squid ink dumplings are a great example of this. Rejecting our usual wont for thin casings and delicate fillings, here everything is thrown on its head, with its outwardly crisp, inwardly thick, sticky and chewy casing enclosing nubbly little pieces of squid drenched in its own ink, humming with ginger and beautifully seasoned.
Heavily spiced, individual morcilla sausages are dressed with caramelised onions and served on soft steamed bread. It's like a sausage sizzle gone posh and somehow humble at the same time (this is a sausage made from blood after all). Another meaty dish of steak tartare comes remixed from the classic with a fried egg purée replacing raw yolk and mustard leaves in place of the sauced variety. The usual capers are textural – fried, rather than raw. The cow, the waiter tells us, was fed on chestnuts, giving the meat a nutty fragrance and a deep, dark flavour profile reminiscent of red wine.
It's amazing when something simple like prawns in butter can deliver like it does here. And these are big prawns – almost like langoustines – served à la meunière, in a pool of burnt butter and more fried capers. The prawns have been split so are easy to eat, the brains and all left in for those brave enough to sook them out. The meat is clean and sweet, with none of the muddy flavour that so many varieties exhibit. Order some bread to mop up that beautiful sauce, and get your hands mucky in the process – this is what eating crustacean is all about.
The steak is marinated in fermented rice, upping the umami-factor in the meat ten-fold, and served alongside braised mushrooms (more umami) and a dashi sauce (yep, still more). And can we just stop for a moment and talk about the Swedish-style, hasselback potatoes? The table next to us orders a portion of these per person, which we wouldn't advise, because you get a lot. But once we try them, we see their point, because they're glorious. They have been sliced halfway down their depth before roasting and doused with duck fat, so the tops are crisp like the thinnest chips and the bottoms soft and buttery like fondant potatoes. Order them.
We're on the $65 pp banquet menu, and so get two desserts. A heaping bowl of salted caramel semifreddo (ice cream by another mother) topped with gritty, salty, Milo-like black sesame powder is perfect rainy night fodder. But it's the celebrated 'Three Milks' – a quenelle of smooth ricotta panna cotta, a lick of sweet dulce de leche and a bouffant of sour yogurt mousse all dressed up with a crunched-up dappling of rosemary olive oil crumb – that's the real show off.
So yes, we are head over heals in love with Ester. It's why we made it our Restaurant of the Year at our Food Awards in 2014 (check out 2015's winner here). Not only does the food impress on every level, the service is attentive, genuinely warm and highly knowledgeable. And the drinks list, the wines minimal intervention-focussed, is a delight. Fancy an orange-toned Gewürztraminer that smells like dried fruit but tastes dry and ripe at the same time? Or how about a smooth, malty Yeastie Boys (LOL) porter from Wellington?
There's a feeling of freedom here, a sense that everything is thrown on the menu for fun. But of course it isn't. It's a cleverly orchestrated list of delicious things that has been created and curated by people who know exactly what they're doing. It's just that you're having such a good time when you're there, you forget how much work goes into making somewhere feel so low key. Which, come to think of it, is the way it should be.
Venue name:
Ester Restaurant and Bar
Contact:
Address:
46-52 Meagher St
Chippendale
2008

Opening hours:
Mon-Thu, Sat 6pm-late; Fri noon-3pm, 6pm-late; Sun noon-5pm
You may be interested in: