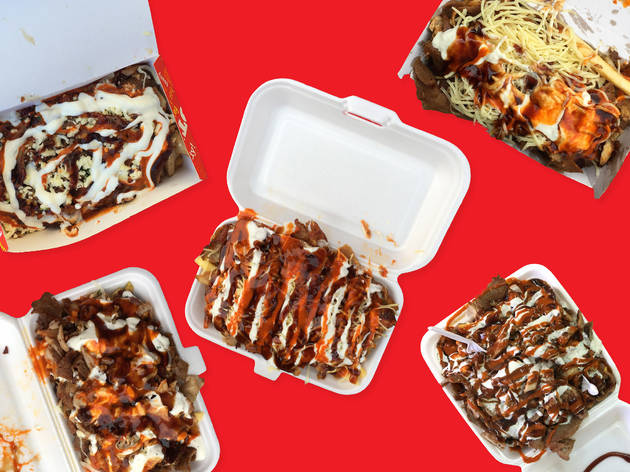 The best Halal Snack Packs in Sydney
We headed West to find the best in the city
Halal Snacks Packs are so popular right now they don't even want you to sit with them. This is thanks mainly to Sydney's very own Halal Snack Packs Appreciation Society (HSPAS) Facebook page, where people post and discuss their favourite HSPs, rating them based on criteria as follows: "Show us a sick pic of ur halal snacky, whered ya get it?, is it sick?, is it halal? and salrite or na? also, is it a halal snack pack mountain or na?"
So what is it? Well, it goes like this: hot chips on the bottom, topped with an optional cheese layer, and then an essential halal kebab meat layer (either beef doner, lamb or chicken, or a mix of all three). On top of this is drizzled the 'Holy Trinity' – that is, chilli sauce, barbecue sauce and garlic sauce (more like a tzatziki than the thick, mayonnaise-like sauce you might expect). It comes in sizes so big you'll be lucky to get through one between two, and sizes so immense they have to be fitted into jumbo pizza boxes. There are no small portions in the world of HSP: the dish that looks like someone vomited over a polystyrene box, but tastes like late-night food you'd queue for an hour to get to.
Here's how we completed our HSP quest: we created a hit list of the most talked about venues in the city, and hit them all in one saturated fat laden day. At each venue we ordered the same thing: mixed meats and cheese. Although there are a range of sauces available, we stuck with the 'Holy Trinity', to keep things on an even playing field. We did not get, sadly, a "Hello brother/sister" at any of the venues, which HSPAS fans frequently report receiving. Where's the love, man?
Here are our five picks for Halal Snack Packs in Sydney right now:
RECOMMENDED: The 50 best cheap eats in Sydney
Need some vegetables after all those chips? Try one of Sydney's best vegan restaurants.
Want more snacks? Try one of Sydney's best Chinese dumpling restaurants.
Need more meat?
What could be more perfect than a really good burger? Nothing, that's what. Whether you like them stacked to the nines, fat-rich and salty, fried or grilled, veggie or vegan, here are the best burgers in Sydney.
Best selling Time Out Offers