Heads up! We're working hard to be accurate – but these are unusual times, so please always check before heading out.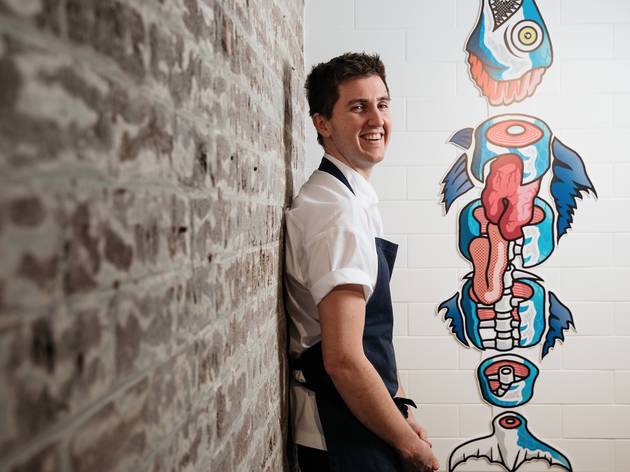 Chef of the Year: Time Out Food Awards 2018
Niland is the champion of a new age of Australian seafood dining, and we're hooked
Josh Niland is a very busy man. As if it's not enough that he owns his own restaurant, Saint Peter, which came bursting onto the Sydney dining scene with the splendour of a humpback breaching at sunrise. The young chef is also bringing sustainable Australian seafood to the people, care of his Paddington seafood retailer, the Fish Butchery, and a weekly market stall at Carriageworks Farmers Markets. There's even talk of masterclasses and a possible wholesale arm to the business. Did we mention that he's not yet 30? And he's expecting his third child later this year. Give that man a holiday. But here's the real clincher about Niland – he's a genuinely nice guy. Modesty isn't a quality that you assume in a head chef, but it's what drives his decision to always keep a fish and chips on the menu at his 34-seat seafood diner. "It brings a level of humility to the restaurant," he says. "We have so many great chefs now and they want to express themselves, but having fish and chips there makes sure that everything else is relative to that." So why did Niland became the city's reigning fish specialist?
"Everywhere I worked, the one rockstar of the kitchen was always on the fish section. The one that was the most switched on, the most thoughtful, careful, and well organised, so I wanted to be there." Strong mentors helped, with Niland earning his stripes under Peter Doyle at Est and Steve Hodges at Fish Face. "Fish Face was the most formative part of my whole fish career just because of the volume we dealt with. The knowledge Steve was sharing was very broad, so whenever a chef leaves Fish Face they know what they are doing." And the beneficiaries of that education are the people of Sydney, who, thanks to Niland, are now on first-name basis with mirror dory; ensure the fish livers are the first things to sell out each service; and enthusiastically embrace a seafood brunch that might mean uni on crumpets, or marron scrambled eggs. Not only are we better educated, but we're eating better fish, and we have our 2018 Chef of the Year to thank for it.
See all the winners
Time Out crowns the champions of Sydney's restaurant scene, from Restaurant of the Year to Best Café.