Handa Opera on Sydney Harbour - the guide
Everything you need to know about Sydney's annual harbourside spectacular – and how to do it like a boss.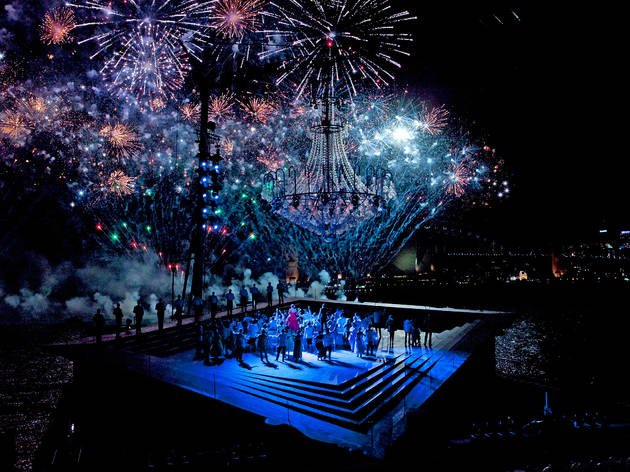 1/5
Photograph: Lisa Tomasetti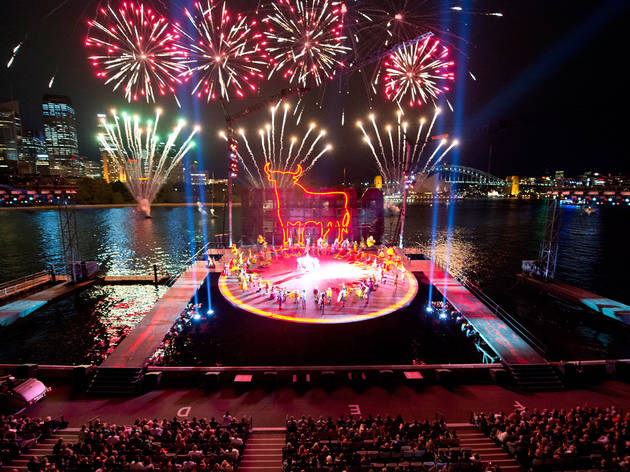 2/5
Photograph: James Morgan
3/5
Photograph: James Morgan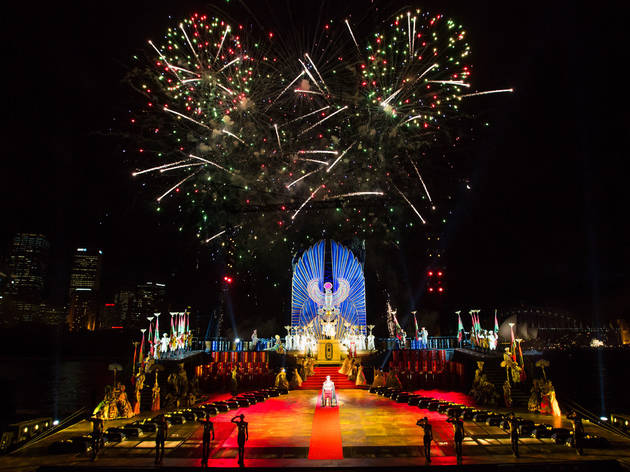 4/5
Photograph: Daniel Boud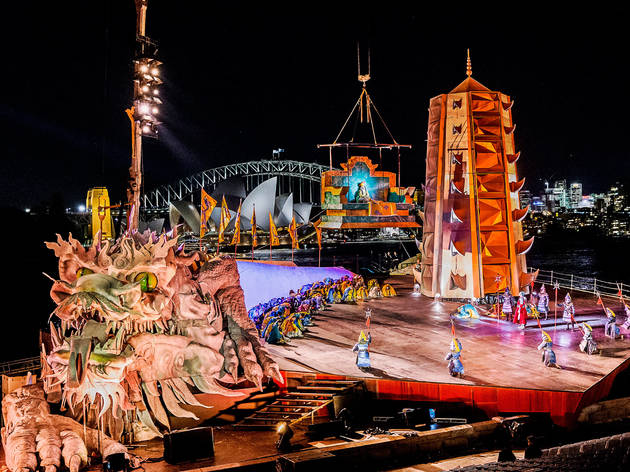 5/5
Photograph: Hamilton Lund
Anyone who says they go to the opera for the sound quality is lying; if you want the ultimate version of any given opera, you sit at home with your Bose headphones and your imagination. But if you want the spectacle and emotion of the opera, head to Handa Opera on Sydney Harbour (HOSH), Opera Australia's now-annual outdoor production at Mrs Macquarie's Point.
Opera Australia artistic director Lyndon Terracini wanted to make opera a populist form again – and he has abundantly succeeded with Handa Opera on Sydney Harbour. The recipe is simple but brilliant: take one stunning outdoor location with a world-class view, add spectacular, over-the-top set design, razzle-dazzle costumes, dance routines and acrobatics; into this mix, drop one high-drama opera classic, and a couple of international star leads. Finish with a dash of fireworks, and serve in possibly the best, balmy summer Sydney has to offer.
The result is the perfect potion – the glitzy visuals and hyperactive energy of a Broadway musical mixed with world-class opera. Even better, the themed food and drinks menu, consumed while overlooking the harbour as dusk falls, renders your purchase a bona fide experience, and worth the hefty price.
DO HOSH LIKE A BOSS
Wear: Something fancy AND warm, and bring something waterproof (see below); consider comfortable shoes because there are quite a lot of stairs you have to traverse in order to navigate the site! And there will be a ten minute walk towards Hyde Park, if you don't find a cab at the end of the night.
Eat: The site opens from 5pm to accommodate pre-show dining, and there are five different food outposts, each offering a different style and/or region of Spanish cuisine, and varying levels of formality (and, ahem, price).
At the luxe end, try a three-course Platinum Club set menu ($245 or a pared back $130) designed by Fresh Catering's head chef Geoff Haviland (who trained at the 2 Michelin-starred L'Ortalan in the UK). Bookings are essential.
For a more casual option, there's a Paella outpost on the North Terrace, and a Tapas outpost on the Southern Terrace that's selling three different Tapas plates ($16-$20 – vege, meat and seafood) with three different snacks apiece.
Another casual option is the Northern Cantina, on the waterfront, which offers share plates and main courses that you can eat at tables beside the Harbour.
If you're simply snacking, the Qantas Garden Bar (as you enter the venue) is selling small bites and Catalan street food.
Drink: Champagne! It's the opera. No really, drink whatever you want (this year they're offering Sangria to go with the Spanish setting of Carmen) – but we love that they have coffee on site. Operas are long.
Turn up: by 7pm latest for a 7.30pm performance. As mentioned, the site is not quite as straightforward as the Joan Sutherland Theatre (Opera Australia's usual home) – and you want to have time to queue for a glass of bubbles and find your seat.
What if it rains? THE SHOW GOES ON. Really. Unless there are electrical storms or extremely high winds and/or rain. You won't be able to put up an umbrella (for obvious reasons), so wear something waterproof or buy a $5 biodegradable poncho on site. They do wipe down the seats for you on arrival, we noted.
Can I Insta this? Yes you can – but photography of any kind is prohibited during the performances, so limit those stage shots to pre- and post-show or during the interval.
Top of the HOSH: a hit list of operas