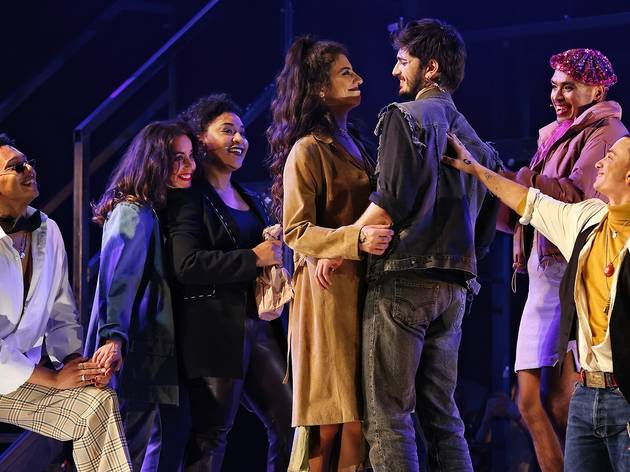 1/5
Photograph: Prudence Upton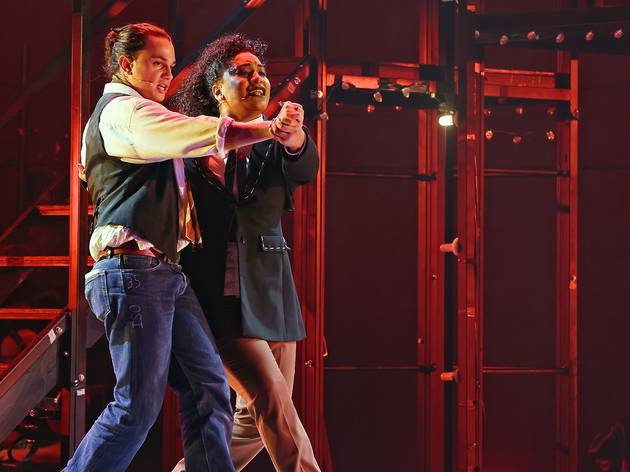 2/5
Photograph: Prudence Upton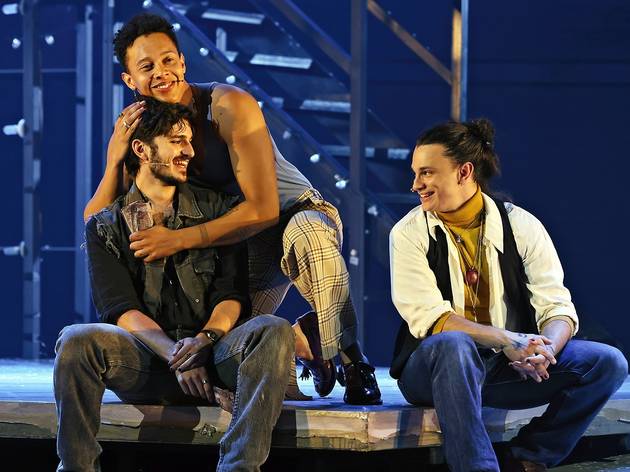 3/5
Photograph: Prudence Upton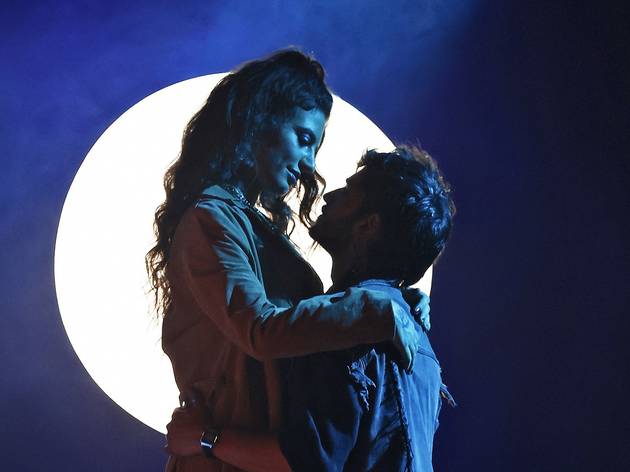 4/5
Photograph: Prudence Upton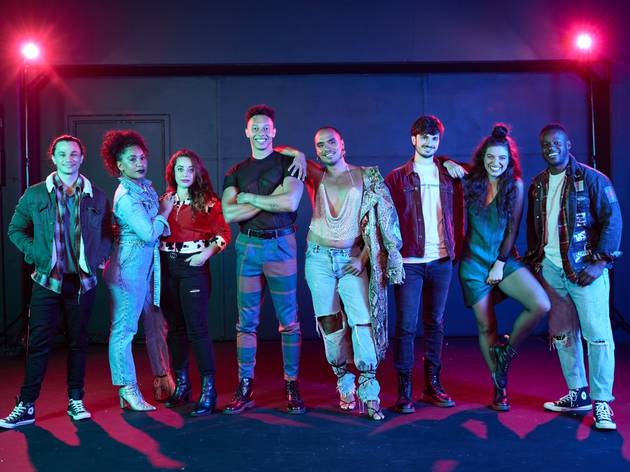 5/5
Photograph: Supplied/Daniel Boud
Time Out says
Shaun Rennie's production of the smash-hit musical brings electrifying chaos and killer chemistry to the Opera House
You don't walk into a production of Jonathan Larson's Rent expecting an understated affair. Best to leave your reserve and any disdain for sentimentality at the door: in here, it's about high drama, high-sheen angel wings, and all the soaring, emotional arcs and tear-jerking lows of a year in the bohemian life of broke artists in New York. All set to reverberating rock guitar, of course.
Loosely based on Puccini's La Bohème, Rent follows a group of creatives and social outliers living in Manhattan's East Village in the late '80s, as gentrification threatens their home, and more importantly, their very way of life. They might soon have to give up free love, wacky performance art and people pissing on their doorstep every night, because their building is about to be turned into a set of condos above a 'cyber arts' studio. The devastating AIDS epidemic hulks in the background, the digital world is new and threatening, and "sellout" is the most scathing insult you can sling at someone. It's almost time to say farewell to 'la vie bohème' – or is it?
Shaun Rennie directs the Sydney Opera House's production of Rent, and it's not his first run at it – he directed a season of the play at the Hayes Theatre back in 2015, and you can check out our review of it here. In Rennie's latest interpretation, he brings metered chaos and unbridled energy to the Drama Theatre's stage.

The whole show is basically a theatre kid's wet dream: the bizarreness, sexiness and hurtling plot of Rent sees characters transform from romantic to tragic to singing on stage in a cowgirl costume with two women (cows) suckling from their plastic teats, all in rapid succession. In the second act, the raunchy, red-lit 'Contact' gives the audience an orgiastic peek into the group's sex lives, before dissolving into a depiction of two breakups and a tragic death; a sobering shift, and one that feels too sudden.
But for the most part, Rent's joys are expected and comforting. The instantly recognisable opening piano line of 'Seasons of Love' gets a melodic run-up in a jam session at the start of the second act, as the bohemians chat and laugh and sing and dangle from Dann Barber's double-level stage, set up to mimic a New York walk-up. The camaraderie feels real and the build-up is delicious. Behind the main stage, but still visible and part of the action, are musical director Andrew Worboys and his band, who do a remarkable job at sprucing up even some of the musical's more cloying numbers.
While a production written by a straight man about predominantly queer characters wouldn't exactly fly these days – the tragic death of the only genderfluid character, Angel (played by local Seann Miley Moore) spawned a host of future depictions of LGBTQIA characters meeting their untimely demises on stage and screen – the play still holds poignant truths. The love between Angel and Collins (Callum Francis) is glittering and heartfelt. Representations of queerness on stage are plentiful enough such that each couple is allowed to navigate its own failings and triumphs, rather than each relationship acting as an archetype of what it represents.
Monique Salle injects Maureen with a crackling intensity: her send-up of amateur theatre in 'Over the Moon' is sexy, vulgar and entirely absurd. It gives performance art a gentle ribbing, while also bringing lightness and frivolity into a production so weighed down by trauma and loss. Elenoa Rokobaro as Joanne is given only brief chances to really shine, but her powerhouse voice has its moment in 'Take Me or Leave Me.' Mia Morrisey, as exotic dancer Mimi, tosses her hair in the moonlight as she careens between playing her character's ultra-seductive self, the one she puts on to win men and to score drugs – she's got "the best ass below 14th street", after all – and laying bare her vulnerability. It's frenetic, thrumming chaos, but largely, it works.

Unexpected pairings also come together to create resonant magic on stage, like in Mark and Joanne's ditty 'Tango:Maureen', set to the beat of an actual tango. However, when male leads Mark (Mat Verevis) and Roger (Robert Tripolino) take the stage, the magic doesn't last, and what should be a natural match falls flat.
"In these dangerous times where the world is ripping apart at the seams, we can learn from those who stare death in the face every day, by reaching out to each other and bonding as a community," the play's writer Jonathan Larson said in 1996. He died before the opening night of his production and his collaborators left the play untouched in honour of his legacy, frozen in time. Respectful, yes, but that means it's held onto its issues: a meandering, overly complex plot; no limits to the melodrama; and for a show claiming to be about friendship, we're often expected to assume these bonds exist, instead of being shown the heart of them on stage.
But that's okay – because structural inconsistencies can't stop this production's real appeal from shining through. It's not an in-depth, existential look at love or friendship and it's not meant to be: it's a fun, riotous display that gives Larson's message of unity in the face of hardship space to still ring true. In a recent theatre season heavy on the doom and gloom, an unapologetically sentimental musical that doesn't hold back on the camp and chaotic energy is exactly what we need on our stages right now.
Rent runs at the Sydney Opera House until January 31, 2021.
Details
Best selling Time Out Offers