Sydney Future Thinkers: Suzanne Millar from Kings Cross Theatre
We're shining a spotlight on businesses that foster sustainability and diversity. Here, the owner of the Kings Cross Theatre talks about making theatre accessible, hosting it all in a six-floor night club, and the beauty and history of the Cross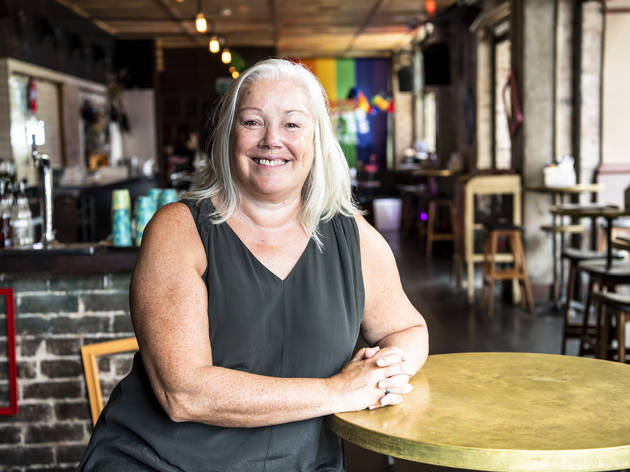 1/4
Photograph: Cassandra Hannagan
2/4
Photograph: Cassandra Hannagan
3/4
Photograph: Cassandra Hannagan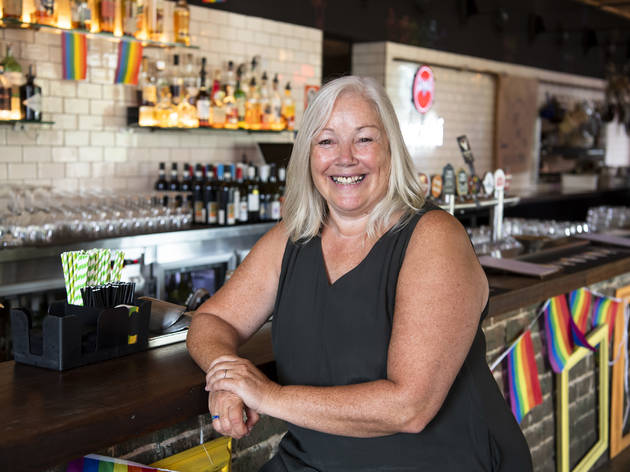 4/4
Photograph: Cassandra Hannagan
Many performances, theatres and other venues have been closed and cancelled recently due to coronavirus. We support all of our readers social distancing and self-isolating at the moment, and bring you this interview for its outstanding community spirit but recommend you practice caution with the recommended venues within.
------------------------------------------------------------------------------------------------
Suzanne, how did you come to the idea of setting up a theatre in a pub, and how did that become the Kings Cross Theatre (KXT)?
We had the opportunity presented to us! The flip side of what the lockout laws did to live music and live entertainment in Sydney was that places like the Kings Cross Hotel were looking for alternative uses for all the space they had. They were really keen to support our ideas and make sure we became a successful entity.
We've been doing theatre for a long time, and we really wanted to run a theatre that was casual, welcoming and accessible. You can come here, get a meal downstairs, bring a drink into the theatre, and not worry about where to put it down. We're in a Netflix generation and we want that generation to have entertainment that is affordable and accessible. Partnering with the Kings Cross Hotel means we can keep ticket prices affordable for audiences and we can keep venue hire affordable. We have a beautiful little dovetailing of wants and needs, and the beauty of this location is that after the show, if you're not done, you can go upstairs and party into the weekend. The partnership with the hotel makes everything work.
KXT's focus on bringing new voices to writing and the stage is really interesting. When did you identify that as a focus?
There is a huge amount of money invested into high-end theatre and high-end arts in Australia. In Sydney, and in Australia in general, we love the approved. We tend to like the thing that has been succeeding for a very long time, but there are an incredible number of young emerging artists, writers, directors and actors who may be less skilled than those you might see in the Opera House, but they need to have somewhere they can build their craft and technique.
At KXT we have a process of mentoring and opportunity giving, where we put the new and emerging alongside the very experienced and professional. We knew there was excellent work coming from emerging creators, and we wanted to fast track that. To do that we started our programming by pairing the experienced with the inexperienced. Part of the thinking around that is that longevity in the arts is a real challenge. How do you make this precarious career and path last a lifetime?
I like to think of us as a creative collective in a way. It's organised, and we have processes and protocols in place to make sure everything runs smoothly, but ultimately the people who are doing the work get to make this their space for the time they're in here. I think what you see here is a real community feel, because it's quite a unique approach to the way we run the venue. The tickets that are sold here go towards paying artists and making sure that the theatre is investing in the people that create the work, so they can continue on to the next show, and then the next one after that.
We also wanted to host theatre that speaks to the world we live in today. So the audience can go along and see themselves on the stage, to see stories or themes that are about today's world. We won't be putting a Shakespeare on any time soon.
What are the things you love about operating in Kings Cross?
Kings Cross is unique. You walk down the street and you see young families, you see new residents who've moved into one of the new apartments, and you see people who have lived in the area forever. There's a broad range of people who live here, and having them able to live together requires a huge generosity of spirit, a belief that there's a place for everyone.
People talk about Kings Cross being an 'idea', and I like that. There's theatre and music venues and little bars and cafés and bookshops. The postcode 2011 takes in a number of areas, but this area to me is Kings Cross, and one of its strengths is that every facet of life is pushed very closely up against itself. It has a long history of migration, there's incredible diversity here and it has a population of people that have been here for a very long time. People are incredibly passionate and loyal to the place. You're a short walk from Hyde Park and just down the road from the water and for us, what was really exciting was putting on theatre in and for this area.
There are a lot of creative pursuits in Kings Cross, and a lot of theatre! Do you think that's an overlooked aspect of the area?
Absolutely. Kings Cross is a theatre precinct! We're connected down the road to the Old Fitz, the Griffin Theatre is just up the hill, the Hayes Theatre Co is just around the corner – all within five to ten minutes' walk of one another. Geographically, that has instantly created a precinct, and within that, we're all doing something slightly different. At the Griffin you see funded work that will tour the country; the Old Fitz has a deep-rooted theatre history; but we sit in this pocket where we focus on grassroots transformation that influences upwards. We like to provide the pathways into other things for people. Between us all I think we bring this area its own arts ecology; it's an ecosystem. I think if you want to see what artists are thinking about now, and if you want to discover what the next big thing in theatre is, then this is where you'll find it, with us or any of the other theatres around us.
What have you noticed and felt about the area since you set up here? Have you noticed a cultural change?
I can definitely feel it changing. When we came here, we thought there's no use trying to be anything we're not. We're based in the Kings Cross Hotel, so we'll be the Kings Cross Theatre. A lot of businesses around here at that time were calling themselves Potts Point, or Darlinghurst, but we were adamant that we were in Kings Cross. Now you see the opposite of that happening, more and more businesses referring to themselves as of the area; we all recognise the power and beauty of that recognition factor, within Sydney, and for tourists and visitors, it's as recognisable as Bondi.
It seems like a lot of your processes are about future-proofing and sustainable business practice, but do you see sustainable environmental practice in the area?
I think the sort of people that live in this area are really socially conscious and aware of ethical practice. It feels in-built, and comes out of the community feel of the Cross which is often overlooked. In this building, it's simple: we encourage electronic tickets, and the hotel here is incredibly conscious of food waste. We partnered with Oz Harvest to raise money and repurpose meals that would have gone to waste..
Everyone looks after and creates green spaces in this neighbourhood. There are pot plants and gardens on door steps, and there's a history of parks; no one's building out any of these local parks here anytime soon. It's incredibly clean, and there's a consciousness and awareness in the area where everyone is doing their best. The mythology of the Cross that the media plays up as dirty or filthy I just don't think is reflected in the neighbourhood. We're very aware of that public perception, so I think we've really invested in making a clean community.
Are there any businesses you admire for their innovative practices in the King's Cross area?
The Silly Tart Kitchen is an amazing little spot that's a café and a bar with a great little outdoor area. That's currently my favourite place. They're about sustainability – they have planter boxes all up the wall to grow herbs, tomatoes and spinach, which the chef uses. The owner's mother and father also have a productive garden and grow food for the kitchen. If they've got pumpkins you're gonna have something on the menu that's got pumpkin, they make their own jams and chutneys, they really engage with the ideas of acting locally which is something we believe in too.
What would your ideal day in Kings Cross look like?
There's the Silly Tart Kitchen as I mentioned before for a late breakfast. Then maybe I'd head to Stanley Street Gallery, which is a great, well known place, and the Yellow House Art Gallery is just down Clay Street. They run brilliant exhibitions and are also quite engaged with supporting and providing space for local artists. Body, Mind, Life is a great place for yoga and pilates and Healthy Social is a gym that does cocktails, which covers all bases! If I want to go for a really classy meal and a martini at four o'clock on a Sunday afternoon, I go to the Butler and sit in their great courtyard, while Jangling Jack's has been around for a very long time and they do the best popcorn chicken. Dulcie's is a really beautiful burlesque joint who run some 18+ events, and they make beautiful cocktails as well. Messina is across the road, where you can pick up a gelato at 11 o'clock, what's not like? Then the Springfield Lodge have really beautiful serviced apartments, perfect if you're coming into the area for Vivid or for Mardi Gras.
What would you like to see change about Kings Cross? What's the future you'd like for the area?
I wouldn't want to see Kings Cross change significantly, because every city needs its historic centres. In other cities – and maybe it's the elephant in the room – but Kings Cross might be considered the city's red-light district, and the artists and poets and photographers and writers have always been drawn to areas like this. I think it's interesting that whenever I tell someone I run a theatre in Kings Cross, I often have to be really prescriptive and say, "not that kind of theatre!" I think we've got to get past this twofold mythology that the Cross is dirty or dangerous, and that the Cross is dead. I think those two things aren't true, and I would love to see this area understood a bit better, and for it to be celebrated for its history.
This is where food trends started with the migrant population from Greece and Italy. The café culture of Sydney started in this area back in the Kings Cross of the late 1800s. There was theatre here, and music, and there are records in the newspaper of oyster saloons and cafés popping up around here. This building is beautiful, there's Art Deco everywhere, the Coke sign is an icon... let's celebrate the history of Sydney in this area!
When I think of the future of the Cross, an issue around this area has been empty shopfronts, and empty buildings. A sign of a healthy precinct or area is that it's open for business. What are the optics of empty shopfronts like for an area's health? I'd like to see us be really innovative about solving problems that we think can't be solved. We put a theatre in the middle of a six-storey nightclub!
Suzanne's Kings Cross picks and tips