Food and drink festivals in Sydney
Eat, drink and be merry at these celebrations of all things edible around the city
It's clear Sydney has a healthy appetite, with new food precincts and fresh-faced eateries packed out across the CBD and suburbs. There's cheap eats to be discovered, restaurant dining with a view and desserts that will render your belt useless.
But it's the city's food and drink festivals where we take it up a notch. The regular foodie festivals that pop up each year let Sydneysiders unhinge their jaws for tastings, masterclasses, cooking demonstrations and chef meet-and-greets. And we've found some of the best the city has to offer.
RECOMMENDED: The 50 best cafés in Sydney.
The tastiest festivals in Sydney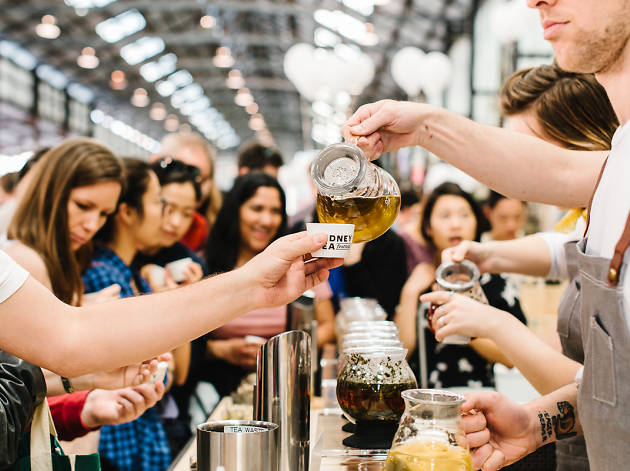 Things to do, Fairs and festivals
Black, green, boozy or iced – there are many ways to enjoy the flavours derived from the camellia sinensis plant. Spend a full day topping up your porcelain tasting cup with warming tinctures and refreshing tea-based cocktails at Carriageworks for the Sydney Tea Festival.
Things to do, Food and drink
Manjits Wharf, Darling Harbour
Whether you're obsessed with botanicals or less educated in the world of juniper berries, you've probably noticed the recent resurgence of gin drinking. So it makes sense that a dedicated gin festival is coming to King Street Wharf for a full weekend of aromatic tastings and gin-spiration.
Things to do, Food and drink
Taste Liverpool's fantastic spread of international cuisines in one big evening celebrating food. This new festival will set up the grills and fryers in Greenway Park and the first diners can expect a caravan of food trucks offering tasty meals all served on bread – think burgers, bánh mì and burritos.
Focus on the veggies
People repping a vegan diet don't have prentend they enjoy pumpkin salad anymore. Sydney is now home to plant-based burger shops; classic Italian pizzerias that opt for cheese and meat alternatives; gelato shops that favour coconut bases; and a growing contingent of fine diners offering fancy degustations for vegans.
More to explore