The best wine bars in Sydney
The best wine lists, sommeliers and vinous adventures to be had in the city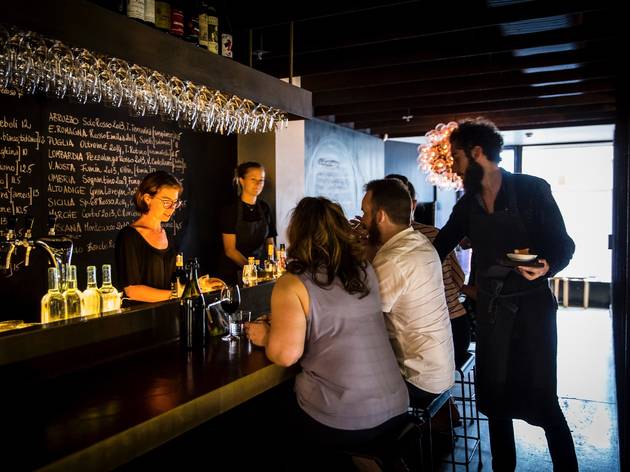 10 William Street is both a restaurant and a bar with a penchant for crazy, raw, wild and feral Italian wines. Your sommelier might pour you something like the exciting Cirelli trebbiano from Abbruzzo, or an almost rosé-like pinot grigio.
Read more
Sommelier Nick Hildebrandt and chef Brent Savage are having a bit of a moment. After opening slick wine bar Monopole and Yellow bistro in Potts Point, they set sail for the CBD and dopened up yet another incredible wine bar and restaurant.
Read more
The adults are definitely winning the turf war in Newtown of late. Formerly scungy pubs are getting a shiny new makeover and now there's a part wine shop, part wine bar, which means that you can sample unusual imports from Spain, Italy, France, America and South Africa, or something from Australia's best small producers.
Read more
DeVine has long been hailed for its totally overwhelming encyclopedia of bloody brilliant wine. Plonked just around the corner from the QVB bus stops, the crowd is thick with suits come the working week, but the bar is anything but stuffy. Like a real-deal European tavern, DeVine is warm and full of life inside.
Read more
The bar area at Sepia combines the benefit of head sommelier Rodney Setter's wine experience (we've never had and enjoyed so much Greek wine in one sitting), with Martin Benn's food. And you don't need to book.
Read more
You want a sure bet when it comes to drinking good wine on any given lunch day? You've found it at this Paddington stalwart. The wine list offers plenty of delicious that isn't afraid to introduce something weird and wonderful to the mix. Grab a glass of Provençale rosé, something with skin contact or settle in with a juicy Beaujolais.
Read more