The best wine bars in Sydney
The best wine lists, sommeliers and vinous adventures to be had in the city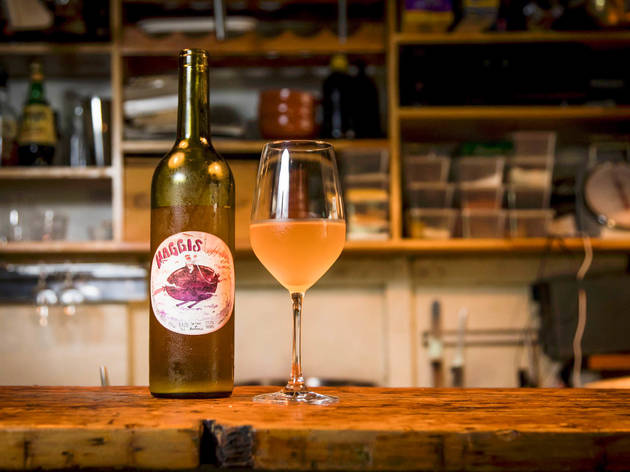 Sydney loves wine and luckily we've got a bunch of beautiful bars pouring some of the best drops from around the country and the world. Whether you're after natural vino, some cheese with your wine or you want to hit an urban cellar door, these are the best wine bars in Sydney.
The best Sydney wine bars
2
Even though it was one of the early adopters in the small bar boom, Love Tilly Devine is no less popular today than it was four years ago – securing those window seats is a badge of honour not many have earned. This is a great place to let wine surprise you. Sure, that orange fiano from Cantina Giardino in Campania might smell like peaches, but the skin contact gives it a dry finish that feels like a delightful bait and switch with your tastebuds.
Read more
3
Bibo has all the essential hallmarks of an upmarket Euro-style wine bar: it's low lit, dark and looks like an old-world smoking room. If you just want a snifter of a millionaire's life they also do museum wines by the glass so you can drop $48 on a 2005 Two Hands shiraz from McLaren Vale – just to see what it tastes like. Of course you're not surprised that you can drop your whole paycheck on wine in Double Bay, but you can also sit all night long on $10-$12 glasses here, and use your extra money to spin out the evening with some bar snacks.
Read more
4
10 William Street is both a restaurant and a bar with a penchant for crazy, raw, wild and feral Italian wines. Your sommelier might pour you something like the exciting Cirelli trebbiano from Abbruzzo, or an almost rosé-like pinot grigio.
Read more
6
You want a sure bet when it comes to drinking good wine on any given lunch day? You've found it at this Paddington stalwart. The wine list offers plenty of delicious that isn't afraid to introduce something weird and wonderful to the mix. Grab a glass of Provençale rosé, something with skin contact or settle in with a juicy Beaujolais.
Read more
7
Wwith sommelier and former co-owner of Tasmania's Garagistes, Katrina Birchmeier, running the wine here, the list is right on the money, with a strong focus on natural drops. Frederick Stevenson's funky, super juicy 2015 'Dry Red' pairs beautifully with crisped-up pillows of gnocchi tossed with slices of lap cheong sausage (channelling Gregory's Chinese heritage), chilli and umami-rich kombu butter.
Read more
8
The wine list here is a tome of good taste, and if your vinous vocabulary is a little rusty there's no shame in seeking guidance from the bar. In fact, handing over the reins to the likes of Phil Gandevia (ex Eau De Vie and Roosevelt) is the best decision you'll make today. A fresh, bright chenin blanc from Le Rocher Des Violettes in the Loire Valley might land in front of you, or perhaps you'll get things started with an approachable pinot noir from Serrat in the Yarra Valley.
Read more
9
This is the kind of place that can turn your whole understanding of wine upside down by pouring you a Chilean skin-contact muscat that's as savoury as an antipasto board. Behind the bar is a wall of fridges with small doors so that it resembles a 16-day advent calendar, but instead of shit chocolate you get a whole lot of crazy, interesting, fun and smashable wine.
Read more
10
After a series of popular pop-up bars that doubled as performance spaces, Cake Wines decided to put down some permanent roots in Sydney and have set up a fetching, modern wine bar inside a converted warehouse in the backstreets of Redfern.
Read more
Show more
Want more? Check out Sydney's best bars
Every year we put our livers and sleep patterns on the line to bring you, dear reader, a comprehensive guide to the best bars in town to make sure your evenings never run dry.
Read more